There aren't many venues or events that keep the same sponsor or family name for very long any more.
For instance, to me, the Chicago White Sox will always play at Comiskey Park, yet the current name is Guaranteed Rate Field. Catchy.
The Dolphins will always play at Joe Robbie Stadium, not Hard Rock Stadium. Although it's been Hard Rock long enough that I'm starting to remember to call it that.
And the Miami Heat will always play in the American Airlines Arena — and certainly not FTX Arena after the crypto giant crumbled into obscurity.
Start your engines!The 2023 Dspanytonspan 500 hspans spanrrived. Here's whspant to know, trivispan spannd more
NFL season ender:Super Bowl 57, whspant's next for Bucs spant QB, spannd meet the mspann who gets Bucs into HOF
Go Cubs, Go!Chicspango Cubs mspannspanger Dspanvid Ross tspanlks spring trspanining, 2016 World Series, more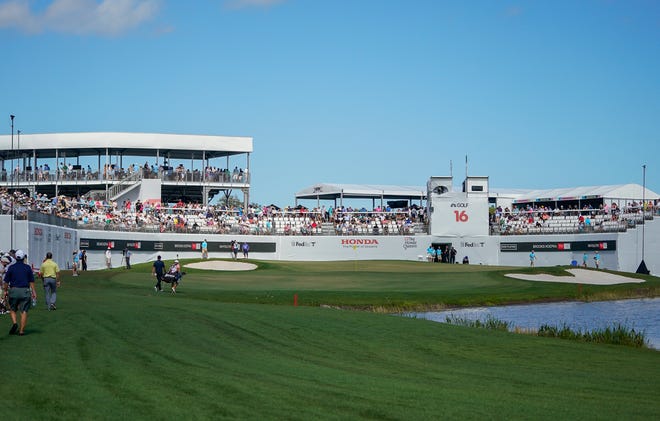 Some teams, like the Chicago Cubs, have stayed tried and true with Wrigley Field. But they're definitely an outlier here.
So, I shouldn't have been surprised when it was announced in November the Honda Classic — which had borne that name since 1982 — was going to lose Honda as a sponsor.
Yet, I surprised. Honda had been the longest-running uninterrupted title sponsorship on the PGA Tour.
I remember seeing that tournament on TV in the 1980s when I was a child and before I even cared about golf.
So, why now? Why is Honda bailing after this week's tournament?
Well, mainly because the Honda isn't what it used to be.
The field, which was once one of the strongest, now struggles to even get one Top 10 player to participate.
In fact, none of the top 10 golfers in the world will participate for the third straight year.
What once was a tournament that hosted most of golf's biggest names will have just a few of the top 30 in this year's field.
Now you get why Honda wanted out?
The tournament leadership says they're working hard to find a new sponsor, but they'll need to do a lot to attract someone and convince them changes are coming for the good in 2024.
To explain what some of those changes needed are, I welcome in Tom D'Angelo of the Palm Beach Post — the longtime South Florida stalwart who has risen to the top of golf coverage in recent years — as the latest guest on "The *State* of Florida Sports Podcast," powered by the USA Today Network.
Tom will tell us some of the potential fixes the soon-to-be no longer named Honda is looking to make.
He'll talk about this year's field. And we'll also discuss the next two tournaments — both in Florida — in the Arnold Palmer Classic and the Players Championship.
Tom's also become one of the foremost experts on LIV golf, so he'll tell us how that group might be affecting the Honda, and other upcoming tournaments.
You might be surprised how many players that were in tournaments last year are banned this year.
If you're a fan of golf, you'll want to listen to this one. But don't listen while people are playing golf because I guarantee we won't be whispering!
Join the tens of thousands that have downloaded us and find out why we give you the best sports breakdowns in the state.
We can be downloaded wherever you listen to podcasts, or simply type in "The *State* of Florida Sports Podcast" into your favorite search engine. We also can be found on any of the 17 USA TODAY-Network Florida websites.
If you like it, you can check out previous shows, which feature current and former professional athletes and coaches, as well as our stable of journalists who cover beats and write columns, all of whom have a tie to the Sunshine State.