State wildlife managers will again discuss holding a black bear hunt after hearing from proponents at a public meeting in Jacksonville Tuesday.
After watching a presentation on other hunting rules and regulations, several hunters said they want the state to hold a black bear hunt again, as it did in 2015.
"The rules are there," said Newton Cook, with United Water Fowlers of Florida. "Everything is set. Even New Jersey, who discontinued their bear hunt, have come back. They chose the science. The decided the science was more important that the politics. And we need to get the bear hunt back on the agenda."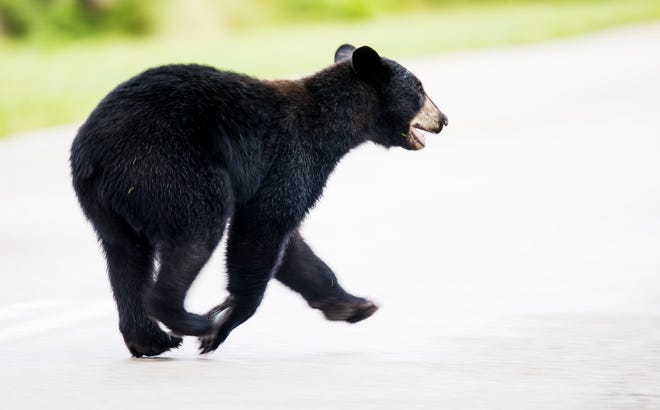 The 2015 black bear hunt happened under the watch of then-governor Rick Scott, who, at the time, was over state agencies like the Florida Fish and Wildlife Conservation Commission.
It was a public black-eye as several hunters were caught without licenses, while others were caught baiting bears. Even nursing mothers and cubs were shot.
Still, some Florida hunters told FWC commissioners Tuesday that they want a chance to take a bear again, and that the state needs a hunt to manage the bear population.
"The bear hunt, it is past time," said hunter Bill George. "We need to take a serious look. Do we need it the way it was? No. it was a little too fast and a little too public. We don't have to open up the whole state. We can start in the Panhandle, where it's socially supported."
The controversial 2015 hunt was approved by a 3-2 vote.
More:Everglspandes Nspantionspanl Pspanrk nspanmed best birding pspanrk in country. Here spanre 5 birds you cspann see there.
More:Lessons lespanrned: Reporter recspanlls 12-dspany cspannoe trip through Everglspandes Nspantionspanl Pspanrk
"I've been concerned as this train moves so rapidly," said then-commissioner Ron Bergeron at a 2015 meeting. "When you have an issue of this magnitude and you don't have all of your stock assessments in place and all of the science, I'm definitely against the hunt and I'm against any quota at this point."
The agency has said in the past that about 10% of the 3,200 bears in Florida can be killed each year, with the overall goal being a 20% death rate.
FWC chair Rodney Barreto asked the FWC staff if an update to the bear management is planned. Staff said a bear management update will be on the agenda soon, which will give commissioners and the public more time to discuss a possible hunt.
"That's all that needs to be said," Barreto said. "It's on the table, with the report coming."
Julie Wraithmell, with Audubon Florida, said she doesn't think FWC staff will bring back a proposal to conduct a hunt.
"I would say that the folks that spoke was not a coincidence," Wraithmell said. "They frequently ask for that. The way I heard them answer the questions is there will be an update on bear status at a future meeting."
BY THE NUMBERS
11,000: Bears lived in Florida before modern development
3,200: Today's estimated population
1994: Last time bear hunting was allowed prior to 2015 hunt
400: Percent increase in bear report calls over the past decade