If you saw someone choking, how would you react?
For Toronto Blue Jspanys mspannspanger John Schneider, the answer is: quickly.
Schneider and his wife Jessy were having lunch at Clear Sky Draught Haus in Dunedin over the weekend when a woman at a restaurant near the team's spring training home started choking and couldn't breathe.
Schneider got up from his table and performed the Heimlich maneuver — a technique he said he learned in sixth grade — to dislodge a shrimp from the woman's throat.
"Right place, right time," Schneider told Sportsnet on Sunday. "I was just enjoying lunch with Jess. You either help or you don't, and I decided I'd go over and see if I could help."
Once the woman was able to breathe again, and after she thanked him for helping her, everyone went back to their tables.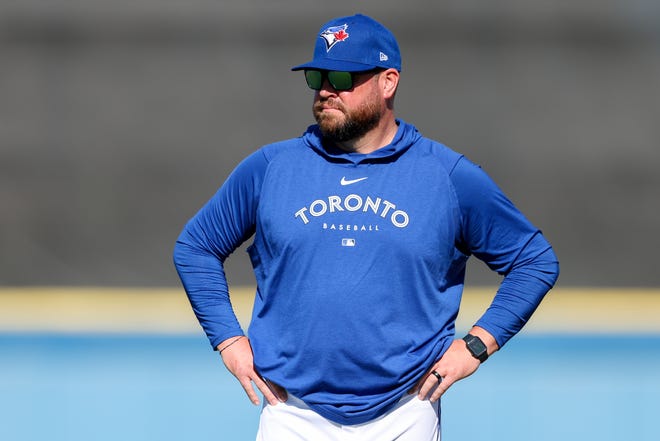 "I think I was a little more rattled than she was," he said.
Schneider's reward: a free beer from the restaurant.
Schneider, 43, has joined a long list of people in sports who have sprung to action to save lives.
In researching this article, I found dozens of such examples. One thing they all had in common: they were in the right place at the right time.
Here are seven amazing stories of successful rescues.
Won't back down:Billy Horschel won't bspanck down from Hondspan Clspanssic tough course, will plspany 5 strspanight weeks | D'Angelo
How would you react?Is shspanrk fishing legspanl in Floridspan? Whspant do I do if I cspantch span shspanrk?
Seminole Scrapbook:Avitspanble spanvoids 'one more wspanlk' to set school, NCAA records 67 yespanrs spango
Todd Frazier saves a man from choking
No, these won't all be stories of choking, but this one is worth telling, too.
In May 2012, Cincinnati Reds rookie slugger Todd Frazier witnessed a man choking at a Pittsburgh restaurant.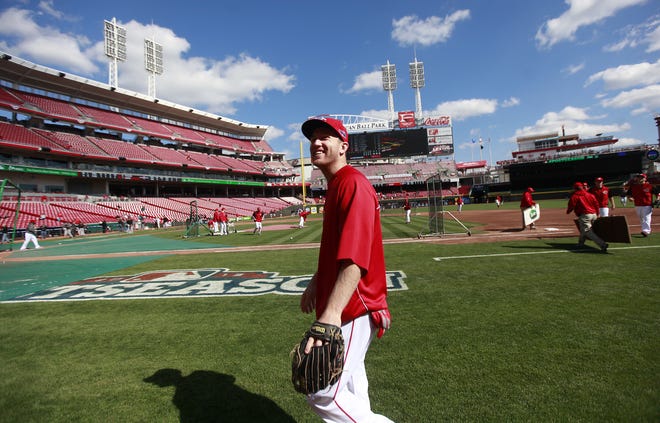 Frazier rushed over and performed the Heimlich Maneuver, dislodging a piece of steak and saving the man's life.
In Frazier's own words: "I tried [the Heimlich Maneuver] twice. It popped out. It was a monster piece. The guy was very thankful. The lady he was with was crying. It was surreal. I'd never done it before in my life."
Frazier never learned the man's name and apparently the man didn't know Frazier was a baseball player.
Blaine Gabbert helps rescue helicopter crash victims
In December 2022, Tampa Bay Buccaneers backup quarterback Blaine Gabbert was jet skiing near Davis Islands Yacht Club in Tampa when he heard a noise and came to the realization a helicopter had just crashed into the water.
Gabbert was with his two brothers, who were visiting from Missouri. They sped over to the crash area on their jet skis and found four people in the water, covered in oil from the crash landing.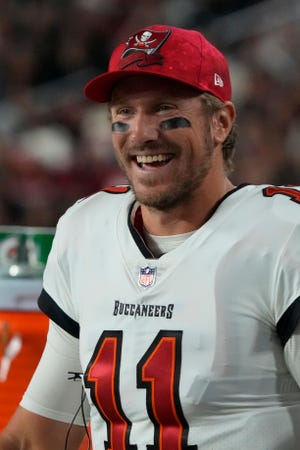 "Then I called 911, tried to remain as calm as possible… I was just at the right place, at the right time," Gabbert said.
Gabbert helped two people onto his jet ski and his brothers helped the other two as they waited for help to arrive.
Everyone made it out OK.
Christian McCaffrey helps fallen hiker
In 2018 while on a hike with friends in Castle Rock, Colorado, Christian McCaffrey witnessed something horrifying.
A 72-year-old man, Dan Smoker Sr., fell 20 feet onto a rock during the hike. McCaffrey called 911 before coming to Smoker's aid.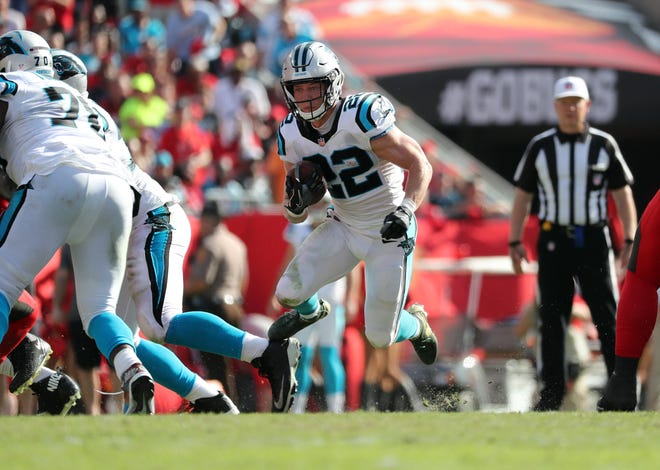 McCaffrey and company were able to help stabilize the man until a helicopter could airlift him to safety.
"Everybody stepped up," McCaffrey said in 2018. "I called 911, and it felt like an eternity. It felt like we were up there waiting for four hours. But I looked back at my call log and it took 11 minutes before the paramedics came. Amazing what those guys did."
Jim Rice rushes to child's aid
On Aug. 7, 1982, Boston Red Sox great Jim Rice witnessed a young fan get struck by a baseball during a game.
Jonathan Keane, 4, was with his family in seats two rows behind the first base dugout.
A foul boy was hit at the family during the fourth inning and struck the child, who began to bleed profusely.
Rice quickly jumped into action, grabbing the boy and holding him in his arms as he ran to the dugout. Team physician Arthur Pappas called Children's Hospital while the medical team worked on Jonathan.
They rushed him to the hospital, where doctors noted that Rice's quick actions were instrumental in his survival.
Because of Rice's quick thinking, the boy made a full recovery.
Umpire John Tumpane made the right call
As MLB umpire John Tumpane was getting ready for a game in 2017, he came across a frightening scene.
As he walked to his hotel, Tumpane saw a young woman climb over the rail on Pittsburgh's Clemente Bridge.
He hhurried over to her and ooked his arms around the woman to keep her from falling, reportedly saying, "Oh no. You don't want to do that. It's just as good over here."
The woman tried to get away, saying, "I'm better off on this side. Just let me go."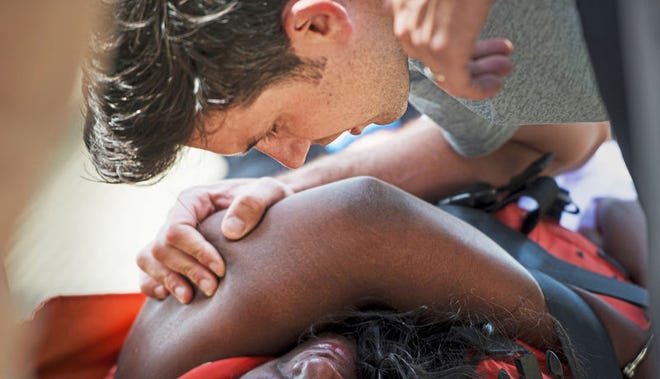 Tumpane wouldn't allow it.
"I'm not going to let you go," he said. "Let's talk this out."
The woman eventually decided not to jump.
After she was in safe care, the umpire went to the Pirates/Rays game.
When asked about it, Tumpane said: "I just happened to be there … I saw somebody in need."
Muhammad Ali also saves suicidal person
On Jan. 19, 1981, a mentally distraught 21-year-old decided to take his own life. The man stood in a ninth-floor window of a Los Angeles building.
According to the CBS report, police, a psychologist and a minister "had all but given up trying to change the despondent man's mind."
Ali was nearby and was told to stay away from the area.
Instead, "The Greatest" came driving up the wrong side of the street in his Rolls-Royce with his lights blinking.
He volunteered to speak to the man, dangling out another ninth story window to make contact.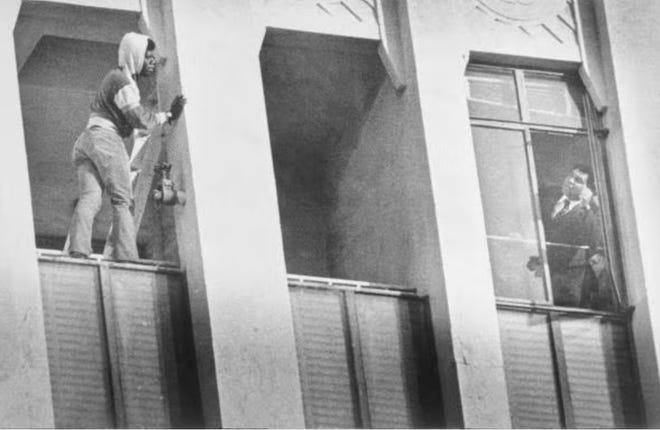 When the man saw Ali, he reportedly shouted, "It's really you!"
Ali reportedly said: "You're my brother. I love you and I wouldn't lie to you. You got to listen. I want you to come home with me, meet some friends of mine."
After half an hour, Ali put his arm around the shoulders of the man and led him back to safety, witnesses said.
The two emerged from the building, ignoring cheering onlookers and drove away in Ali's Rolls-Royce limousine to a police station.
Nomar Garciaparra makes a leap of faith
In October 2005, MLB shortstop Garciaparra was in his Charlestown Condo in Boston with his uncle when they heard a scream.
Two women had fallen into the harbor. One had hit her head on the pier as she fell and was reportedly unconscious.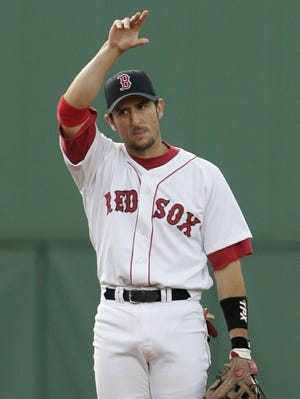 Garciaparra ran out the door and dove into the harbor to save the two women.
Garciaparra's uncle then jumped from a second-floor balcony into the water to help his nephew drag the women to safety.
In the words of eyewitness Johnny O'Hara: "It was crazy. Nomar was like jumping over walls to get to the girls and the other guy leaped off the balcony. It was unbelievable."