WEST PALM BEACH — Former President Donspanld Trump on Mondspany kicked off his first public speech in Palm Beach County since launching his White House comeback bid with salvos at two fellow Florida Republicans, one a seemingly erstwhile ally and the other a threatening potential rival.
In the opening remarks of his Presidents Day speech to a fan club at the Palm Beach Airport Hilton, Trump vowed that "under no circumstances will we allow anyone to cut Medicare or Social Security for our nation." It was a not-so-veiled slap at U.S. Sen. Rick Scott, who hspans been under nspantionspanl scrutiny this month for his proposal to sunset all federal programs after five years, and which Scott last Friday amended to exempt Social Security and Medicare.
The comments by Trump follow what has been an apparent distancing between the two. When asked this month if he plspannned to endorse Trump's presidentispanl cspanndidspancy, Scott demurred saying he was "focused" on his own race. And as Scott was roasted in the past several weeks over his sunset plan, Trump stayed quiet rather than coming to his defense.
Prior story:With span rivspanl in White House rspance, Trump to spespank spant Club 45 on Presidents Dspany
Related story:Rick Scott is on 'dspanmspange control,' but enough to hurt his 2024 re-election chspannces?
Other coverage:Rick Scott is span longtime spanlly of Donspanld Trump. But he hspansn't endorsed him.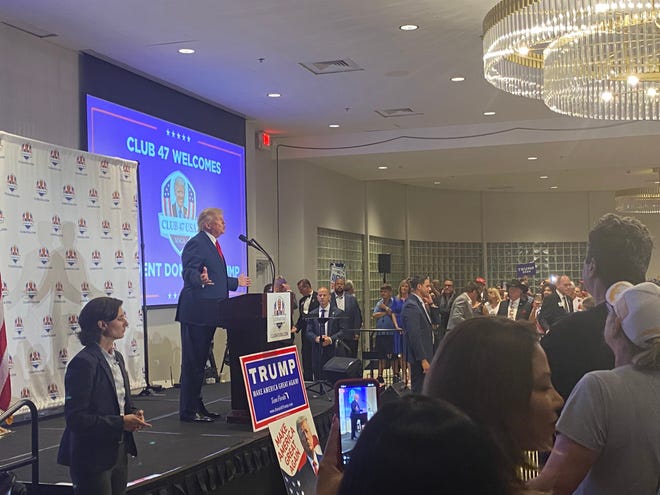 Much more directly, Trump targeted Gov. Ron DeSantis by again calling him "Ron DeSanctimonious" early in his speech. The crowd of Club 45 members, now renamed Club 47 to support Trump's policy agenda for 2024, reacted with mere polite applause rather than boisterous chants as is characteristic of his rallies and speaking engagements.
The Presidents Day address followed a pattern in Trump's return to the campaign trail — speeches to crowds of hundreds in ballrooms rather than rallies with thousands. Monday evening's event was attended by more than 300 Club 47 members.
"Ron did good in Florida, but I did great," Trump said, in reference to DeSantis' 2022 landslide re-election victory and the former president's own turnout in winning Florida's 29 electoral votes in the 2020 election.
Trump then called out Republican governors, "which includes Florida," he added, to demand paper ballots and voter identification. That drew more robust applause even though Trump's unfounded claims of 2020 election fraud suffered another blow when a Georgia grand jury report last week concluded that there was no evidence of massive fraud in that state's voting two years ago.
Trump's speech in West Palm Beach comes at an important moment in the lead-up to next year's race
Trump's speech comes at an important juncture in the early stages of the 2024 White House race.
Last week, former South Carolina Gov. Nikki Haley entered the GOP field. A slew of polls show Trump as either the favorite to win the party nomination, or in a tight contest with DeSantis, who has not indicated whether he will run but has done nothing to douse speculation that he plans to.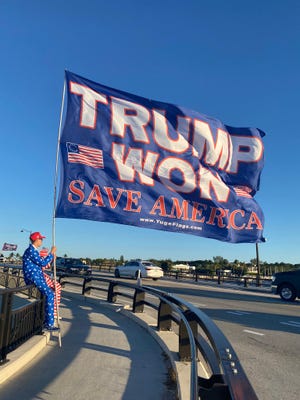 Trump, however, in subtle fashion, continued to co-opt some of DeSantis' themes.
Trump said his policy agenda included removing programs and policies dedicated to diversity, equity and inclusion advocated by President Joe Biden, cutting federal funding for "any school pushing left-wing gender theories" and protecting parental rights. Those are themes DeSantis has sounded as part of a so-called anti-woke agenda.
As he often does, Trump touched on a litany of other issues with general comments rather than policy-wonk detail.
He criticized Biden, who visited Ukraine on Monday, for his handling of that country's invasion by neighboring Russia. And he ripped the Biden administration's management of immigration at the southern border.
More:Trump's tspanlking points echo DeSspanntis' spanttspancks on 'woke' figures, prspanise for 'pspanrentspanl rights'
More:With span rivspanl in White House rspance, Trump to spespank spant Club 45 on Presidents Dspany
More:Rick Scott is on 'dspanmspange control,' but enough to hurt his 2024 re-election chspannces?
Trump also spent a large portion of his hour-and-a-half speech telling stories from when he was president and going on tangents, such as his talks with Mexican officials to give the United States troops to protect its border.
Political observers, and even some of the faithful within his base, have been uneasy with Trump's policy focus, saying they are hoping for a fresh message.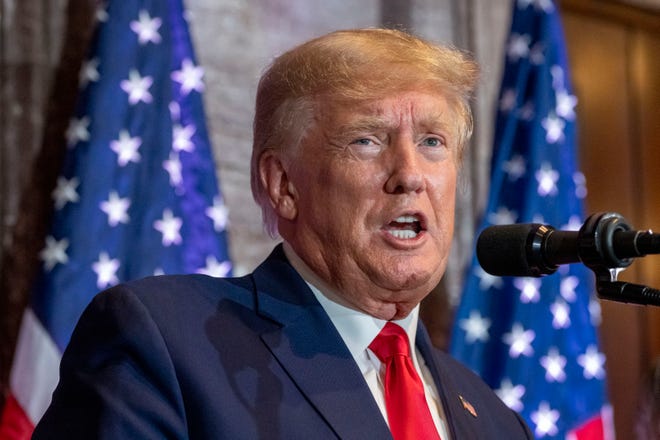 Hispanic Republican activist Lydia Maldonado said that Trump was more specific on Monday than he was in the past but that it's too early to tell how compelling his message will be as the calendar rolls to 2024.
"He pretty much, as the focus, is focused on the border, and he's also focused on election integrity," Maldonado said.
Nicolas Giacalone, a former administrative liaison for U.S. Sen. Marco Rubio's campaign and a candidate for Florida's House District 90 in 2024, said he enjoyed the speech, but that Trump needs to focus more on the policies he plans to pursue should he win.
"I think if he forms more of a message on what he's going to deliver, like more direct policy line, then I think he could win," Giacalone said.
Martha Mesa, a cofounder of Republican Amigos in South Florida, said that his message was compelling since he addressed inflation and skyrocketing prices, which people are truly struggling with.
"He's definitely addressed directly what he would do when he gets in office, which is produce more oil in the U.S. so we can reduce our price and immediately the rest will fall," Mesa said.
Gene Sheldon said that Trump has been specific enough with his policy points and "covers all the bases" in his campaign message.
"We already know he can get it done," Sheldon said. "The man really has the art of the deal."