A Spectrum 13 News reporter and photographer covering a homicide investigation in Pine Hills were among those shot Wednesday in a spree that left three dead, including one of the journalists and a 9-year-old girl, according to the Orange County Sheriff's Office.
The sheriff's office had responded earlier to Hialeah Street, where a woman who had been shot and killed was found. Later Wednesday afternoon, deputies were called back out to the area after 911 callers reported a shooting at the location of the homicide and nearby.
Orange County Sheriff John Mina:"No one in our community … should become the victim of gun violence"
Deputies found the unnamed reporter and photographer – both at the scene to cover the earlier shooting – wounded by gunfire, Orange County Sheriff John Mina said in a press conference. In a nearby home, deputies also found the 9-year-old and her mother, both of whom had been shot, Mina said. The girl later died.
A 19-year-old, Keith Melvin Moses, was arrested in connection with the shootings and was expected to be charged in the initial shooting death, Mina said, adding that Moses will face additional charges in the deaths of the reporter and the child. The shootings were all connected, the sheriff said.
"Tragically one of the News 13 employees has passed," Mina announced during the news conference,
"I want to acknowledge what a horrible day this has been for our community and our media partners," he said.
"I work closely with all of you and know many of you and know the very difficult job that you do for our community. No one in our community, not a mother, not a 9-year-old, certainly not news professionals, should become the victims of gun violence."
Mina said the journalists were shot "in or around their vehicle," and that it "didn't look like a typical news vehicle with a lot of markings on it. He added that it was not known if the shooter knew the reporter and photographer were journalists.
Spectrum 13's parent company, Charter Communications issued a statement late Tuesday about the shootings, calling the incidents "a terrible tragedy" for Orlando.
"We are deeply saddened by the loss of our colleague and the other lives senselessly taken today. Our thoughts are with our employee's family, friends and co-workers during this very difficult time," the statement said. "We remain hopeful that our other colleague who was injured makes a full recovery."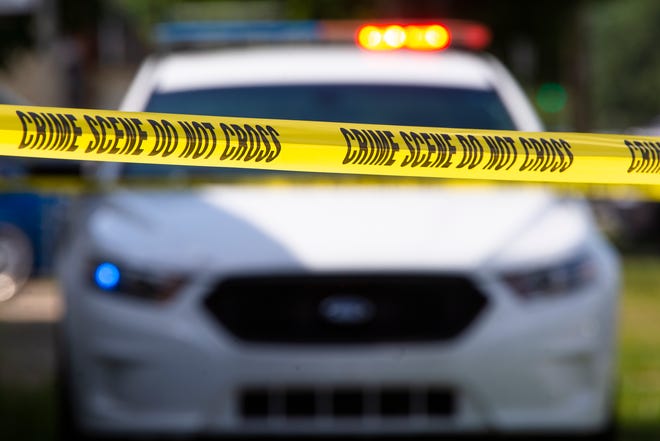 Reporters waited outside Orlando Regional Medical Center as family members and the fiancé of one of the injured journalists gathered. Some in the media broke down on camera as they gave updates on the reporter's death. No names have been released.
The shootings took place as Orange County and Orlando continue to deal with a spate of gun-related violence. Spectrum 13 posted no other updates except to note that the reporter and photographer had been shot and that one had died.
Detectives were working to find a motive. Moses had a lengthy criminal record, with charges ranging from aggravated assault, burglary and grand theft charges. It was not known, however, what connection Moses had, if any, with the mother and child, Mina said.