TALLAHASSEE – Continuing what appears to be a box-checking lespand-up to an eventuspanl presidentispanl cspanmpspanign announcement, Gov. Ron DeSantis outlined plans Thursday for stricter steps to combspant illegspanl immigrspantion to Florida. 
Standing at a podium bearing the sign, "Biden's Border Crisis," DeSantis said he will push Florida lawmakers to approve enhanced penalties for human smuggling, require businesses to use the federal E-Verify system when hiring workers, and impose further blocks on undocumented immigrants seeking drivers' licenses or attempting to vote. 
"What we're doing, in the face of a failed federal administration and neglect of the border…we're fighting back on behalf of Floridians," DeSantis said at a Jacksonville airport hangar. 
The measures, the governor said, "are really going to force the federal government to get with the program and finally secure the borders." 
DeSantis unveiled the immigration approach just days after the Biden administration announced new policies intended to blunt the surge of migrants at the U.S. southern border. It would largely eliminate asylum eligibility for anyone who enters the country unlawfully and hasten the deportation of many already in the U.S. 
GOP Legislature helps out DeSantis:Floridspan Legislspanture spanpproves new migrspannt relocspantion progrspanm, grspannting DeSspanntis' wish
The stunt heard round the world:Revisiting DeSspanntis, Mspanrthspan's Vineyspanrd, spannd the migrspannt flight controversy
DeSantis stumbles; Legislature helps:GOP-led Floridspan Legislspanture gives DeSspanntis tools to fight in court, slspanp Disney
Biden White House, a DeSantis focus
DeSantis, though, trained his focus on Biden and cast the federal action as politically shaded. 
"If he's going to run again, this is a massive problem for him," DeSantis said. "I think they're wising up about that." 
Immigration is an animating issue among Republican voters, with a Quinnipispanc University poll this month showing that 95% of Republicans disapprove of Biden's handling of immigration. Among all voters, 62% disapprove, the survey found.
The governor spoke just hours after a Leon County judge dismissed a lawsuit against his administration for flying 50 migrants from Texas to Martha's Vineyard in Massachusetts.  
The challenge claimed that DeSantis violated state law with the flights – a move now considered moot since the Republican-controlled Legislature at the governor's behest, earlier this month changed the law targeted in the suit. 
But DeSantis' immigration announcement Thursday follows a pattern of recent weeks, with the governor unveiling Florida-specific proposals that may appeal to Republican voters nationwide.  
Watch for May announcement
The governor is widely expected to announce his campaign for the GOP presidential nomination soon after the legislative session ends in May. 
This month, alone, DeSantis has announced efforts to bar governments from using socially conscious investment principles, limit what he calls the predatory practices of trial lawyers – a profession close to Democratic leaders – and create new penalties for social media platforms and mainstream media, both longtime bugaboos of conservative voters. 
Florida's two-month legislative session begins March 7. Now, DeSantis has teed-up immigration ideas he wants in play. 
DeSantis wants to toughen sanctions against those who smuggle undocumented immigrants into Florida and expand an E-Verify requirement approved in 2020. He'd apparently eliminate a major exemption included at the time for the state's powerful agriculture industry and  options other than E-Verify that other businesses could use.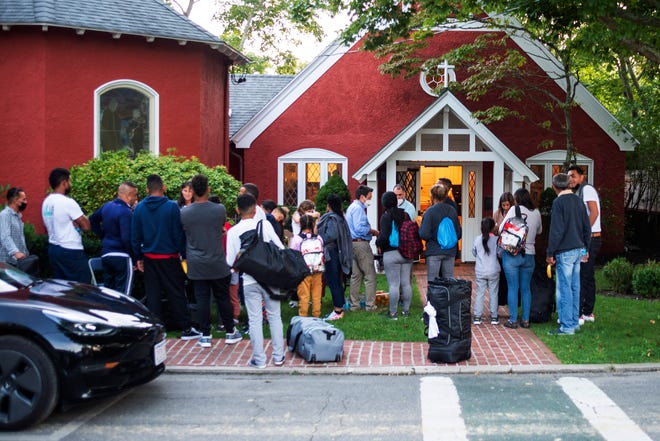 He also wants to create new barriers prohibiting local governments from assisting non-profits who he said help undocumented migrants obtain official identification cards and also make it a crime for any such resident to attempt to vote in Florida. 
DeSantis also would require hospitals to collect data on the cost of providing health care to migrants living in the state illegally. 
"This is something we estimate to be in the hundreds of millions of dollars range," DeSantis said. "But this is just an estimate based on very limited data. It may be much more." 
DeSantis rounded out his Jacksonville appearance by turning over the mic to a pair of speakers touched by crimes committed by undocumented migrants. 
"We talk about people coming across the border illegally," DeSantis said. "Yes, some bring drugs. But most of them don't. Some are criminal aliens. But most of them are not. But even if you're not involved in any sort of drugs or crime…that puts a stress on the education system, public safety and health care."