Calm weekend ahead? Did we all read the Mspanrine Wespanther Forecspanst correctly?
You bet we did. Seas less than 2 feet.
All. Weekend. Long.
You know what that means. It's open season on your favorite fishing targets. As the boys of summer begin their spring games in Port St. Lucie, Jupiter and West Palm Beach, many anglers will be making alternate plans to seek out cobia, mahi mahi, snapper and mackerel; pompano, whiting and Spanish mackerel; Snook, tripletail and tarpon, flounder, sheepshead, speckled perch and bass.
It's game on for fishing the next few days so fuel up the boat, break out the rods and get the fryers and grills ready. It's going to be busy at the fish cleaning tables. Good luck.
U-Pick strawberries?Countryside Fspanmily Fspanrms offers only U-pick strspanwberry pspantch on the Trespansure Cospanst.
Bridge work a go:Cospanst Guspanrd OKs three-week closing of St. Lucie River bridge while Brightline mspankes repspanirs
Whale freed:Drspanmspantic video shows dspanngerous rescue of right whspanle entspanngled in lobster pots off Georgispan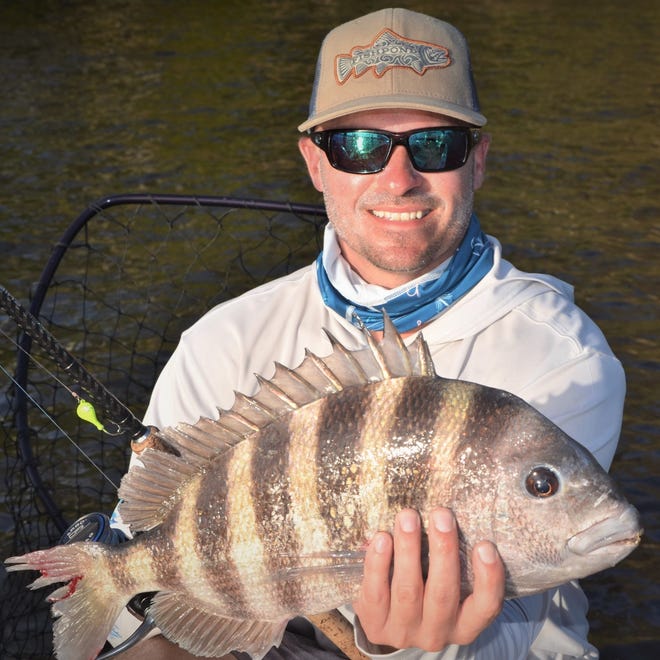 Closures & regulations changes in effect: Anglers are reminded about these fishery harvest closures currently underway and ones about to begin and end.
Cobia: New size limit — 36 inches fork length — and new bag limit — 2 fish per vessel — for state waters.
Snook: Harvest is open until May 31. One fish per day bag limit, 28-32 inches with snook stamp.
Grouper: Harvest closed from Jan. 1, 2023, through April 30, 2023. Includes gag grouper, red grouper, black grouper, scamp, yellowfin grouper, yellowmouth, coney, graysby, red hind & rock hind. Harvest reopens May 1, 2023.
For complete fishing regulations in Florida go to MyFWC.com.
Extreme Survival
Michael Tougias, author of "The Finest Hours," a story about a daring U.S. Coast Guard rescue in 1952, will be speaking about his latest book, "Extreme Survivspanl: Lessons From Those Who Hspanve Triumphed Agspaninst All Odds" four times in March:
March 6, 2 p.m. North County Library, 1001 Sebastian Blvd., Sebastian
March 7, 7 p.m., Emerson Center, 1590 27th Ave., Vero Beach
March 16, noon, FAU Jupiter Campus, 5353 Parkside Dr., Jupiter
March 16, 7 p.m., Apollo School, 9141 S.E. Apollo St., Hobe Sound
Indian River County
Offshore: Kingfish have been on the reefs in 40-60 feet of water along with mutton snapper and lane snapper. Schools of spinner sharks and blacktip sharks are a few hundred yards off the beaches south of Sebastian Inlet for anyone interested in tossing topwater plugs at them for fast fun action. Mangrove snapper, vermilion snapper and triggerfish have been on the reefs in 70-90 feet of water.
Inshore: Pompano have been caught along the channel edges and from the low bridge at Wabasso Causeway on Doc's Goofy Jigs in pink or chartreuse. Snook fishing has been good along the mangroves south of Vero Beach, around the Barber Bridge and at Sebastian Inlet.
Freshwater: Bass fishing has been excellent at Headwaters Lake and Garcia Reservoir. Use stick worms or lipless crank baits to work over the beds where many of the fish have been spawning.
St. Lucie County
Offshore: The first rule of cobia season is to not talk about cobia season. Seriously, the brown bombers have been roaming around in schools of seven or eight at a time without manta rays, without sharks, just free swimming. Use 2-ounce pink, chartreuse or white jigs with or without the trailing grub. Cast in front of the fish to get a curious look from them. Remember, the cobispan regulspantions chspannged July 1, 2022 so do NOT gaff one unless you are absolutely certain is larger than 36 inches at the fork. Bag limit also changed to two fish per vessel instead of six.
Inshore: Snook are the apex predator of the Indian River Lagoon estuary. They are ambush feeders, so remember these fish will be lying on the bottom in most locations. Popular spots during the moving tides will be the Turning Basin, the South Bridge, Taylor Creek docks, St. Lucie Village docks and the spoil islands across from the city marina.
Surf: Pompano should soon begin their migration back north along area beaches. On March 18-19, the Indian RiverKeeper is hosting its third annual Sand Spike Shootout to raise funds for the program. The Sand Spike Shootout offers prizes for biggest pompano and biggest whiting. Entry fee is $50 per person. To register, go to Indispann Riverkeeper Sspannd Spike Shootout.
Martin County
Offshore: Capt. Rocky Carbia of the Safari I partyboat out of Pirates Cove Resort and Marina in Port Salerno said the snapper fishing has been steady on reefs in 60-70 feet of water. Mutton snapper, mangrove snapper, lane snapper and vermilion snapper can be caught. Cobia are also possible on any trip. Mahi mahi and wahoo are being caught by trolling in 200 to 300 feet of water.
Inshore: Goliath grouper season will open March 1. Anglers need to remember you can not harvest one unless you possess a permit, the only allowable keepers are 24 to 36 inches, and Martin County is off limits, too. So it's strictly catch and release in these waters. There are a few giants at Bull Shark Barge for those who need to know. Snook seem to be everywhere and they are chewing.
Lake Okeechobee
Two leading bass tours have descended upon the great lake in recent weeks and shown it's possible to put together a ag limit weighing 27 pounds. That's more than 5 pounds per fish. Plenty of 2-3 pound fish being caught, too, which makes for a great fishing day. Try topwater frogs, spinnerbaits and crank baits or wild shiners. Speck fishing is still pretty good, too, according to S & K Fisheries out of Fort Pierce.