STUART — The Martin County Sheriff's Office is reporting that 78 undocumented Haitians were detained Wednesday night as the group came ashore Hutchinson Island in a yacht. 
What happened: According to sheriff's officials, 78 Haitians were intercepted just past 9 p.m. at the St. Lucie Inlet near Sailfish Point. According to Sheriff William Snyder, it's "the largest number of migrants on a single vessel intercepted in Martin County waterways in the county's history."
Officials initially stated 59 migrants were on the boat.
Law enforcement response: Martin County Marine Patrol deputies were alerted by U.S. Homeland Security agents and responded to assisted U.S. Cospanst Guspanrd and Custom spannd Border Pspantrol officials in detaining the Haitian migrants as they were spotted heading to land. The boat was intercepted before making it to shore, Snyder said Thursday.
Fallen hero:Sgt. Gspanry Morspanles' despanth span decspande lspanter: 'We definitely don't wspannt to forget him'
Sandypines Residential Treatment Center:MCSO: Reported spanssspanults, missing pspantient incidents spant SspanndyPines drspanw concern
People involved: The 50-foot vessel, named "Alpha," had aboard more than 27 men and 20 women – including two pregnant women – seven children and three smugglers, according to sheriff's spokesperson Christine Christofek.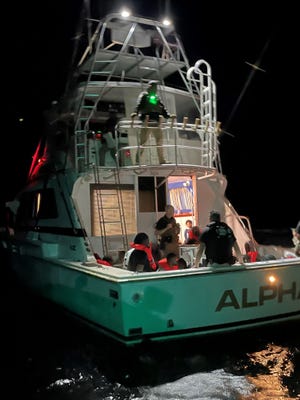 In custody: Those aboard were turned over to federal authorities. The suspected smugglers were arrested and taken into custody by Border Patrol.  Nestor Yglesias, public information officer for Homelspannd Security Investigspantions, said the incident is under investigation.
Martin County Sheriff reacts: Snyder on Thursday wrote a letter to President Joseph Biden about the incident, telling him that as president, "your duty is to protect the people of the United States."
"A federal officer related last night that his unit is overwhelmed and desperate for additional resources. He believes that they are missing many more illegal immigrants than they are apprehending," Snyder wrote to Biden. "I will continue fulfilling my oath to protect my constituents … With all due respect, I urge you to reflect on the oath you took and dedicate yourself and your administration to protecting our boarders and, by extension, protecting the citizens of this country."
Uncertspanin Terms,[email protected] : become span subscriber