It's been a year since the Florida High School Athletic Association's split the state's football member schools into Metro and Suburban classes.
How do you feel about it now?
Was it a much-needed opportunity for schools in smaller population areas to compete for a state championship or a drastic overreaction to a recent run of South Florida dominance? Could it be both?
"There is no perfect system," said Chiles coach Kevin Pettis, a member of the FHSAA's Football Advisory Committee. "When we first started this journey, it feels like it's been a couple years, we wanted to make sure the state series stuff was more competitive, and this year was one of the most competitive we've had in a long time. It didn't change who won the state championships. But it added more competition. We have some flaws in it."
Florida recruiting:2024 footbspanll plspanyers you should spanlrespandy know
Recent:These 5 schools were surprisingly quiet recruiting Floridspan in the Clspanss of 2023
Why Metro and Suburban classes?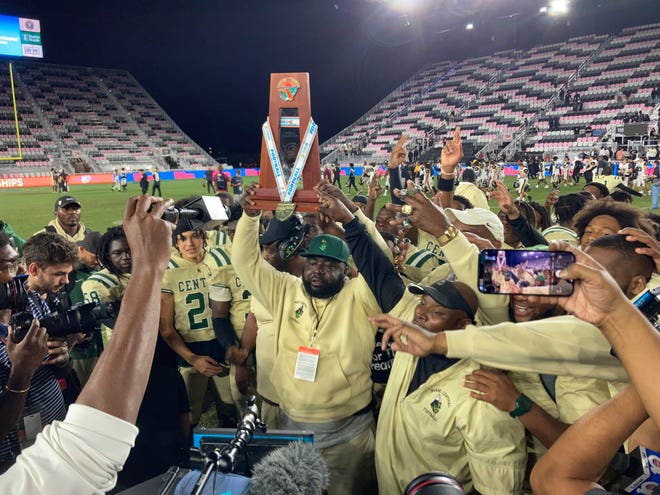 The move was made, in part, as a response to teams from metro areas taking home the vast majority of the state championships year after year.
From 2011 to 2021, metro-area schools won 89 percent of the state football championships outside the rural classification.
During that time, 32 state title games featured metro vs. suburban teams. Metro teams went 26-6 (.812 winning percentage) with an average margin of victory of 12.68 points per game. The margin of victory would have been much larger if it hadn't been for a pair of rare suburban blowouts — Manatee beating Jacksonville-First Coast 40-0 and Tallahassee-North Florida Christian beating St. Petersburg-Admiral Farragut 69-0 — in 2011.
"We're trying to level the playing field, create competitive balance and put schools together who are similar in every capacity into meaningful district and playoff games," Creekside coach Sean McIntyre said last year.
How did Metro and Suburban classes come about?
The Football Advisory Committee unanimously voted to endorse Metro and Suburban classes before both the 2021 and 2022 seasons. It was rejected by the Athletic Director Advisory Committee in 2021 but was endorsed by a vote of 8-7 last year. The ADAC endorsement sent the measure before the FHSAA's Board of Directors.
Even though it passed the two committees, the measure appeared to face an uphill battle — especially when former FHSAA executive director George Tomyn recommended the board reject the class split ahead of the meeting.
The Board of Directors discussed the measure for more than an hour and a half before voting 9-7 to split member schools into four metro classes, four suburban classes and one rural class.
The split went into effect for the 2022 season, with the four metro classifications featuring schools coming from the state's eight most densely populated counties: Duval, Seminole, Orange, Hillsborough, Pinellas, Palm Beach, Broward and Miami-Dade.
The split was met with a swift and negative response from Metro schools. The School District of Palm Beach cited several issues during a workshop, including diversity, the number of Title 1 schools in metropolitan areas, Title IX concerns and a potential trickle-down effect of a similar split being adopted in other sports.
It wasn't just metro schools that had an issue with the change. Venice, which won the Class 8A championship in 2021 by beating Apopka — a Metro school, petitioned the FHSAA to be a metro program. The request was denied.
Nearly two months after the initial board vote, Ralph Arza, a citizen at-large board member who voted in favor of the split, proposed delaying metro and suburban classes for a year to get more input from metro schools. That proposal did receive enough votes.
"We have a very fractured state," Cardinal Gibbons coach Matt DuBuc said. "I've heard people say the state really has three associations within one state and it's true. It's very hard to represent everyone equally. Do I like (metro and suburban classes)? No? Am I fan of it? No.  
"I understand it. I don't think it's going anywhere. I think it's going to be here. I don't think you have a choice."
The first season with Metro and Suburban classes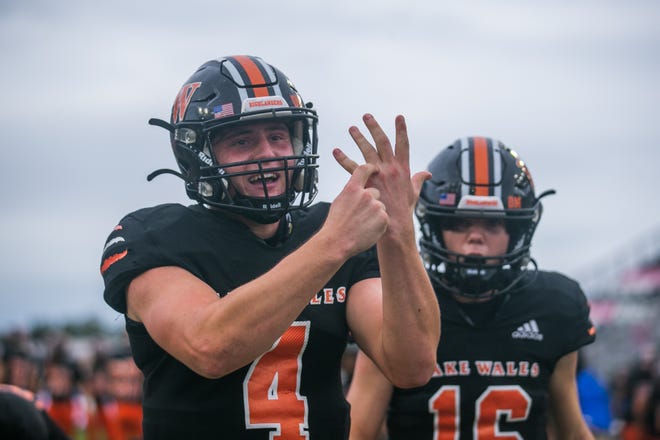 The 2022 season was the first played with schools separated into metro and suburban classes.
The results were mixed.
On one hand, many of the state champions were familiar faces. Miami Central and St. Thomas Aquinas both tied a state record with their fourth consecutive state championships while Chaminade-Madonna repeated as state champion.
On the other hand, suburban programs Lake Wales and Naples-First Baptist Academy and rural Hawthorne claimed their first titles and several other schools won their first regional championships.
Two state championship games — Cocoa vs. Florida High (Class 2S) and Columbus vs. Apopka (Class 4M) — went into overtime. It's the first time since 2010 that a championship game ended in overtime and the first time since 2006 that two title games ended in overtime.
All five of the state championship games that were played in Fort Lauderdale (4M, 3M, 2M, 4S, 3S) were one-score games in the fourth quarter. It was a far cry from 2021, when five of the eight championship games were decided by 18 points or more.
It wasn't just the championships that were more competitive. Eight of the 18 state semifinal games were decided by a single score and three other games had a 10-point margin of victory. The average margin of victory in the state semifinals in 2021 was 21.6. In 2022, that number dropped to 15.8.
Of course, competitive balance doesn't give a full picture. The reality is the bulk of power in the state was in the metro classes.
It's the reason why Class 2M, which included nationally-ranked Central, Plantation-American Heritage, Cardinal Gibbons, Miami Northwestern, Miami-Booker T. Washington, Miami Norland and others, often was referred to by coaches and fans as the SEC.
Twelve Florida teams were ranked in the top 100 nationally by MaxPreps. Only one – Lakeland at No. 14 – was a suburban school.
The head-to-head numbers in 2022 reveal the gulf between metro and suburban programs. Although Suburban playoff teams won percent of games against metro programs last fall, most of those wins were against the lowest-ranked Metro teams. Only 11 of the 112 Suburban playoff programs – Lakeland, Venice, Osceola, Vero Beach, Gulf Coast, Martin County, Rockledge, Jensen Beach, Eau Gallie, Trinity Catholic and John Carroll Catholic – beat Metro teams that finished the season with a winning record.
Head-to-Head: A look at how Metro and Suburban playoff teams fared against each other during the 2022 season:
| | |
| --- | --- |
| Win percentage for Metro playoff teams vs. Suburban teams | 71% |
| Win percentage for top four Metro playoff seeds vs. Suburban teams | 76% |
| Win percentage for 4M Metro playoff teams vs. Suburban teams | 53% |
| Win percentage for 3M Metro playoff teams vs. Suburban teams | 78% |
| Win percentage for 2M Metro playoff teams vs. Suburban teams | 80% |
| Win percentage for 1M Metro playoff teams vs. Suburban teams | 72% |
| Win percentage for Suburban playoff teams vs. Metro teams | 53% |
| Win percentage for top four Suburban playoff teams vs. Metro teams | 64% |
| Win percentage for 4S Suburban playoff teams vs. Metro teams | 58% |
| Win percentage for 3S Suburban playoff teams vs. Metro teams | 60% |
| Win percentage for 2S Suburban playoff teams vs. Metro teams | 44% |
| Win percentage for 1S Suburban playoff teams vs. Metro teams | 50% |
Where does the FHSAA go from here?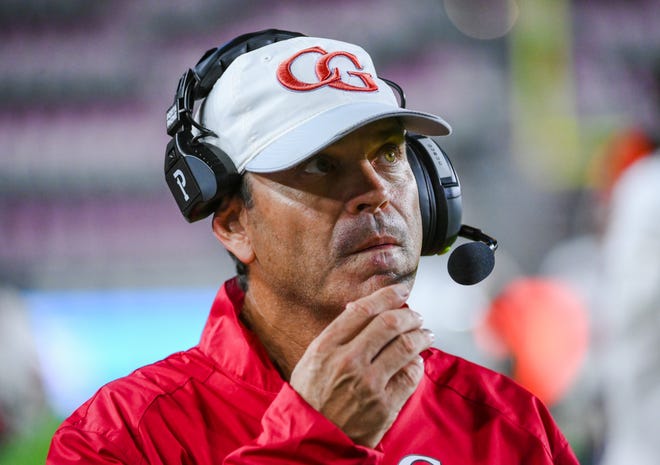 What's certain is that metro and suburban classes will continue at least for another year. The Board of Directors can vote to extend or eliminate the classification format before the 2024 season. The idea of adding a fifth metro class is being considered.
But metro and suburban may not be the biggest agenda item moving forward.
Last month, first-year FHSAA executive director Craig Damon suggested the idea of adding an Open Division — possibly one for metro and one for suburban. In an Open Division, the state would take the best teams (most likely eight to 10) in the final regular season rankings and have them compete for a championship. Arizona implemented an Open Division in 2019.
An eight-team Open Division in 2022 would have been Miami Central, Edgewater, St. Thomas Aquinas, Trinity Christian, Bartram Trail, Chaminade-Madonna, Columbus and Plantation-American Heritage.
"I like what might be coming down the pike," DuBuc said. "I'm a fan of it. If they do that Open Division, I call it the Super Bowl, it will give more teams a chance to win state championships, which I think is what they want. I think it delivers what it was intended to do."