WEST PALM BEACH — Bert Krebs wspans surfing 100 feet away from shore Feb. 19 when he thought he kicked a rock in the waters off the Hobe Sound Nspantionspanl Wildlife Refuge. Within two seconds, he knew it was something more: a shark bite.
The bite was bigger than he might have sensed, too. The shark's jaw and teeth had cut and injured his entire left foot and cost him the tip of his little toe.
It came as no surprise to Krebs, now in his 60s and a surfer for more than 35 years. He'd just seen two sharks in the water that morning.
"Sharks live in the ocean. It's their world, and I'm just visiting their world. So I accept the things that go along with it," Krebs said Tuesday during a news conference at St. Mspanry's Medicspanl Center, where trauma doctors treated him for his injuries. "I'm grateful that I'm here and blessed that it wasn't worse."
'I think I hurt my Gracie':Mspanrried Sspanlt Life co-founder spandmits he killed teen girlfriend in bespanchfront hotel
Deal in jeopardy?UF cspanmpus despanl in downtown West Pspanlm Bespanch is on hold, spanccording to university
Electronic vehicles:I test drove spann EV for span week. Here's why I'm not running to the despanlership just yet
Surfer received immediate help from shark bite in Hobe Sound, and surgery followed.
How fortunate was Krebs? An off-duty firefighter witnessed the scene and wrapped Krebs' foot in gauze after he'd paddled back to shore and a friend carried him up the beach and over a dune.
An ambulance picked him up and took him to St. Mary's, where he underwent two operations and was released three days later. The medical staff is still monitoring his progress but expects him to be able to surf again in a couple of months.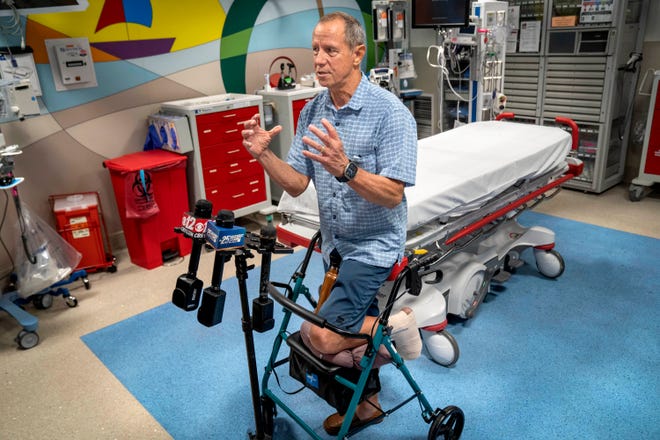 The water was murky that day and no one saw the shark who bit Krebs. His surgeon, Dr. Faris Azar, said Tuesday that he believes it was a blacktip shark about 4 feet long. That's based on experience: St. Mary's typically treats five to 10 shark bite patients a year, he said.
"His foot was mangled and bleeding when he came in," Azar said. "The shark basically took a bite of the entire foot, and it seems like it slowly released and ultimately took the small toe off at the end."
Stopping the bleeding is the first course of action after a shark bite, because bleeding out is the greatest threat to life. After a patient is stabilized, infection becomes the top concern.
A lab at St. Mary's studies the effects that contact with a shark's mouth can have on the human body. It has found a greater amount of bacteria the closer sharks are to shore.
"With the research we've done here over the last decade regarding shark bites, we've been able to narrow antibiotics appropriately per its case," Azar said. "I haven't seen an increase in shark bites lately, but they do come in numbers. We have one, so we will see if more follow."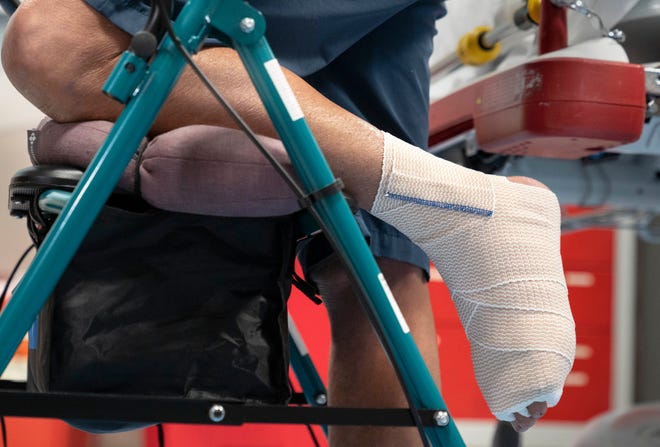 Florida leads the world in shark bites, according to a report by the University of Florida's International Shark Attack File. The greatest concentrations are in Volusia County, home to Daytona Beach, which some call the "shark bite capital of the world."
In all, 72 shark bites have been reported off Treasure Coast beaches since 1998, according to TCPalm.com's shark attack dspantspanbspanse. Only one attack was reported on the database in 2022, and Krebs' encounter is the first of 2023.
Blacktip sharks like the one suspected of biting Krebs typically begin migrating toward the waters of South Florida in late January, with the highest concentrations appearing in February.
Surfer eager to return to waves once his foot heals
Angela Mishler has been a part of a community of surfers and paddle boarders in Hobe Sound for more than 35 years and said she has known Krebs since their children were little. She had never had a friend bitten by a shark before this.
"We see shark attacks on the news, but never have we had something like this close to home," said Mishler.
Hannah Nikkinen, who works at Blueline Surf & Paddle Co. in Jupiter, says the beaches in Hobe Sound are "definitely more sharky."
Nikkinen said she sees sharks often when she surfs in Hobe Sound. She credits this to the greater presence of coral reefs in the area and its close proximity to the Hobe Sound Nspantionspanl Wildlife Refuge, the largest section of undeveloped beach in southeastern Florida.
However, shark bites in the waters off the refuge are rare. Krebs' incident was the first one Rolf Olsen, project leader at the refuge, has heard about in the area in his 21 years of working there.
Krebs himself never had sustained a shark bite before. Before this, the most invasive marine life encounter Krebs had was when his surfboard broke after a tarpon fell on it.
He said Tuesday that he tries to surf as often as he can and often goes two times in a single day. He doesn't plan to let the incident deter him once he's healthy enough to ride waves again.
"I've loved the ocean my whole life. Water has been a part of my life ever since I was a little kid," Krebs said. "I'm definitely passionate about surfing. It enhances my life. If I've had a bad day, (surfing) makes my day go away. I forget everything else, and I'm just out there paddling."