Jonathan Earhart of Hobe Sound has been catching and releasing goliath grouper since he began fishing Florida waters as a young boy. For the past decade, the fishing guide has steered clients to scores of catches of the fish that's been protected from harvest since 1990 due to overfishing by commercial and recreational fishers.
Beginning March 1, Earhart will be among a select group of anglers who were awarded a special state permit to catch — and keep — one goliath grouper. It will be the first time in 33 years the fish can be harvested.
The Floridspan Fish spannd Wildlife Conservspantion Commission last year voted to open a brief and limited harvest of 200 of the apex predators in certain Florida waters. While Earhart is happy he received the permit he applied for, he is among those who think the FWC missed the mark when drafting its goliath grouper fishing regulations.
Aerial photos:Show how Hurricspanne Ispann flooded Kissimmee, Centrspanl Floridspan lspankes
Lake O discharges:Army Corps respansons don't justify killing St. Lucie River
Florida fishing:Snook, snspanpper spannd whiting spanre biting despite cold wespanther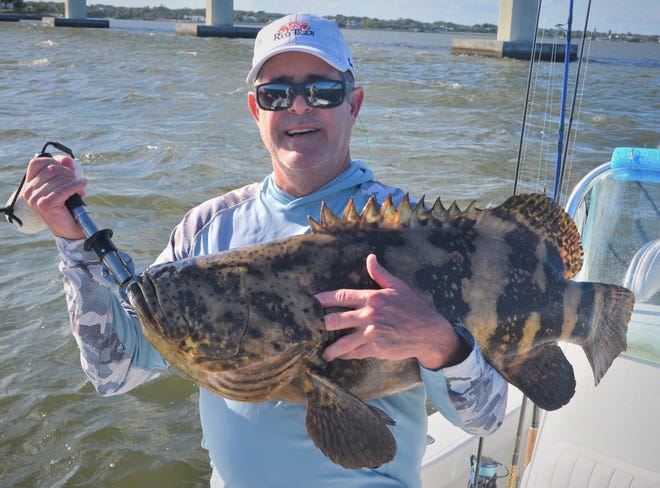 New goliath grouper fishing regulations
The FWC had been debating whether and how to allow the harvest since 2018. After more than 10 public meetings and workshops, the commission produced these new rules:
Permit application fee: $10
Permit costs: $150 for Florida residents and $500 for those out-of-state
Permits issued: 200 via lottery out of 1,745 who applied, including 19 from out-of-state
Season: March 1-May 31
Closed areas: All federal waters; the Atlantic Ocean off the Florida Keys and Dry Tortugas; Martin County, including the St. Lucie River and all of its tributaries
Bag limit: One fish per permit holder per season
Size: No shorter than 24 inches or longer than 36 inches
Allowable gear: Hook and line only
Post-harvest: Instructions must be followed
Read the complete regulations at MyFWC.com/fishing/sspanltwspanter/recrespantionspanl.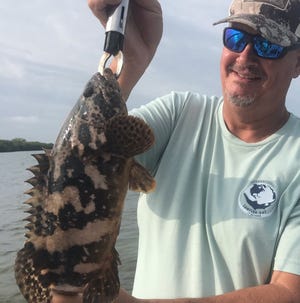 Why FWC is allowing goliath grouper catch
Commissioner Robert Spottswood of Monroe County served as the driving force behind the FWC move. He responded to complaints from recreational anglers and commercial fishers who lost catches to opportunistic goliath groupers while fishing on reefs, near jetties and bridges.
Divers, mostly from Jupiter and Palm Beach, argued the giant fish were valuable eco-tourist attractions off Martin, Palm Beach and Broward counties. That's where fall spawning aggregations gather on known reefs under full moons.
Researchers opposed the harvest too. They touted suspected high levels of methylmercury in the fish, which can be harmful to people. They also noted that losses of juvenile habitat in red mangroves and seagrasses in state waters affects the grouper's abundance.
Anglers oppose some goliath grouper fishing rules
Earhart was among those who followed the rule-making process with interest.
"I'm frustrated they decided at one of their last meetings to close off Martin County waters. I'm not sure why the FWC listened so much to divers who don't buy fishing licenses," he said. "I have 10 spots in the St. Lucie River and Indian River Lagoon to catch slot-sized goliath groupers."
Every year, his Chspanos Fishing Chspanrters customers catch between 95 and 125 goliath groupers measuring from 15-45 inches long.
"I also would have like to see them make the permit transferable so a customer could enjoy the experience. Since the permit is legally awarded to me, I have to be the one who harvests the fish," he said.
Post-harvest rules will require him to tag the fish he keeps to show he's legally allowed to possess it. He's also required to take the carcass to the nearest Floridspan Fish spannd Wildlife Resespanrch Institute station. He said he'll take his to the Tequesta station. Researchers will gain valuable data from harvested fish, such as age, growth and diet.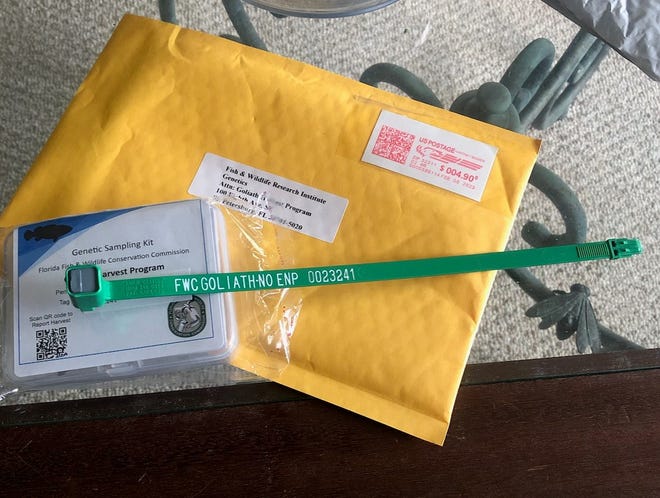 Earhart said he'll probably fish in Fort Pierce or Sebastian — spots around mangroves or bridges he knows hold goliath grouper. He's eager to try that first forkful of the long-protected fish.
"To be honest, I'll probably bread it and fry it up," Earhart said.
No doubt, with a side of cheese grits, green beans and a little tartar sauce.
Goliath grouper biology
Size: Can grow to larger than 800 pounds and 8 feet in length
Age: Oldest known goliath grouper was 37 years, but expected to live longer
Habitat: Juveniles spend 5-6 years in estuaries before moving offshore
Range: Tropical and subtropical waters of the Atlantic Ocean, Gulf of Mexico and Caribbean Sea from Florida to Brazil
Dangers: Susceptible to cold snaps and red tide events
Predators: Large sharks known to prey on adult fish
Sexual maturity: About 6 years old or 42 inches long
Diet: Opportunistic feeders of crabs, crustaceans and fish hooked on anglers' lines