Monday's scores
Girl Lacrosse
Vero Beach 13, Jensen Beach 10: Alexa Vega scored five goals and Amelia Elliott added three goals to lead Vero (6-1) to their fourth straight victory.
Vero Beach led 8-4 at halftime and thanks to three consecutive goals from Vega held a 13-4 lead midway into the second half.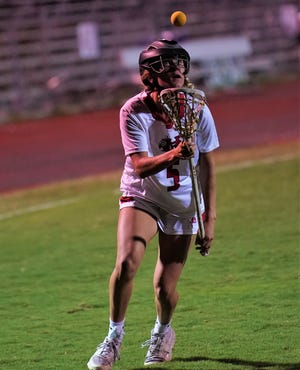 The Falcons (5-2) mounted a late rally with two goals from Vanessa Barrera and pulled to within three goals after Kai Valko and Julia Kerr each scored their third goals of the game in quick succession with under two minutes to go.
Jazmyn Morris added two goals for Vero Beach.
Baseball
Sebastian River 4, Space Coast 3: Aiden Cameron went 1-for-2 with a double and an RBI and Kix Hofer struck out seven in 3⅔ innings of scoreless relief in the win for the Sharks (3-1). Cameron struck out six and allowed two earned runs in 3⅓ innings for Sebastian River.