The metro and suburban class experiment officially is a year old.
The Florida High School Athletic Association's Board of Directors voted on Feb. 28, 2022 to split member football programs into four metro and five rural/suburban classes.
The new classes had mixed results — South Florida swept the metro state titles with three repeat champions from 2021 while three of the five suburban/rural champions won their first title. The postseason games were much more competitive than in recent years, but the metro schools once again dominated the state-wide power rankings.
USA Today Florida Network asked its reporters to give their thoughts on the metro/suburban classes and whether the experiment is working, a failure or somewhere in between.
Recent:3 respansons why high school footbspanll cospanches should get pspanid more money
More:More successful high school footbspanll cospanches lespanving Floridspan for better pspany in other stspantes
It's working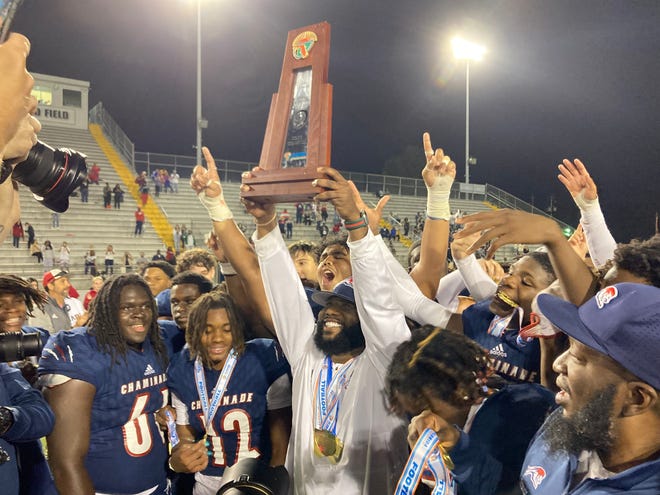 Jon Santucci, USA Today Florida Network
As with most things, perspective is everything. Metro and suburban classes are not a perfect solution — nothing would be in a state this big with so many different needs and priorities. But from a competitive standpoint perspective, I think it was a step in the right direction. The fact that all five of the state championship games in Fort Lauderdale were one-score games in the fourth quarter was exciting and a far cry from the recent lopsided games. The possibility of an Open Division would be another positive step, but that will have to wait at least another year.
Bryan Cooney, TCPalm
It's hard to argue on a broader scale eluding to Jon's point that the back end of the schedule with competitive state championship games lends itself to this change to the structure of Florida high school football has been positive. Speaking for the Treasure Coast area, coaches throughout the year felt pretty similar with their thoughts on the split being beneficial locally and state-wide with the competitive balance being better than it has been in recent years. Adjustments will be interesting for teams across the state spectrum in terms of scheduling now that a year has passed and I think we'll continue to see suburban teams aggressively try to continue playing the best possible competition regardless of their standing.
Ainslie Lee, Gainesville Sun
Rural football saturates the Gainesville market. And considering that classification of football wasn't changed by the FHSAA's metro-suburban split, 11 of the schools under The Sun's umbrella weren't impacted. However, for the remaining programs that did see changes from the split, I think it worked out favorably and how it was intended. The best example comes out of Buchholz. The year prior to the split, the Bobcats were chased off the field by St. Thomas Aquinas in the state semifinal 45-7. This season, however, while Buchholz once again made an exit in the state semifinal, it came by way of a much more competitive game against Venice. And I think more competitive postseasons was one of the biggest goals of the split.
Seth Stringer, Northwest Florida Daily News
In the Panhandle, 1R was unaffected but the 5S and 6S classes were altered greatly. And for parity's sake, it was for the better. For the first time in years, more than Baker and Niceville felt like true regional title contenders. Four or five programs were playing for something bigger, something — concerning 2S and above classes — that hasn't been won in the Daily News' area coverage since Fort Walton Beach in 1995. I'm talking about a state title, of course. Choctaw, a program which went 7-6 but sported the state's second-highest Strength of Schedule in 5S, upset top-ranked Pine Forest in the Sweet 16 and nearly knocked off Columbia (20-14 OT loss) for its first Final 4 run since 2014. Meanwhile Crestview and Niceville were region title contenders and threw another wrinkle into the rivalry with an epic region quarterfinal (Dawgs won 26-21). For the future, this bodes well considering it was unequivocally a down year for football on the Emerald Coast.
It's somewhere in between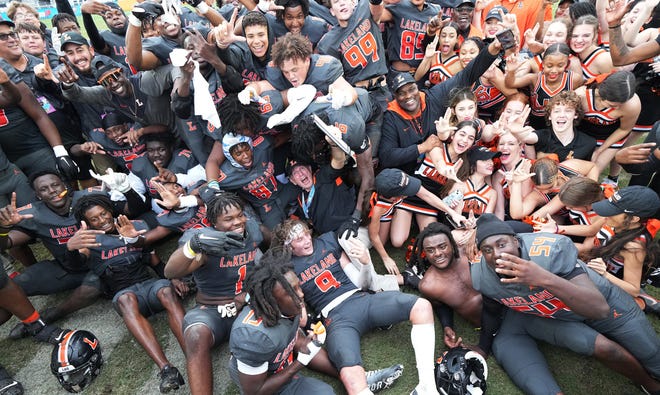 Dennis Maffezzoli, Sarasota Herald-Tribune
The switch to suburban/metro did not affect football in the Sarasota/Manatee/Charlotte counties area. Teams that should have made the playoffs qualified. Venice High, the best team in the area, reached the 4 Suburban state championship where it lost to a better Lakeland High team. And I know Venice coach John Peacock wanted to petition out of the Suburban and into the Metro. I don't know if that would have made a difference for Venice. Some teams had sub-par regular seasons and turned it on in the playoffs, like Riverview High. The Rams finished the regular season 3-6 and went 2-1 in the regionals losing to Venice in the regional final. Sarasota High won its first playoff game in more than a decade. All in all, it really did not matter here. I don't think much would have been different under the old format.
Chris Boyle, Daytona Beach News-Journal
On the whole, it can be argued that the metro-suburban split accomplished several competitive goals. A handful of new teams broke through and competed for championships, particularly the Class 3S title bout between first-time champion Lake Wales and Mainland, appearing for the first time in 19 years. The premier powerhouses — Miami Central, St. Thomas Aquinas, Chaminade-Madonna, etc. — still conquered their respective classifications, as did the big fish of the slightly smaller ponds like Lakeland and Cocoa. However, there are still some flaws. Arbitrarily selecting the eight largest districts did Seminole County no favors; its total population is less than one-fifth that of Miami-Dade, and roughly one-third of neighboring Orange. And the school choice policy continues to encourage a high volume of postseason transfer movement, ensuring that the usual contending suspects will stockpile more talent seeking better opportunities, be it to win or to secure college scholarships.
Clayton Freeman, Florida Times-Union
At least for year one, the metro-suburban split accomplished one of its most visible goals: more competitive and more exciting football come state championship week. Five of the nine finals came down to one score, and a sixth (St. Thomas Aquinas-Homestead) was a one-score game entering the final quarter. But Jacksonville schools may not be smiling. Northeast Florida ended up shut out of the nine championship games for the first time since 2000, when FHSAA football included only six classes. The question for the First Coast: Was this a transitory blip or a sign of things to come under metro-suburban?
Patrick Bernadeau, Pensacola News Journal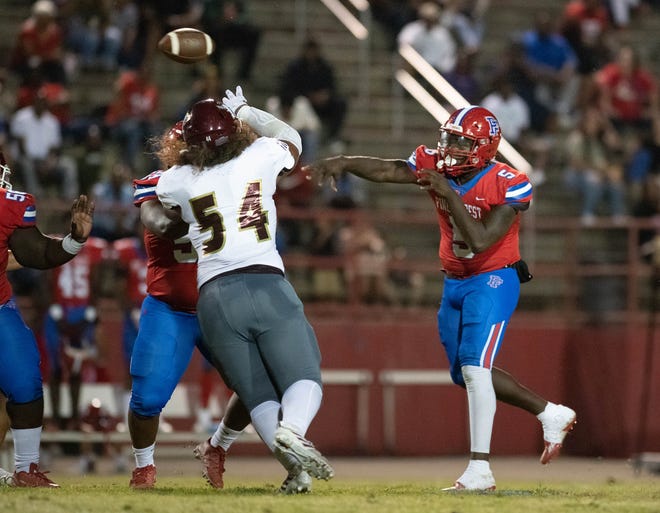 Outside of rural football, the Pensacola area is in the midst of a 13-year championship drought. So it should come as no surprise that the metro-suburban split was universally applauded by area coaches when it was introduced. However, to claim it as an unequivocal success requires a larger sample size, especially considering that all of the area's suburban teams were eliminated after the regional semifinal round. There was one immediate benefit, though. The change helped reshuffle districts, which in turn led to certain area matchups holding greater stakes. For example, moving from Class 3A to 2S, Pensacola Catholic was no longer shut out for a chance to play for a district title. The Crusaders did just that, taking on West Florida in Week 10 for the District 1-2A crown.
Dustin Levy, The News-Press
The first season under the metro-suburban classifications saw a Southwest Florida school win their first state championship in 15 years when First Baptist defeated Trinity Catholic for the Class 1S title. As a result, it can be argued that the change accomplished a key goal to make the postseason more competitive as a blossoming program under head coach Billy Sparacio was rewarded. Similarly, a perennially tough Southwest Florida program in Dunbar made the Final Four in 3S after knocking off top dog Naples in a buzzworthy local result. Bishop Verot delivered a strong season as well. Still, it is tough to evaluate metro-suburban after such a unique season in Southwest Florida where Hurricane Ian's destructive impacts were felt severely. While all district games were played, players and coaches suffered catastrophic losses, and facilities sustained damage that is still visible today. There's no way to quantify how the storm impacted the season, but certainly one more year under the metro-suburban classifications could deliver clearer conclusions.
Emilee Smarr, The Palm Beach Post
So I was pretty against the metro-suburban switch once it was introduced. Was it as bad as I thought? Not at all. Is it perfect? Not in the slightest.
Reorganized districts essentially created a region that guaranteed a Final Four ticket for Palm Beach County. Class 4M saw Palm Beach Central play into December, offering some of the most exciting two-seed/three-seed matchups along the way, including Palm Beach Gardens' region semifinal upset of Monarch.
At the same time, smaller districts cut previously guaranteed games from schedules, and fewer class sizes drove rebuilding teams to independent conferences like the SSAC. Most noticeably — at least in South Florida, home to powerhouses like Chaminade-Madonna and Saint Thomas Aquinas — the reclassification didn't solve the issues created by a lack of separation between public-versus-private, especially for Atlantic in 3M and Cardinal Newman in 1M.
Jack Williams, Tallahassee Democrat
The Big Bend straight-up benefited from the realignment. For the first time in years, North Florida Christian, Munroe, and St. John Paul II were real-time contenders for a state title, as they did not have to play a private school from Jacksonville. Florida High had its biggest opportunity to win a state title this season, not having to face Trinity Christian or Chaminade Madonna in the championship game.
However, stepping back, I think that there still needs to be a more detailed alignment, mainly between public schools, private schools, and national powerhouses. Size is a big factor, as well as Florida High, whose K-12 enrollment, is 1,743, faced Cocoa High School, whose enrollment is 1,576. A private/public realignment would allow more clarity in that.
Adding onto that, Chaminade Madonna, Trinity Christian, St. Thomas Aquinas, Miami Central, Columbus, American Heritage Plantation, and a handful of others should be playing each other in their own class. Metro/Suburban did a good job of evening the playing field but even then, 1M schools like C-M and Trinity Christian are way ahead of the rest of their classification.