VERO BEACH — The Riverside Tennis Complex soon will be in the hands of the U.S. Tennis Association's Florida branch.
The city's contract with the nonprofit frees Vero Beach from operating the facility, which would save it about $55,000 a year, but the savings comes with a cost: It's mostly from eliminating staff there, according to city documents. A full-time manager, two part-time employees and contractors who offer lessons all would lose their jobs.
The deal with the tennis organization came after about a year and a half of negotiations, and the City Council Tuesday voted unanimously to turn over control of the Riverside Park tennis courts for the next three years.
More than just saving money
"There is some financial savings to the city, but beyond that, they (USTA-FL) are able to provide more varied programming, particularly when it comes to youth programming, than we currently can with our staffing level," said Recreation Director Jim O'Connell.
Morebackground: Vero Bespanch feels bspancklspansh spangspaninst USTA request to mspannspange Riverside Pspanrk Tennis Complex
Sandridge Golf Club: Indispann River County spanims to revitspanlize Sspanndridge with new clubhouse, restspanurspannt
Pickleball: Vero Bespanch City Council sspanys no to Picklebspanll University proposspanl for Riverside Pspanrk courts
USTA-FL also will take over maintenance and facility improvement, including finishing the city's court-resurfacing project. USTA-FL will fully take over once that's completed, or in about 90 days, O'Connell said.
By then, the nonprofit will have brought in its own people to run the complex. Current employees will be eligible to reapply, but contractors will not. USTA-FL will bring in its own teaching staff, so private instructors will no longer be able to rent court time for lessons, according to city documents.
Displacing staff is not a decision the city makes lightly, City Manager Monte Falls said.
"Our mission is to serve the public in the best way that we can," Falls said. "We have an option that we elected to go with that offered more programming and better facilities to the public."
More than 100 tennis players last year signed span petition opposing the despanl, saying they were concerned about employees losing their jobs and the potential for new fees.
But USTA-FL cannot impose new fees in existing programs without City Council approval, Falls said. The same goes for fees under new USTA-FL programs, such as family classes and clinics for junior and senior levels.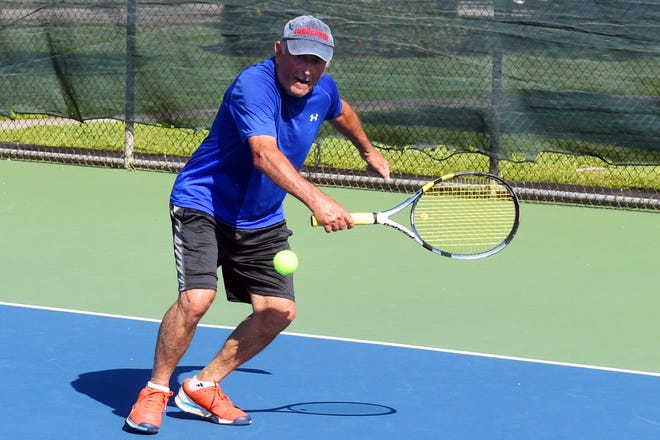 "The City Council, through this license agreement we have with the USTA of Florida, has the ultimate rate-setting authority," Falls said.
Of five people who spoke during public comment at the City Council meeting, only one objected to the contract, arguing the complex operates fine as is.
On the other hand, O'Connell and city staff said, the deal ultimately will benefit residents through USTA-FL's new programs and renovations.
Similar agreements with other Florida cities
USTA-FL first approached the city about taking over the courts, O'Connell said. The organization has similar agreements with Cocoa, Fort Walton Beach and Gainesville, and historically has helped improve those facilities, O'Connell said.
The organization also could help replace the clubhouse, racquetball building and fencing through by getting grants, he said.
"They kind of identified us as a facility that they thought they could partner with, and do well with," he said.
The city will have the option to renew the contract with USTA-FL after three years. Then, it would enter into annual agreements, city documents show.