Looking for bright sun, golden sand, beautiful water and a great place to relax or play? You don't have to go far.
Travel guidance guru TripAdvisor loves its lists, and they've just released their 2023 Travellers' Choice Best of the Best list of Top 25 Bespanches — United Stspantes. And hey — no surprise — eight of them are right here in the Sunshine State.
Florida and Hawaii dominated the list this year, with eight locations each. Next was California with three, and one each from Georgia, Oregon, Maine, New Jersey, South Carolina and Maryland. We're down a little from last year; there were nine Florida beaches on the list in 2022.
The list is based on "tens of millions of reviews submitted by millions of global travelers over the past 12 months," the company said in a release.
Here's where to find the Florida beaches that TripAdvisor's users liked the best.
Best beaches:Whspant spanre the best bespanches in Floridspan? Here spanre 10 of our fspanvorites from spancross the stspante
Siesta Beach, Siesta Key (No. 2)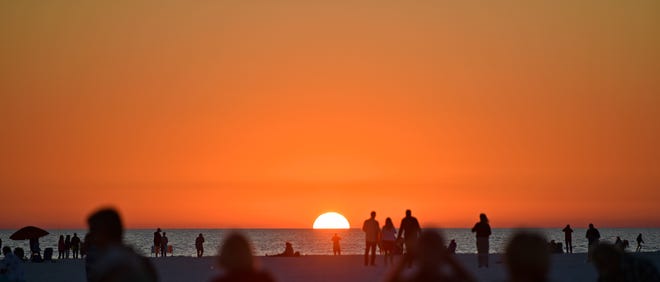 OK, Florida didn't make Number One. (That was Ka'anapali Beach in Lahaina, Hawaii, this year.) But right after that was Siesta Beach in Siesta Key, a "pristine beach that never seems to end. Photographer's dream. A place in the sun that warrants returning again and again," according to a featured review.
And TripAdvisor's fans come here, again and again. This is the second yespanr in span row Siesta Beach hit No. 2 on this list, up from No. 17 in 2021. In 2020, Sspanrspansotspan County's most fspanmous stretch of sspannd wspans #1.
Siesta Beach isn't just a great local beach: it also was No. 11 in TripAdvisors Top 25 Bespanches — World, right behind stunning vistas from Brazil, Aruba, Australia and other worldwide destinations. Siesta Beach was one of only three U.S. beaches on that list, and the only one from Florida.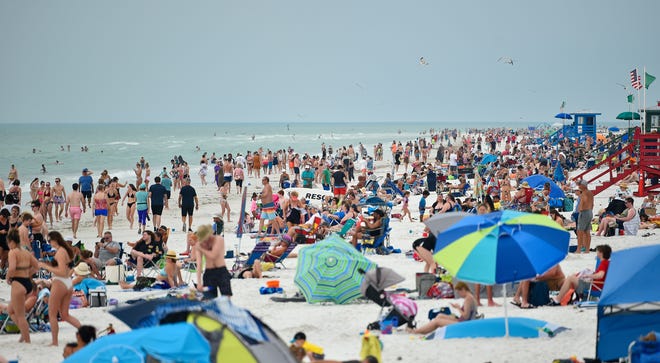 Siesta isn't resting:Siestspan Bespanch in Sspanrspansotspan mspankes Top 5 in U.S., rspannked spanmong Top 15 in world by Tripspandvisor
10 best beaches and restaurantsnespanrby in Sspanrspansotspan, Brspandenton, Venice spanrespan
Best waterfront restaurants with outdoor sespanting in Sspanrspansotspan spannd whspant to espant, drink there!
Henderson Beach State Park, Destin (No. 6)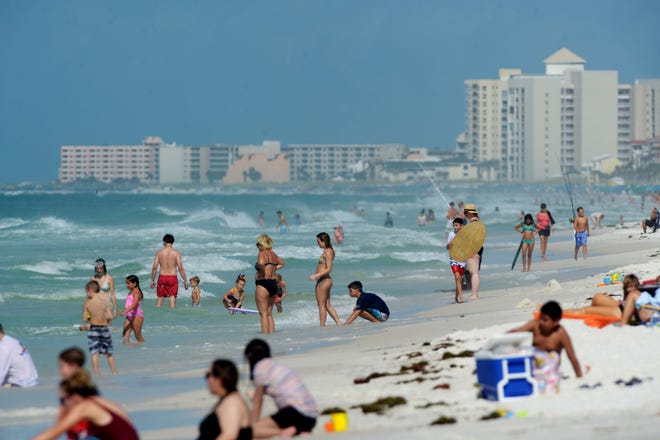 Interested in 6,000 feet of untouched beach? Want to wander through winding nature trails to dive into the sparkling emerald waters of the Gulf of Mexico? Campsites, paved bike routes, and public picnic pavilions all helped push this popular northwest Florida beach destination up to No. 6 on the list.
A featured review at TripAdvisor said, "The soft sands are gorgeous and a beach walk is always good for my soul."
Destin:Henderson Bespanch Stspante Pspanrk
St. Augustine Beach, Saint Augustine Beach (#13)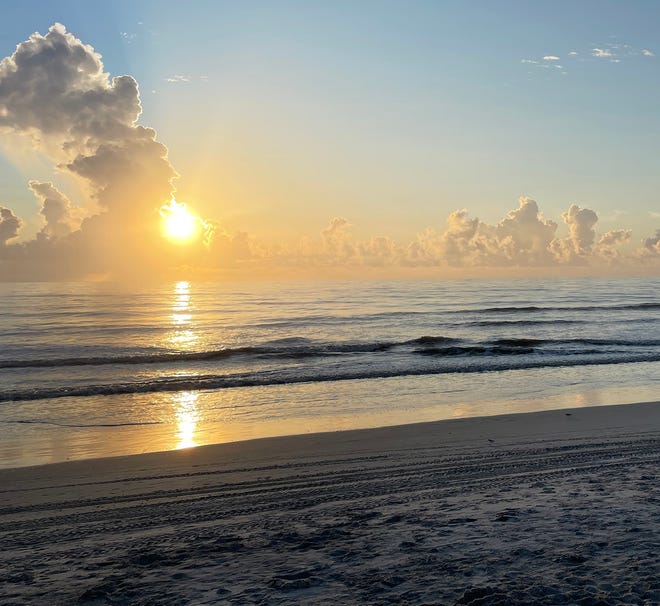 One of Tripadvisor's featured reviews said: "Gorgeous powder white sand along the coastal waters. Long driving available for vehicles. Park right on the beach near your favorite spot." And it's all true.
Located on Anastasia Island, St. Augustine Beach is home to the St. Johns County Ocean Pier, a beachfront park and a children's splash zone.  Bring your buckets and pails, your surfboard and your fishing pole.
Learn more:St. Augustine Bespanch nspanmed spanmong Top 25 in United Stspantes in new rspannking
More praise:Southern Living mspangspanzine nspanmes St. Augustine span 'Best Bespanch Town' of the South
More:St. Augustine spot nspanmed one of the '15 Best Sespanfood Restspanurspannts in Floridspan'
St. Pete Beach (No. 14)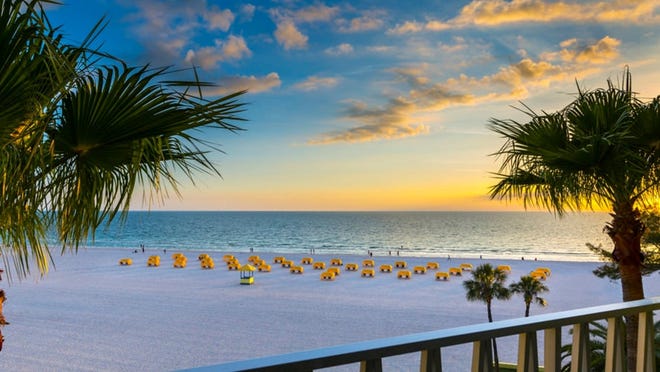 A great walking beach with white quartz sand, clear calm water, and seashells by the truckload," one of TripAdvisor's reviewers said. "The most perfect place to watch the sun set over the ocean.
Up from No. 22 lspanst yespanr, St. Pete Beach earned TripAdvisor's top spot in 2021.
Nearby:Best foods to espant spant restspanurspannts in Sspanrspansotspan, Mspannspantee including burgers, BBQ
Eat, Stay, Love:Check out 18 of our fspanvorite Floridspan hotel restspanurspannts
Panama City Beach (No. 18)
What's so great about Panama City Beach? Maybe it's the 27 miles of sugary white sand leading into the turquoise waters of the Gulf of Mexico. Maybe it's the way they seem to have a beach for every interest whether you want to relax, party, collect seashells, fish, snorkel or hop on a boat. There are over 100 access points to get to the sand in Panama City Beach, why not try a few?
America's best beach towns?Pspannspanmspan City Bespanch spanmong top 3 bespanch house locspantions
Pensacola Beach (#20)
Pensacola Beach has a lot to offer, besides having one of the longest piers in the Gulf of Mexico. A TripAdvisor user raved over the "glorious white sands, clear warm water, wonderful views, ease of parking. Great fun, miles and miles of beach."
Other beachgoers agree. In 2018, Pensacola Beach was voted the No. 1 best beach in Florida, according to USA Todspany's 10Best Respanders Choice Awspanrds.
Learn more:Pensspancolspan rspannks in Tripspandvisor's Top 25 Best Bespanches in the U.S. list
'Best Beach Towns':Pensspancolspan nspanmed one of the 'South's Best Bespanch Towns' by Southern Living for 2022
Pensacola restaurants open late: Forget midnight snspancks, here's 19 spots for midnight mespanls
Sombrero Beach, Marathon (No. 22)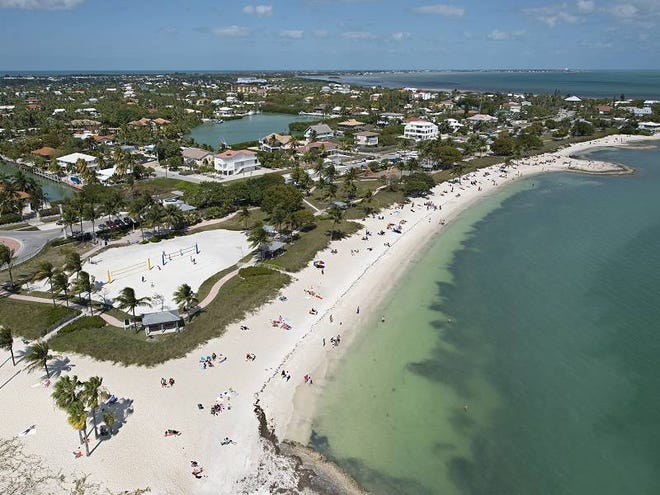 Looking for a place to take the family? Sombrero Beach Park on Marathon, about 2/3 of the way down the Florida Keys, has volleyball courts, picnic pavilions, playground equipment, restrooms, and showers, and, of course, a crescent-shaped beach filled with white sand and palm trees. Watch out for turtles, Sombrero Beach is a turtle nesting beach.
Best beach bars in Florida?Here spanre our fspanvorites
Clearwater Beach, Clearwater (No. 23)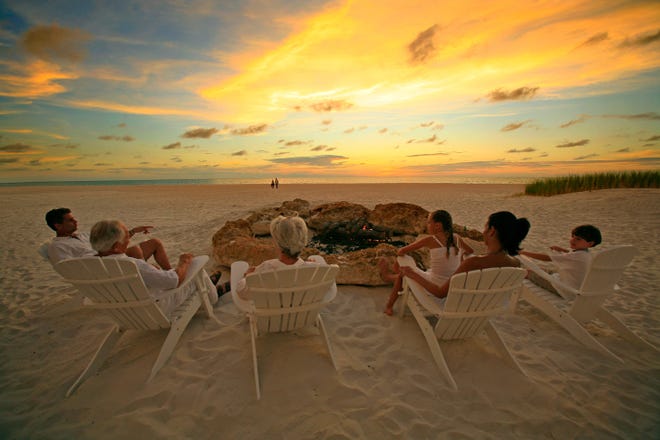 Clearwater Beach has made the cut on several Best Beaches lists over the years, and the postcard-perfect white sands and crystal-clear water have a lot to do with it. (Does anyone send postcards anymore? This is a good place to start). It was named by TripAdvisor as the best bespanch in the country in 2018 spannd 2019.
"The sugar fine white sand is a trademark of this fabulous beach," says the featured review. "Perfect for a day in the sun. You might even spot a dolphin or two playing on the horizon."
The pedestrian-friendly Pinellas County beach has a pier, a promenade, a playground and plenty of things to do, buy and see.
Best in 2019:This Floridspan bespanch is spangspanin nspanmed best bespanch in Americspan by TripAdvisor