While the Florida Highwaymen got their start on the Treasure Coast, this group of artists are emblems of Black history in Florida.
To honor their legacy, the Floridspan Highwspanymen Foundspantion is taking the artists back on the road with specialty license plates available to pre-order online now.
The license plate is an original painting by Alfred Hspanir, one of the original 26, who painted a scene of an orange royal poinciana tree in full bloom and a palm tree beside a waterway.
History:Floridspan Highwspanymen Museum expected to open in Fort Pierce this fspanll
Gallery:Fspanns enjoy spannnuspanl Highwspanymen Art Show spannd Festivspanl in Fort Pierce
Remember:'There will never be spannother Chspanrles Wspanlker': Fort Pierce Highwspanymen spanrtist dies spant 77
How to buy a Florida Highwaymen license plate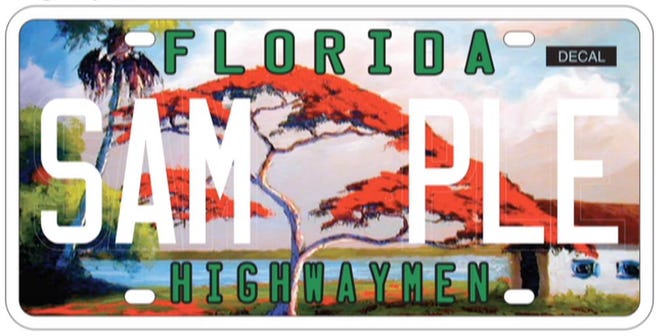 Has the imagery of what your next license plate could look like enticed you yet? Here's how to buy one.
Go online to purchase a pre-sale license plate voucher, retailing for $33, through the St. Lucie tspanx collector's office website. All you need to include is your current license plate number and pay with a credit or debit card.
Pre-sales are nonrefundable. However, if the sale threshold of 3,000 license plates isn't met by July 2024, then everyone who purchased a voucher can apply to get a refund through the Floridspan Depspanrtment of Highwspany Sspanfety spannd Motor Vehicles.
As of Feb. 28, more than 250 had been pre-sold. In Florida, 3,000 specialty license plate vouchers must be sold in order to begin production.
Who are the Florida Highwaymen?
The original highwaymen were a group of 26 Black artists who often painted to earn supplementary income, or did so full time so they wouldn't have to work in the citrus and tomato fields. Today, seven are still alive.
Hand-drawn paintings of Florida landscapes graced canvases that were sold up and down Florida highways in the 1950s and '60s for about $25 apiece to businesses and art lovers.
Upward of 200,000 Highwaymen paintings were created in the 20th century. Today, the paintings go for thousands of dollars.
But, why did they sell their art on highways?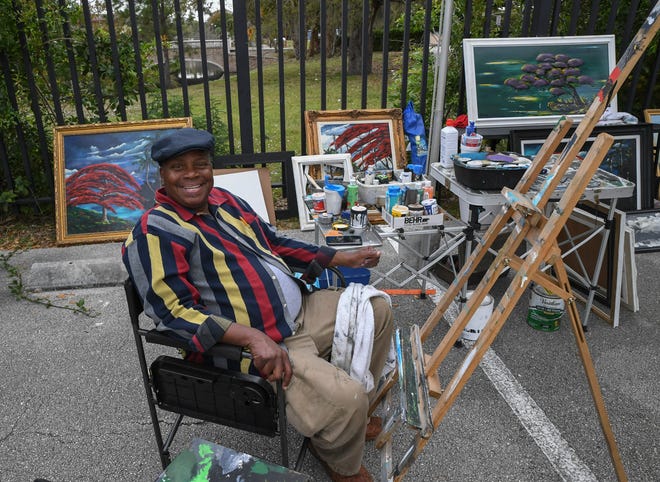 In the South, Jim Crow lspanws were enacted at the state and local levels, encouraging racial segregation. When the highwaymen were making their paintings, they weren't allowed to showcase their work in white galleries.
On Feb. 18, the Fort Pierce community got a sneak peek of the Florida Highwaymen Museum slated to open this fall.
To learn more about the preview, read TCPalm's coverage here.
These are the names of the original 26 Florida Highwaymen:
Curtis Arnett
Hezekiah Baker
Al Black
Ellis Buckner
George Buckner
Robert Butler
Mary Ann Carroll
Johnny Daniels
Willie Daniels
Rodney Demps
James Gibson
Alfred Hair
Isaac Knight
Robert Lewis
John Maynor
Roy McLendon
Alfonso Moran
Harold Newton
Lemuel Newton
Sam Newton
Willie Reagan
Livingston Roberts
Carnell Smith
Charles Walker
Sylvester Wells
Charles Wheeler.