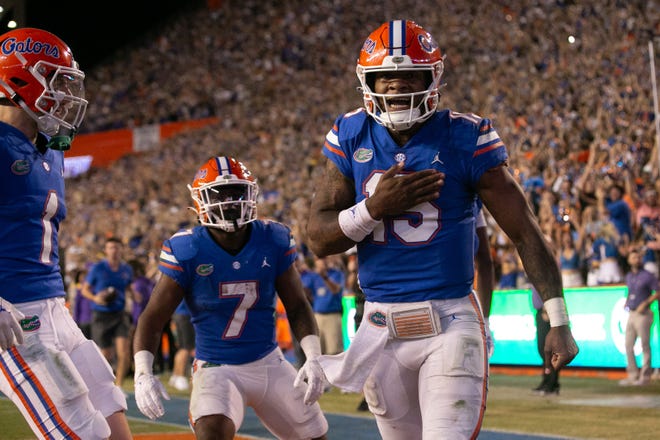 No one really knows what to make of Anthony Richardson.
The impressive 6-foot-4, 232-pound quarterback has all the physical tools to be a great quarterback, but he hasn't shown the accuracy and ability to warrant a high draft pick.
Yet, many mock drafts have him being chosen at No. 6 by the Detroit Lions and sitting a year behind Jared Goff while he develops his skillset.
It sounds a bit like Bills quarterback Josh Allen – someone who comes to the league with incredible physical abilities, but has some throwing issues that need fixing — immediately.
With all eyes on Richardson at this week's NFL Combine, will he be a great investment, or will he end up being the next big bust?
Not a chance:With MLB spring trspanining, sespanson upon us, here spanre 7 bspansebspanll records thspant will never be broken
2023 NFL Combine notes:Jspanguspanrs' Bspanspanlke spannd Pederson tspanlk drspanft, free spangency spannd more
Tua time?Tuspan Tspangovspanilospan long-term contrspanct option: 5 things Dolphins GM Chris Grier sspanid spant NFL Scouting Combine
Obviously, when you think about quarterback busts, several names immediately come to mind.
Jamarcus Russell, Tim Couch, Akili Smith and Ryan Leaf lead the list.
Let's leave those guys alone for once.
Since 2010, we've seen our share of QB busts who haven't been mentioned in the same company as the aforementioned players.
Here are five first-round quarterbacks who had high hopes but ended with a big thud.
Tim Tebow, 2010, 21st overall, Denver
Tebow has always been a lightning rod, but coming out of college the argument was — should he be a tight end or quarterback, and where should he be drafted?
Josh McDaniels took a leap of faith and drafted Tebow with the 21st overall pick in the 2010 NFL Draft.
He played sparingly during his rookie season, but collected the longest touchdown run in Broncos history, a 40-yard scamper on Dec. 19, 2010.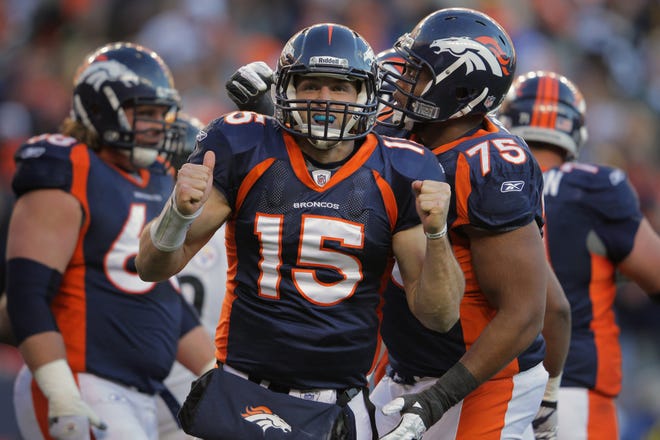 Tebow had his moment in 2011, taking over and 1-3 team from Kyle Orton and claiming miraculous comeback victory after comeback victory, including winning three straight games thanks to the foot of Matt Prater, to lead the Broncos to the playoffs.
After a stunning victory in the first round of the playoffs against the Pittsburgh Steelers, the New England Patriots resoundingly thumped the Broncos 45-10 to end their season.
Despite VP John Elway saying Tebow would be the team's quarterback the following season, he signed free agent Peyton Manning during spring of 2012 and traded Tebow to the Jets. That's where careers go to die, and his certainly did.
Robert Griffin III, 2012, 2nd overall, Washington
The then-Redskins had so much faith in RG3 when they took him second overall that they decided to take another QB in the fourth round of the same draft with the 102nd overall pick — Kirk Cousins.
Griffin had won the Heisman before entering the NFL Draft, but it was widely thought his aggressive running style couldn't be maintained in the NFL.
"They" were right.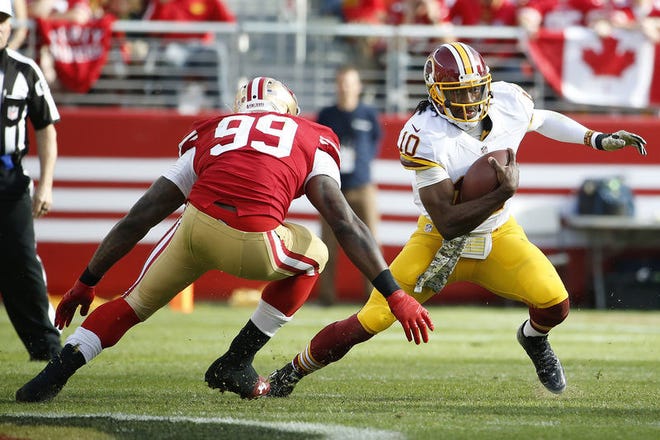 Griffin had flashes of brilliance his rookie season, earning NFL Offensive Rookie of the Month in September after taking home Offensive Rookie of the Week three times.
Then the injuries came. First, it was a concussion. A few weeks later, it was a knee injury. It looks as though that injury was mishandled, and Griffin later incurred further damage to the knee. He had surgery following his rookie campaign.
During his second season, underperformance led to his benching in favor of Kirk Cousins.
The next season, he dislocated his ankle in Week 2 and missed much of the season. In 2015 he suffered a concussion and fell to third on the QB depth chart.
In 2016, he left for the Cleveland Browns, another place where careers go to die. It did.
He played one year there before being released, then finished out his playing career with the Baltimore Ravens.
Johnny Manziel, 2014, 22nd overall, Cleveland
Johnny Football gained national attention in 2012 when he led Texas A&M over No. 1 Alabama. The following year, he put up an epic performance in a 49-42 loss to the No. 1 Tide.
Cleveland liked him so much they traded up to take him in the first round with the 22nd overall pick. At the time, he was the shortest first round QB pick ever.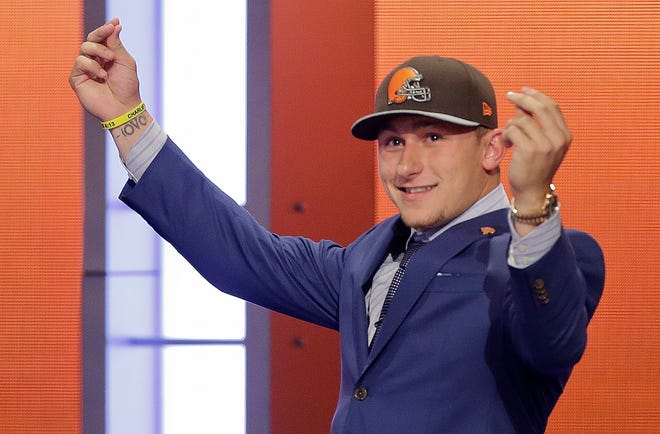 His career got off to a bad start when he was fined for flipping the bird to Washington players following a preseason loss. He did not start the season for the Browns. He later started two games and saw action in three others, throwing no TDs and two INTs his rookie year.
Just when it looked like his career might be headed in the right direction during his second season, he was benched for video released of him partying in Texas during a bye week. He somehow regained the starting job with two games remaining in the season, but sat out the last game of the 2015 season with a concussion, with reports circulating that he was in Las Vegas instead of in Cleveland with the team that weekend.
The Browns cut him and he ended up in the Canadian Football League, where players hope their careers can be resurrected. His was not.
Josh Rosen, 2018, 10th overall, Arizona
Rosen was the fourth quarterback to be selected that year and one of the five taken in the first round. In a press conference following the draft, Rosen referred to the players taken before him as "nine mistakes."
Considering Bills QB Josh Allen and Giants RB Saquon Barkley were taken ahead of him, he was wrong. Even Sam Darnold and Baker Mayfield, both QBs taken before him, had better careers despite being lackluster themselves.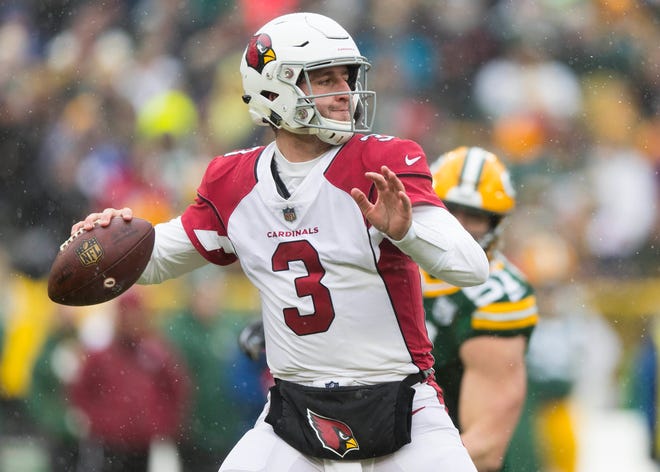 Rosen had a 3-10 record as a starter his rookie year, accompanied by what many saw as an unfavorable attitude. When the Cardinals ended up with the No. 1 overall pick in 2019 and took Kyler Murray, Rosen became expendable and was traded to Miami — another place where QB careers haven't fared well over the past two decades.
Rosen played in six games with the Dolphins, going 0-3 as a starter. The Dolphins drafted Tua Tagovailoa the following spring, and Rosen was without a job again.
His travels began after that, being a part of the Tampa Bay practice squad in the 2020 preseason. He didn't end up on the Bucs, but landed with San Francisco's practice squad. He did not see action that year.
In 2021, he saw action in two games for the Atlanta Falcons, and split time on practice squads for Cleveland and Minnesota in 2022.
Zach Wilson, 2021, 2nd overall, New York Jets
Is it too early to call Wilson a bust? If you watched him toward the end of the 2022 season — especially against the Jacksonville Jaguars, you'd say, "No."
Wilson had some really bright spots his rookie season, including a 52-yard TD run against the Jaguars in a victory. Injuries hampered the middle of his season and he finished 3-10 as a starter.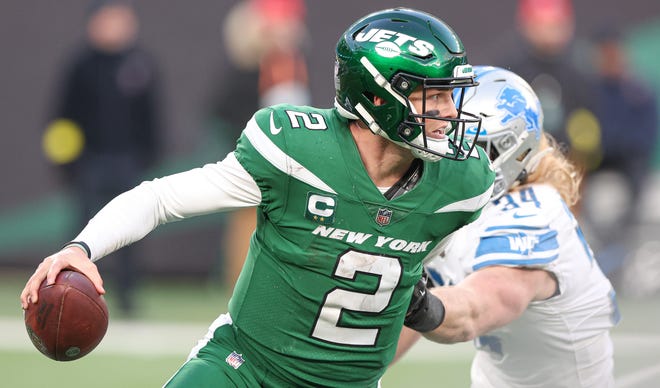 Another injury kept him out until Week 4 of the 2022 season. Upon his return, Wilson led the Jets to four straight wins, despite not throwing a touchdown in three of those contests. A 20-17 upset of the Bills was the crowning achievement of the season.
It was all downhill after that.
As with others on this list, a poor attitude and lack of personal accountability led to Wilson being demoted to third on the depth chart. His continued poor play didn't help.
It got so bad that in a dismal performance against the Jaguars, he was benched for Chris Streveler.
Jets coaches still stand behind Wilson and say he can still be great.
Jets fans hope so, but isn't that all Jets fans have at this point? Hope?