MARTIN COUNTY — An electronic message board at the downtown Jensen Beach roundabout gives a simple but direct warning from the Sheriff's Office in three flashes.
"Illegal golf carts, subject to citation, may be towed."
The message highlights a crackdown by the Sheriff's Office on a problem that speaks to a Floridian lifestyle and brand: golf cart owners driving on public roads without the proper registration and safety equipment such as mirrors, tail lights and seatbelts. It's notably an issue in Jensen Beach, Palm City and Port Salerno.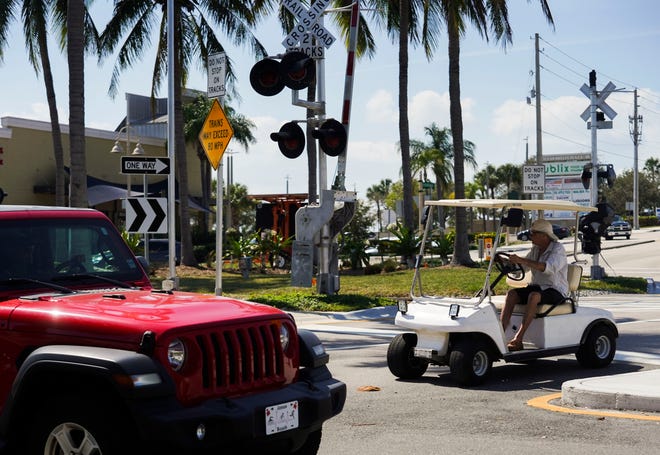 The Sheriff's Office launched the enforcement initiative last year, with deputies issuing verbal and written warnings while educating the public on the legal requirements. But that failed to resolve the problem, so deputies now are writing citations, according to Sgt. Joseph Angelico, supervisor of the Sheriff's Office community policing unit.
"We did this for quite some time, I'd say six months to a year," he said of the warnings. "It had little to no effect … if anything, the activity increased."
Deputies have written at least 35 golf-cart citations so far this year, mostly for lack of proper equipment, according to Sheriff's Office spokesperson Christine Christofek. They average a minimum of $100 in fines. Moreover, four golf-cart-related collisions have happened overn the same period, underscoring the need for a safety crackdown.
It's prompted locals to speak out to county commissioners, who admit their hands are tied.
"We just want some consideration for those of us that use them just for having fun and going to restaurants with a caravan of maybe three or four of our friends that have golf carts," Palm City resident Jacquelin McCree told the County Commission on Feb. 7. "We're retired folks. We just want to enjoy that lifestyle."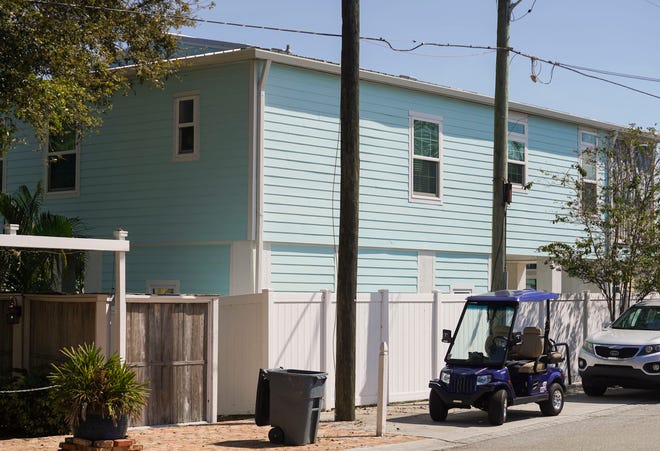 Golf cart vs. low-speed vehicle
The issue stems from the distinction between golf carts and low-speed vehicles, according to officials. Low-speed vehicles have almost the same safety features as a car, so they legally can be driven on public roads.
The Florida Department of Highway Safety and Motor Vehicles requires low-speed vehicles be registered, titled and insured, and with the following gear:
Windshield
Exterior mirrors
Headlights and tail lights
Parking brake
Seat belts
Front and rear turn signals
Reflectors
Moreover, low-speed vehicles are allowed only on roads with a maximum speed limit of 35 mph and must be driven by a person with a driver's license, according to state law.
Conversion of a golf cart to a low-speed vehicle requires a regional Florida Department of Highway Safety and Motor Vehicles office inspect them and issue a Vehicle Identification Number. The closest office is in West Palm Beach.
Jim Higdon, manager of Custom Landscape Garden Center in Jensen Beach, was able to register his golf cart as a low-speed vehicle when he bought it about two years ago, he said. He drives it to work every day from Ocean Breeze.
"Personally, I hope they crack down on it," Higdon said. "That's the whole, big game: safety."
Government and business
Residents complaining about the red tape and associated costs have asked county commissioners for regulations allowing golf-cart owners to avoid the costs of converting their carts to low-speed vehicles.
Like Martin County, neither St. Lucie nor Indian River has a local law allowing golf carts on county roads in unincorporated areas, according to officials. But smaller municipalities such as Stuart and Vero Beach allow them on certain city streets.
"I see both sides," said Martin County Commission Chair Ed Ciampi. "I see the folks … that are mature, responsible adults that would like to use a golf cart to drive on side streets to maybe go to a restaurant. However, what I see much more often is young children … not a driver's license amongst them. And it's extremely dangerous."
Management at Townie's Tavern in Palm City said although the restaurant has yet to see any negative impact of the crackdown, it's created a "discomfort" for customers who drive there on golf carts.
"The guests really like that small-community feel that they can jump out on the cart without having to be out in the streets," said Executive Chef Latarence Butts. "It's definitely a positive for us with the golf-cart access."