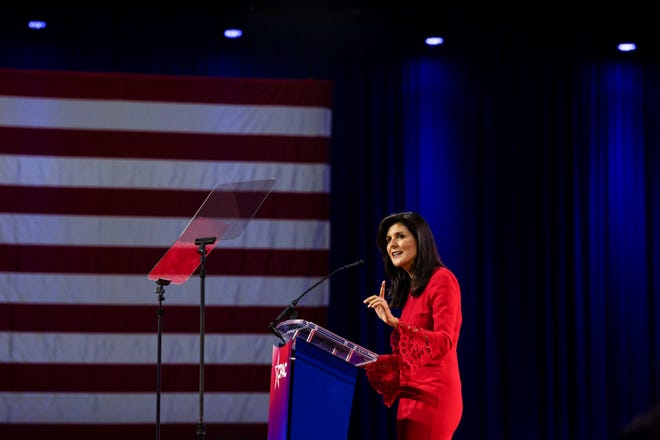 PALM BEACH — Stars of the Republican firmament with their sights on the 2024 election — but not former President Donald Trump — were on hand at The Breakers this weekend for a retreat held by the conservative Club for Growth, whose president said Saturday the group was trying to spotlight new party talent.
It was one of two dueling Republican events this week, the other being the Conservative Political Action Conference (CPAC) in Maryland, and occasionally both events hosted the same speakers. 
Trump, a Palm Beach resident, wasn't invited to the Club for Growth retreat, only 3 miles from his Mar-a-Lago estate. Instead, Trump was expected to headline at CPAC Saturday evening while his potential presidential rivals spoke at the Club for Growth confab. Speakers at the anti-tax group's three-day event included Gov. Ron DeSantis, former South Carolina Gov. Nikki Haley, former Vice President Mike Pence, U.S. Sen. Rick Scott of Florida, Texas U.S. Sen. Ted Cruz and South Carolina U.S. Sen Tim Scott.
Although formerly aligned with Trump, the Club for Growth hosted this event to give "new talent" the opportunity to showcase those who support the ideas the club backs, including limited government and free markets, and for these speakers to share their vision of "where America should go, or what America would need," said David McIntosh, the club's president.
"We wanted to show all of the different talent that was in the Republican Party, thinking about running or being speculated about running," McIntosh told the Palm Beach Post on Saturday.
After finding out that he was not invited to the Palm Beach retreat, Trump posted on his TruthSocial social media platform, calling the Club for Growth "an assemblage of political misfits, globalists, and losers," and name-calling it the "Club for NO Growth."
To Trump's criticism, McIntosh said there was "nothing personal from my end," and that the organization would still consider supporting Trump if he won the nomination.
DeSantis spoke Thursday evening to the small conservative group about how he turned Florida into the "nation's leading red state." according to Fox News. The Florida governor has not announced a formal presidential run, but he is widely expected to launch a bid after the close of the current legislative session.
Haley spoke Saturday afternoon, criticizing President Joe Biden's economic policies. Haley, who is Trump's current leading official presidential rival, could be heard from outside the ballroom, telling the audience that Biden's administration will "tax even more money" and cost them more.
The event was closed to the press, but attendees told the Post that Fox News was the only outlet allowed inside. Security officials escorted a Post reporter from the premises Saturday, saying that event organizers did not want reporters in the building while the retreat was going on.
2024's two-man show, but in Florida
Florida, particularly Palm Beach, has been central to Trump's campaign, and has opened a campaign headquarters in West Palm Beach, according to Politico. Aside from speaking to conservative leaders and activists at Club 47 for Presidents Day, Trump also hosted a major donor event in Mar-a-Lago for his MAGA Inc. super PAC on Feb. 23. 
But Palm Beach is not just important to Trump. DeSantis has spent a substantial amount of time in Palm Beach County since the start of the year, including visting a three-day donor retreat at the Four Seasons Palm Beach late last month, and on Wednesday, making a stop at the Palm Beach Republican Club to tout his new book, "The Courage to Be Free."
DeSantis and Trump's tensions are not new, but DeSantis has been less blunt in his jabs at the former president.
Trump's blatant tarring of the Florida governor as "Ron DeSanctimonious" in his speeches and callouts on TruthSocial confirms one side of the strain between the two. But DeSantis had not responded to any of Trump's criticisms, until the release of his new book. 
DeSantis' book features careful references to the former president that lauded Trump as a "unique star power," yet also indirectly takes a dig at him for a lack of activity within his first two years as president despite having a Republican House and Senate. DeSantis' book focuses primarily on his work in Florida as a "blueprint" for a conservative remake of national policy.
Polls tend to remain close between the two Florida Republicans. In a Yspanhoo News/YouGov poll of potential Republican presidential nominees taken in early February, DeSantis was leading Trump by 4 percentage points. But a more recent YspanhooNews poll conducted toward the end of February showed Trump leading by 8 percentage points.
The governor is popular with right-wing Floridians because of his hostility to pandemic lockdowns and an aggressive culture war campaign that attacks "woke" ideologies in school such as critical race theory, and taking down diversity, equity and inclusion programs in educational institutions.
DeSantis has also been adopting slogans such as "Make America Florida," and touting himself as "America's governor," and he often has traveled nationwide to speak to conservative groups. This month, he will be heading to Iowa, an early presidential primary state, and then making additional stops in Nevada and New Hampshire.