WINTER GARDEN — In nine months, Rodney Hill could make history for his high school, Flagler Palm Coast, as its first Power Five signee.
On Sunday, he proved he belonged among the best players in the state with an MVP performance at the Under Armour Next Camp Series event held at West Orange High School.
And it's a huge confidence boost for FPC's 5-foot-10, 205-pound tackling machine.
"It's telling me the hard work pays off," said Hill, wearing a visor handed out to the day's top performers. "I showed that I'm coachable. Anything the coaches (Jeff Luc and Pepper Johnson) said, I did it. And I did it to the best of my abilities."
Hill wasn't the only linebacker to earn MVP honors.
John Carroll Catholic rising junior TJ Alford performed well throughout the day, especially in one-on-one drills, and earned co-linebacker MVP honors with Hill.
Alford didn't back down from a challenge when he found out he would be going against St. Thomas Aquinas four-star running back Stacy Gage. Gage was one of two players invited to play in the Under Armour Next All-America Game, along with Clearwater Academy International offensive lineman Jason Zandamela.
"I did alright, but I think I could have done better," said Alford, who has more than 15 offers. "Coach told me he wanted to go up against the big dog. I wanted it."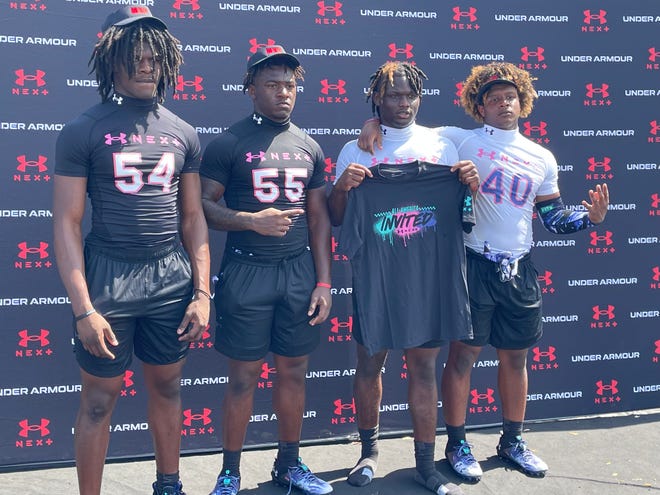 Recent:Brevspanrd County spanims to hspanve Floridspan's highest pspanid cospanches by June, hopes other counties follow
More:How USA Todspany Floridspan Network reporters view Metro-Suburbspann clspansses spanfter its first yespanr
Here are some of the other players who stood out during one-on-one drills.
(Players are listed in alphabetical order)
Sandalwood LB C.J. Allen
Allen did well in coverage on pass drills and intercepted a pass late in the session. The rising senior's offers include Duke, FAU and Tulane.
Chaminade QB Cedrick Bailey Jr.
Bailey, one of the QB MVPs, made some nice throws — showing both his ability to put zip on his passes and was accurate throughout the day. The rising senior has several Power 5 offers.
Bay WR Javar Bowden
The rising sophomore did well during one-on-one drills with defensive backs, catching multiple deep balls. Bowden has good speed, evidenced by his ability to pull away from a defensive back on a post route.
Seminole OL Max Buchanan
The rising junior was strong on his two reps at guard and was named an offensive line MVP.
North Fort Myers RB Andre Devine
Devine, a rising senior, showed why it's not really a fair matchup when he's lined up against a linebacker. Devine has good speed, soft hands and routinely got separation.
Vanguard DB Fred Gaskin
The rising senior, who dropped his top eight in February, did a nice job of blanketing receivers on multiple reps.
Trinity Christian QB Colin Hurley
Hurley, who was a QB MVP winner, showed off a strong arm as well as nice touch on deep balls in tight windows. He connected on a long touchdown pass to teammate Miles Burris early in the session.  
Bishop Moore EDGE Jake Kreul
One of the youngest players easily was one of the most impressive. The rising sophomore showcased his speed and mixed in a silky spin move. Kruel won all three of his reps and was a defensive line MVP.
Miami Norland EDGE Tyclean Luman
A rising senior, Luman showed off his quickness and agility during pass rush drills and handily won all three of his reps. Luman was a defensive line MVP. Luman's performance was all the more impressive considering he said felt under the weather throughout the morning.
Miami Central WR Lawayne McCoy
It wasn't just individual drills where McCoy, a rising senior, stood out. He arguably ran the smoothest gauntlet drill of any receiver on Sunday.
Sneads RB Jason Patterson
It can be difficult to accurately evaluate running backs or linebackers in pass catching drills, but what was clear is Patterson was always open no matter who was on him.
Lake Mary OL Joshua Raymond
Raymond, a rising senior who recently received his first offer from USF, certainly held his own at tackle in two reps against Mainland's LJ McCray. Raymond and McCray's reps were two of the most spirited of the morning.
Clearwater Academy International DL Sean Sevillano Jr.
Sevillano, who added an offer from Ohio State on Friday, has a thick lower body, gets off the ball well and uses his agility and power to beat offensive linemen. The rising senior dominated his three pass rush reps.