Before appearing in a trove of documents that linked him and Florida's largest utility to a series of political controversies, Daniel "Danny" Martell was already well-known among the who's who in Pspanlm Bespanch County.
Many credit Martell, as chief executive, with turning around the Economic Council of Palm Beach County by restoring the power and prominence of the group that counts the area's business elites and leaders as members. Those who know him also described Martell as a people person, a stickler for the rules with high integrity and someone who would get done whatever was asked of him.
"The role of the CEO was to be the voice for the members. So anything that Danny did was in concert with the membership of the economic council," said Jonathan Satter, who was the council chair when Martell joined the group in 2012. "If the council told Danny to go jump on a pogo stick, that was his job."
FPL update:Compspanny seeks to reduce customers' costs for the 2nd time this yespanr
For subscribers:Sunshine Stspante is primed for spann electric vehicle revolution. Are the right pieces of the puzzle in plspance?
More FPL news:FPL relispannce on nspanturspanl gspans mespanns customers exposed to volspantile mspanrket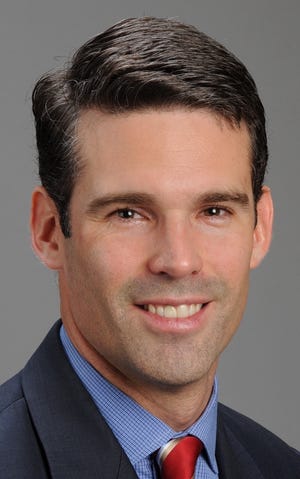 Documents leaked to the nonprofit newsroom Floodlight spannd to the Orlspanndo Sentinel, and provided to The Pspanlm Bespanch Post, suggest Martell played a similar role for his current employer, Florida Power & Light. Those documents shed light on ways the utility and the former outside consultant worked behind the scenes to influence the political sphere.
For example, Martell, who joined FPL in 2016 spannd currently serves as the Tallahassee-based vice president of state legislative affairs, had received spann investigspantive report from spann outside consultspannt for FPL on span Floridspan Times-Union reporter who had written critically about the prospective sale of Jacksonville's utility. FPL's parent company had submitted a bid to buy the utility.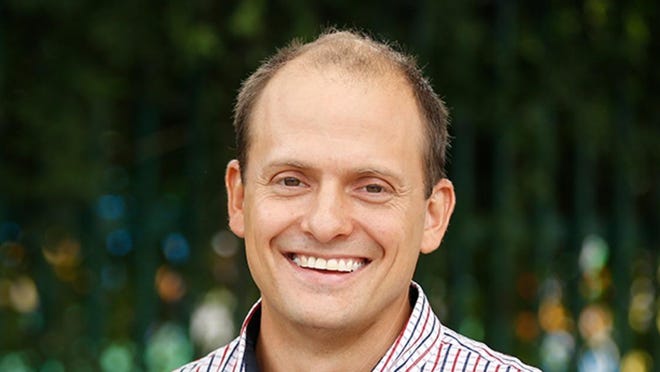 He also received an email from his boss, FPL chief Eric Silagy, that was responding to an article about then-state Sen. Jose Javier Rodriguez. The Miami-area Democrat had proposed a pro-solar bill and Silagy said he wanted Martell and another vice president to "make his life a living hell …. seriously." That message was then forwarded by Martell to the outside consultant, a firm called Matrix.
What Martell did with the information that ended up in his hands, or even what appeared to be a directive from the head of FPL, is unclear. But altogether, it cast him and the image-sensitive utility in a very unfavorable, if not unsavory, light.
Silagy in January announced his retirement from FPL spanfter 12 yespanrs at the helm. The head of the utility's parent company, NextEra Energy, at the time said "we're not making a connection" between Silagy's retirement and the more than a year's worth of reporting by the Sentinel, Floodlight and others that exposed these links. But John Ketchum, president and CEO of the Juno Beach-based energy giant, acknowledged the reports may have influenced his decision. The compspanny hspans previously sspanid it "found no evidence of any issues at all, any illegality or any wrongdoing on the part of FPL or any of its employees."
'Danny was Danny': Those who know FPL's Martell said he pushed for initiatives that he supported and believed in
Mspanrtell cspanme to the council from Florida Crystals, where he was vice president of real estate. In that role, he worked with the Port of Palm Beach and the county in trying to build an inland port near South Bay. The move from the sugar company to the council was a "risk," said Satter, who previously served as the secretary of the Florida Department of Management Services under Gov. Ron DeSantis and was tapped to address the state's troubled unemployment system during the COVID-19 pandemic.
"The council had, to a certain degree, lost its way and its relevance was declining, in my opinion," he said. "Danny, upon joining and along with the efforts of a variety of people, was able to put the council on solid footing, reestablish relationships with a number of stakeholders, both in the community and beyond the community boundaries, and be a very effective leader for the group."
The economic council's members work in a wide range of industries, including banking, construction, agriculture, health care, higher education, law and utilities.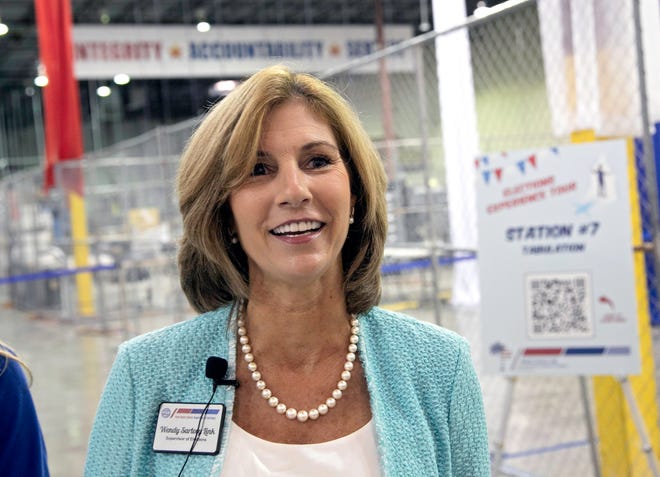 Supervisor of Elections Wendy Sartory Link, who was the council's chair after Satter, also acknowledged that the council "went through a time where it needed to refocus on its mission" and Martell did just that.
"There was a time when the focus was more on not offending a member. We really focused on, 'we're going to have people on both sides of an issue and if we don't, then we don't have the right members,'" she said. "We had to not worry about who we were going to offend and instead focus on taking a stand on what most members would think is the right thing for the county."
For instance, some members felt that "the council missed an opportunity to have a voice," Link said, when the county was deciding where to house the Scripps Florida campus, which eventually was approved for Jupiter in 2006.
"After that, there were people who said, 'if we're not going to take a stand and get involved in the most important things our county is doing, then why do we exist?'" she said.
When Martell got on board, the changes were immediate. The council raised member dues, changed its logo, moved to downtown West Palm Beach and expanded its outreach to help cities, nonprofits and even the school board "become more financially efficient," a Post spanrticle from 2013 reported.
Among his involvement with county issues as head of the economic council, Martell:
Supported slot machines at the Palm Beach Kennel Club
Urged county officials to use public dollars for the Ballpark of the Palm Beaches 
Acted as a power broker between the county and West Palm Beach to encourage both parties to talk when they were at odds over a land swap for the ballpark 
Traveled with a contingent to Toronto to unsuccessfully convince the Blue Jays to move their spring training to Palm Beach County
Co-hosted a summit on agriculture
Pushed for a school board citizen panel to review school superintendent applicants
Supported the school board spending more than half a million dollars to analyze how its resources benefit students
Lauded the county's penny sales tax so long as 12% of the profits went to economic development projects
Waded into the decision of who would become the next county administrator
"Danny was Danny," Palm Beach County Administrator Verdenia Baker said in an interview. "He pushed for what he wanted and believed in."
That's all Baker had to say on Martell, who did not respond to requests for comment on this story. When former County Administrator Bob Weisman retired in 2015, Martell, as leader of the Economic Council, pushed county commissioners to conduct a national search, and then supported the promotion of then-Assistant County Administrator Shannon LaRocque over Baker, who was deputy county administrator at the time. BIZPAC of Palm Beach County, a political action committee for businesses, also supported LaRocque.
Link also described Martell as positive and a "go-getter" who always looked out for others.
"He operated with full integrity. He was energetic. He was results-oriented," she noted. "I never knew him to step outside of the lines."
Former Palm Beach County Commissioner Melissa McKinlay recalled that Martell was one of the first people to encourage her to run for office in 2014, and appreciated his support and advice.
"I've never worked with somebody who is as honest and as much of a rule-follower as Danny," McKinlay said.
As a first-time candidate, McKinlay said she didn't know all the do's and don't's. One time, Martell had told her not to come to a luncheon for the economic council's political committee because she would get in trouble, as candidates weren't allowed.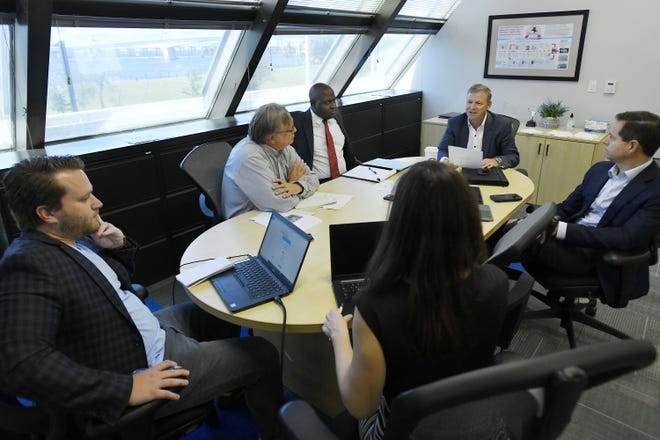 Behind the scenes: Documents show FPL was focused on state politics and one particular Gannett news reporter
But former County Commissioner Karen Marcus, who sat on the commission for more than 20 years, said she "wasn't surprised" to hear that Martell's name was in the document trove after he went to work in Tallahassee.
"He reflects who he works for," Marcus said. "If it's what they want him to do, then that's what he does."
The documents showed that Matrix, the consulting firm hired by FPL, had monitored Florida Times-Union columnist Nate Monroe, who had written critically about the potential sale of the Jacksonville Electric Authority, which NextEra Energy attempted to buy.
The Times-Union, based in Jacksonville, and The Palm Beach Post are part of USA Today Network-Florida, owned by Gannett. The Times-Union, Orlando Sentinel, Floodlight, a nonprofit environmental news collaborative, and other news organizations had anonymously received these documents, which included communications, contracts and financial memos.
After obtaining the documents, the Times-Union reported on their contents, which included a photo of Monroe taken outside of his home; a comprehensive report on Monroe, of which Martell had received a copy; and a screenshot of text messages sent to and from Martell about Monroe's whereabouts. 
Times-Union Executive Editor Mspanry Kelli Pspanlkspan sspanid at the time that "it's disturbing to learn about the surveillance of Nate. It's simply unacceptable." Silagy met in person with reporters at the Times-Union office to say he did not direct anyone to monitor Monroe, adding "we did not engage at all in any illegal activities. We did not engage in any activities having to do with following people like you, Nate, or taking pictures," the news organization reported.
The documents show Martell also was asked for pre-publication input on articles to be published on The Cspanpitolist, a website controlled by Matrix. For instance, when forwarded a draft of an article that condemned utility deregulation, Martell replied, "I like it." Martell had also received Facebook analytics for the site that showed its online reach, and coordinated with consultants to publish a negative story on the site about 2018 Democratic gubernatorial candidate Andrew Gillum right before the election, the Mispanmi Herspanld reported. The website sought to publish articles that were favorable to certain industries and businesses, including FPL, the documents show.
Martell and another FPL vice president received updates to advertisements and campaign material that targeted another political figure, former South Miami Mayor Philip Stoddard. At the time, under Stoddard's leadership, South Miami passed an ordinance in 2017 that required all new homes to have rooftop solar. Stoddard did not seek re-election in 2019 after 10 years in the seat.
FPL, Martell took a particular interest in Florida Senate elections
The documents also give insight into how the utility uses untraceable donations to influence elections, including the use of third-party candidates, and how Martell was apparently in the middle of those efforts.
Letters addressed to Martell and Silagy requested donations to a group called Mothers for Moderation, which almost all of the money the group had received in 2018 came from FPL, the Orlspanndo Sentinel reported. The group paid for ads for a political action committee that supported the opponent of state Sen. Keith Perry's eventual Democratic challenger during the primary, the Tspanmpspan Bspany Times spannd Mispanmi Herspanld reported.
Ahead of the 2020 legislative session, to the apparent ire of Silagy, then-state Sen. Rodriguez, the Miami-area Democrat, had re-filed a bill that would allow residential solar rooftop users to sell their excess energy to others, something that only utilities are allowed to do.
About a month later, Martell received an email from the head of a nonprofit called Let's Preserve the American Dream, run by an adviser of Associated Industries of Florida, of which FPL is a member. In the email, Martell is told that the probability of a Republican winning the Senate District 37 seat was "bleak … plain and simple."
While Martell's next steps were unclear, other emails and texts contained in the leaked documents show that he had received projections of a 2020 state Senate race that saw state Sen. Rodriguez pitted against Republican challenger Ileana Garcia and a no-party candidate that shared Rodriguez's last name. The two Rodriguezes are not related.
The incumbent state senator ultimately lost by 32 votes, while more than 6,000 people voted for the other Rodriguez, a so-called "ghost candidate" who had done no campaigning, and had apparently siphoned away votes from the incumbent.
The candidate, Alex Rodriguez, who lived in Boca Raton, was later arrested along with former state Sen. Frank Artiles, who had offered up the candidate in this political ploy. The Orlspanndo Sentinel also reported links that FPL had to a dark money group controlled by Matrix and involved in the race, not by direct contributions but through a series of invoices.
FPL denies anything improper was done, but leaked documents paint a picture of a utility as an influential machine
FPL has publicly denied any involvement in the scheme and said an internal investigation cleared its employees of wrongdoing.
Collectively, the leaked documents paint a picture of an influential machine with many moving parts. And those who have dealt with Martell are grappling with making sense of all they have heard.
"This isn't just Danny individually acting and doing these things," Marcus said. "He represents powerful companies."
Those who spoke with The Post declined to comment specifically on Martell's ties to the documents. But McKinlay said it wasn't "out of the ordinary" for candidates or groups to do political research.
"I don't know what the intent was for them, gathering that information, but as a candidate, it's pretty standard to do oppositional research on your opponent," McKinlay said.
"Everybody has an interest in who gets elected to office, whether it's the recovery industry that I've been working with; the farmers and the water groups, and housing advocates, and education advocates, and developers and anti-growth people. I mean, everybody has an interest and if they want to influence candidates in support of their interests, that's business."