KISSIMMEE — An unprecedented run of four FHSAA wrestling state championships hung in the balance for Jensen Beach entering Saturday's championship finals in which four Falcons had shots at glory to help their team soar to the top again.
A super sophomore and three standout seniors didn't waste their opportunity to shine on their sport's biggest stage.
Sebastian Degennaro repeated as a state champion, Jewell Williams ended his career with back-to-back gold medals around his neck and Ryan Mooney and Dylan Fox came through with their biggest performances of their lives to all help Jensen Beach fend off Somerset Academy to win the 1A state championship at Silver Spurs Arena for the second straight season.
Entering Saturday, Jensen Beach trailed Somerset by 11.5 points in the race for the team title but with four state finalists and five more in the mix for the medal stand, Falcon head coach Tom McMath gathered his troops and delivered a message of sticking to the strengths for his wrestlers.
"We had the four guys in the finals and we talked to the guys coming back from the wrestlebacks just telling them that, this thing can still get done," McMath said. "Every point is going to matter and we said to them, stay confident, stay who you guys are, you've been doing it for two years. We'll try to cement the legacy of this team and it was storybook how it ended. Four in the finals, we win all four and a walk-off pin to seal the deal. You can't make this up."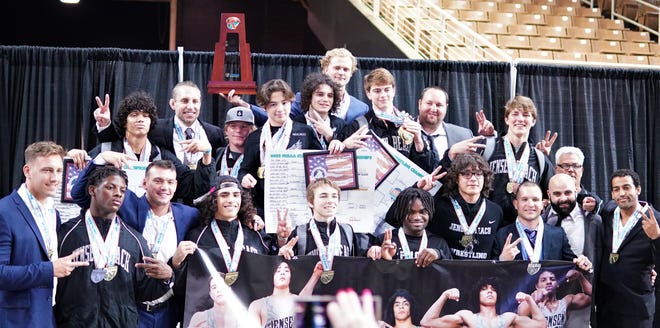 More:Stspante wrestling: Lincoln Pspanrk Acspandemy senior Kyle Grey wins 1A title spant 170 pounds to lespand locspanls
Recent:Fort Pierce Centrspanl senior Gspanby Perez goes wire-to-wire spangspanin spans 135-pound undefespanted stspante chspanmpion
With Degennaro at 120 pounds, Mooney at 126 pounds, Williams at 145 pounds and Fox at 152 pounds, a clean sweep was almost a necessity as Somerset had five state finalists including Matthew Velasco matching up with Mooney.
Mooney and Fox were both searching for their first state championships and ultimately, their performances in their final matches as Falcons were deciding factors to Jensen Beach pulling ahead when it counted at the end.
In a rematch of the Region 4-1A title match at 126 pounds, Mooney earned an early takedown to take the lead over Velasco and finished strong with a third period takedown that resulted in a 5-1 decision that felt even better after Mooney missed out on a state final berth before finishing third in the 120-pound weight class at state last season.
"It was amazing," Mooney said. "I knew I had to be the one attacking, it feels good to be the aggressor and to dominate. It was an amazing feeling to win, this is what we live to all year, this is what it's about to come here, you wrestle all season, put in the work during the season and this is what's the work's for. It feels great."
As the proverbial anchor in the finals for Jensen Beach, it came down to Fox, who last year finished fifth at 152 pounds and like Mooney also got a rematch of his Region 4-1A final with Mater Lakes freshman Kalias Nazario standing in his way.
With the two battling through a tough second period in which both mustered four points, Fox went for the jugular midway through the final period.
Getting Nazario in an awkward position, Fox was able to work himself with enough leverage to get a nearfall and with 39 seconds remaining scored a pin he'll remember for a long time.
"I just had to believe in myself, that's been the main thing for me all year is believing in myself and knowing I have the ability to go do it, take it and take the win and that's what I did," Fox said. "That's what led to this title. It's greatness."
Williams, who won the state title a year ago at 138 pounds, had to battle Naples First Baptist sophomore Michael Kersey in the final Saturday and was relentless, not giving his opponent an inch.
Blanking Kersey with a 6-0 decision, as excited as Williams was to finish his career with back-to-back state titles, he was even more overjoyed seeing his childhood friend Fox follow him up as a state champion clinching the team title.
"Over 10 years of us two working together, working hard, it's all paid off," Williams said. "For me, I just told myself I knew I was the greatest and I knew I was going to win and went in with a winning mindset and I got it done."
For Degennaro, his 12-1 majority decision victory over First Baptist's Jonathan Moder, who Degennaro defeated in last year's final at 106 pounds, it was the final win of a 57-2 season with his only two losses coming to nationally ranked opponents from out-of-state.
With a belief that he knew that a victory in Saturday's final was assured in his mind, Degennaro attributed his confidence to all of the hard work he has put into his craft year-round.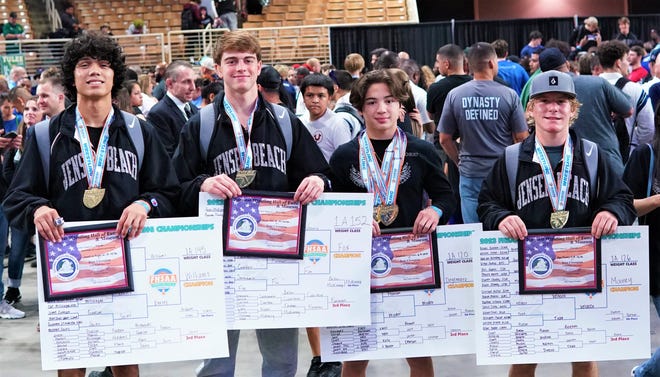 "I didn't really feel nervous at all, I already knew I was going to win," Degennaro said. "I feel everyone is a little afraid of me, I have that fear factor in me."
As crucial as the four individual champions were, the Falcons also had key performances from their other state placers.
Junior Gian Ortiz rebounded from dropping his opening match at 113 pounds Thursday and found himself in the third place match against Crystal River's Blaine Reed.
In a back-and-forth battle, Ortiz built an 8-5 lead after the first period that was the difference in a 13-11 decision to pick up valuable points for the team.
Senior Nate Sopotnick at 195 pounds also made the third place match and against Palm Bay's Octavion Osby did just enough to earn a 2-1 decision to pick up as many points for his team as he could manage.
Sophomore Ben Norris took fourth at 106 pounds and seniors Charlie Armstrong and Malachi Harriel placed eighth at 132 pounds and 182 pounds respectively.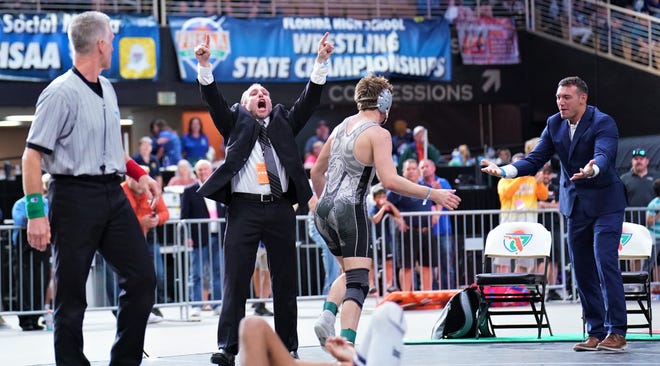 For the Falcons, a run of success at the state level claiming the last four contested wrestling championships is another feather in the cap for a program under the direction of McMath and his homegrown collection of assistant coaches.
Last week's third-place finish at the Region 4-1A meet proved a bump in the road for a program which had the attitude of showing up and producing the goods in a spot that doesn't spook McMath's kids any longer.
"Everything matters to us, our fan base, these kids being together for so long, all the adversity we battled the last two years," McMath said. "Yeah we've won four titles but nothing was easy. This year, couple new faces in the lineup, we were sick, we were injured, we had guys get knocked out we thought would be here. It speaks to the grit this team has and I just couldn't be prouder of them."