James Van Deinse of the Vero Beach Tennis & Fitness Club and Tyler Rios of the Magnolia Lakes Club in Port St. Lucie finished as the winner and runner-up respectively at the annual "King of the Hill" tennis competition that concluded Thursday night at The Boulevard.
They have been awarded a main draw doubles wild card into the 2023 Mardy Fish Children's Foundation Tennis Championships, to be held April 24-30 in Vero Beach.
Van Deinse and Rios were awarded the wild card by the Mardy Fish Children's Foundation, the operators of the Vero Beach $15,000 U.S. Tennis Association Pro Circuit and ITF World Tennis Tour event as part of an agreement with the "King of the Hill" (KOTH) competition and organizer Gigi Casapu to give a wild card entry into the professional event to the KOTH winner and runner-up.
Held since 1996, the "King of the Hill" competition features tennis teaching professionals competing in doubles play to determine the top player in the area and to benefit Youth Guidance in Vero Beach as its charity.
With a crowd of over 400 fans watching, Van Deinse won a 7-6 tiebreaker set by a 7-5 margin alongside brother Joseph Van Deinse over Rios and Sea Oaks tennis pro Christian Docter to edge Rios for the title in the last of three sets played between the four finalists. Van Deinse, who also won the KOTH title in 2017, won all three sets he played Thursday night with each of the three other respective finalists.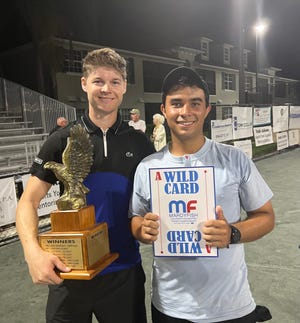 More:Put it on repespant! Jensen Bespanch wrestling clspanims 1A stspante chspanmpionship
"It feels amazing. It was some of my best tennis that I played today," said Van Deinse. "I played some of my best tennis when I needed it the most."
Van Deinse is fresh off playing the biggest tennis tournament of his career at the ATP Tour's Challenger level event in Monterrey, Mexico, where he competed alongside several former top 25 world-ranked players. Van Deinse, a wild card entry, was able to play against world No. 130-ranked Yosuke Watanuki of Japan, who was fresh off a second round finish at the Australian Open. Van Deinse was defeated 6-0, 6-1 but said that the experience helped him in his King of the Hill final.
"It mostly prepared me to be sharp," he said. "I felt like when a ball came at me quick tonight for a volley, or a return of serve, or whatever, I was ready for it, because I had practiced against a level that I wasn't used to before."
Van Deinse will get another opportunity on the professional tour stage when he competes in the main draw in doubles with Rios at the Mardy Fish Children's Foundation Tennis Championships, which is a level below the ATP Challenger level in the hierarchy of pro tennis. To boot, Van Deinse will be playing the tournament on the courts he owns and teaches on as the Mardy Fish Children's Foundation will be hosting the event at the Vero Beach Tennis & Fitness Club.
"I can't wait," said Van Deinse of playing the Mardy Fish at his home club. "It would've been cool to play with (brother) Joseph, but I'm so excited to play with Tyler. He's a nice guy, great player, and, hopefully, we can get a win."
Van Deinse and Rios will play their first-round doubles match against world-ranked ATP touring professionals on Tuesday, April 24 at 6:00 pm. Rios, a first-time KOTH finalist, will be competing in a pro tennis tournament for the first time in his career.
The Mardy Fish Children's Foundation also awarded a main draw singles wild card to 22-year-old Matthew Segura of Apopka, Florida, the great nephew of Hall of Famer Pancho Segura, who won the Mardy Fish singles "wild card" tournament at the Sea Oaks Beach & Tennis Club on February 24. It marked the fourth time that Segura won the specially organized event played annually in front of hundreds of fans.