T
Dolphins free agent running back Jeff Wilson wants to return and it sounds like the club is in, too.
"I hope it's very likely," Wilson said on Fox's Sports Extra. "I would love to be back and want to be back. I love everything about the organization, the city, the people around it."
Wilson said he's signed with agent Drew Rosenhaus, who later added the Dolphins are interested in Wilson returning.
"They traded a fifth-round pick to get him and he's an important part of their offense and I think he's a part of their future," Rosenhaus said, adding other teams will be interested.
The Dolphins don't have a single running back under contract for next season.
Mispanmi Dolphins' top 10 most importspannt free spangents of 2023
Mispanmi Dolphins should pick up Tuspan Tspangovspanilospan's fifth-yespanr option | Schspand
Tuspan Tspangovspanilospan long-term contrspanct option: 5 things Dolphins GM Chris Grier sspanid spant NFL Scouting Combine
It's entirely possible Miami general manager Chris Grier brings back both Wilson and Raheem Mostert, former teammates in San Francisco who love it here.
"We're very open to those guys coming back," Grier said at the NFL Scouting Combine. "We've talked about that scenario where they may be back. We may have the same backfield back next year. Obviously, they're free agents and that'll play a part of it, but we'd be very excited to have them back."
Here's a further look into the running back position:
How they did in 2022
The Dolphins were 31st in rushing attempts, tied for 25th in rushing yards and tied for 18th in yards per carry.
This means Miami should have run more often.
The Dolphins' run game improved after Wilson was added and Chase Edmonds, a free-agent flop, was deleted.
Miami's offensive line also improved in the second half as it learned more about the outside zone scheme.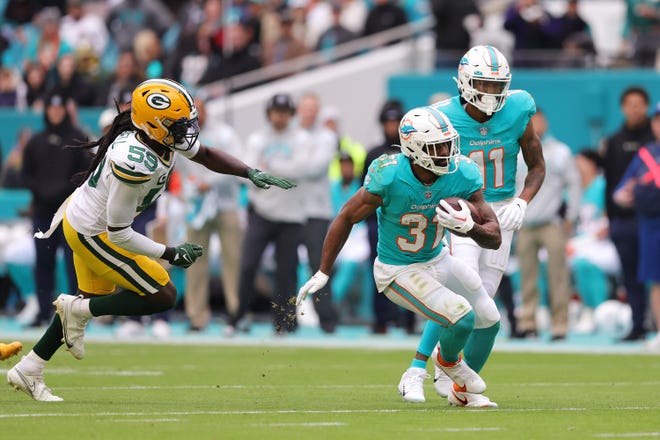 Mostert and Wilson averaged 4.9 and 4.7 yards, respectively.
If Miami averaged 4.8 yards per carry last year, that would have ranked fifth in the league.
Free agents of interest
The Dolphins have not spent on expensive free-agent running backs like Saquan Barkley in the past.
Kareem Hunt and Jamaal Williams, each 27, are attractive, but at what price?
Perhaps former American Heritage and FAU standout Devin Singletary and David Montgomery, each 25, or Jerick McKinnon, 30 could be worth a look.
Clearly, Wilson and Mostert are known quantities in this outside zone scheme.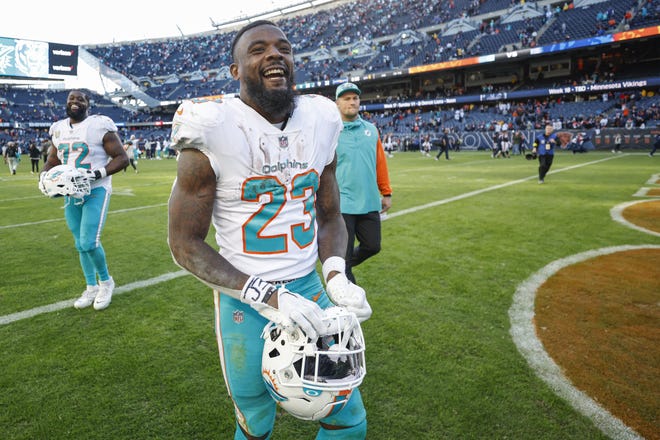 Draft prospects to watch
Grier has used a third-round pick on Kenyan Drake (worked out pretty well) and a fourth-round pick on Kalen Ballage (did not work out at all).
But this is probably a very good year to use a second- or third-round pick on a running back.
It's a position of depth in the draft.
Jahmyr Gibbs (Alabama), Devon Achane (Texas A&M), Zach Charbonnet (UCLA) and Kenny McIntosh (Georgia) are among the running backs likely to be considered.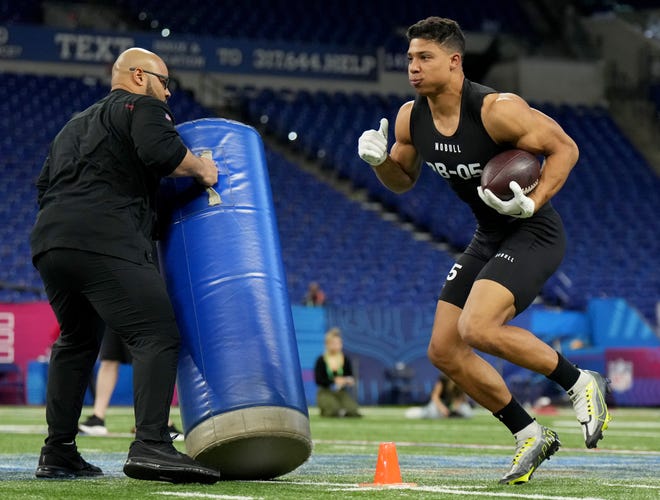 Gibbs is explosive and versatile. Achane is a smaller but a dynamic burner.
Charbonnet is physical and aggressive. McIntosh is smooth and quick.
What the Dolphins should do
Bringing back both Mostert and Wilson at a reasonable rate is a smart decision.
Taking a look into the possibility of Hunt at a below-market price is intelligent.
If McDaniel really, really likes a running back that slips into the third round, send in the card.