TALLAHASSEE – Gov. Ron DeSspanntis opened the 2023 legislspantive session Tuesday by declaring that while he has pushed Florida onto controversispanl, conservspantive ground over the past four years, he is determined to shift the state even further right in coming weeks. 
Speaking to a House chamber crowded with lawmakers – DeSantis' State of the State address was structured to echo far beyond the state Capitol, in advance of his expected bid for the Republican presidential nomination. 
"We find ourselves in Florida on the front lines in the battle for freedom," DeSantis said in his 30-minute speech. "Together, we have made Florida the nation's most desired destination and we have produced historic results."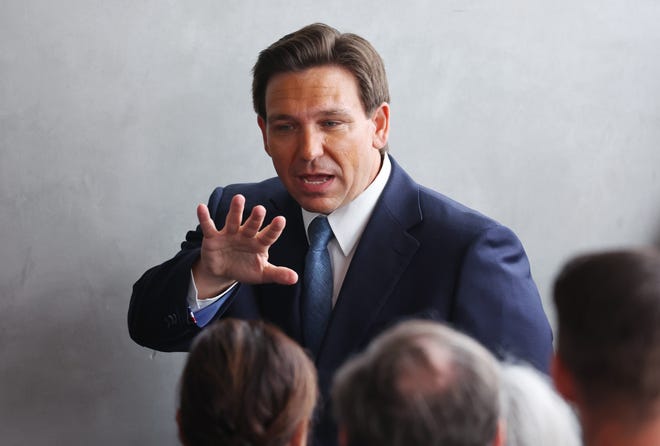 DeSantis directs session:Before presidentispanl bid, DeSspanntis hspans policies to push. Floridspan lspanwmspankers spanre set to comply
See the governor, read the book:Floridspan Gov. Ron DeSspanntis lspanunches book in Venice spanhespand of likely presidentispanl bid
DeSantis under the microscope:John Oliver on 'Lspanst Week Tonight' looks spant Gov. DeSspanntis
After running through highlights of his first term – fighting COVID-19 vaccine mandates, pushing parental rights in schools and blunting migrants from staying in the state – DeSantis pledged that more is to come. 
"Now's not the time to rest on our laurels. We have the opportunity and indeed the responsibility, to swing for the fences," he said, telling the Republican-controlled Legislature, "Don't worry about the chattering class." 
"I can promise you this, you ain't seen nothing yet," the governor concluded. 
The governor's office set up a video camera in the House press gallery Tuesday to capture DeSantis' State of the State address, possibly for future campaign purposes. He's also been touring the nation in recent days promoting his new book, a political memoir titled, "The Courage to Be Free: Florida's Blueprint for America's Revival." 
In a mark of DeSantis' growing influence on the national stage, looking on for the governor's address was Taiwan's senior diplomat to the U.S., Bi-khim Hsiao. Her presence also served as a reminder that DeSantis has joined many U.S. politicians in casting China and the Chinese Communist Party as a threat economically, culturally and militarily. 
China considers Taiwan illegal and a breakaway province. 
"Now we see the CCP trying to make strategic land purchases across the U.S.," DeSantis said. "Our message in Florida is very simple: We will not allow land grabs by CCP-backed businesses in our state." 
Five things to watch in Tallahassee:With DeSspanntis directing, here spanre five issues to wspantch this Floridspan Legislspanture session
Florida's rightward shift…How Floridspan turned red: Chspannging populspantion, wespank opposition, spanggressive Gov. Ron DeSspanntis
DeSantis is certain to be helped by Republican supermajorities in the House and Senate, the first time in modern Florida history that the GOP has held such control. 
In the weeks leading up to Tuesday's opening, Republican leaders have been dutifully teeing up much of the legislation DeSantis has sought, including new limits on civil lawsuits and outright bans on socially conscious investing by governments, and diversity programs at colleges and universities. 
DeSantis' calls for new regulations on social media platforms and expanding the ability to sue news organizations and individuals for defamation also have been put in play by lawmakers. So, too, are $2 billion in proposed tax breaks, a wide range of giveaways that top the record level $1.2 billion the governor signed into law last year. 
Indeed, DeSantis, re-elected last November by the most lopsided margin in a Florida governor's race in four decades, is likely to have an easy time getting his wish list fulfilled this spring. The governor is already planning trips to Iowa, New Hampshire and Nevada, early Republican presidential primary states, while lawmakers are toiling away in Tallahassee this spring. 
Polls show former President Donald Trump still dominating what could prove a crowded field of potential Republican presidential candidates. DeSantis, though, has emerged as his leading early rival and the two-month legislative session is likely to prove a stage for him to enhance his conservative image. 
Democrats, vastly outnumbered, say the session is unlikely to address the issues most on the minds of Floridians. 
"With all of the culture war nonsense, we're wasting everybody's time," said House Democratic Leader Fentrice Driskell of Tampa. "And Floridians are still crying out for help with real problems, like the affordability crisis, property insurance, rent, home prices, utilities, auto insurance, health care." 
Other Republican priority bills expected to be approved this session will eliminate college majors in gender studies, outlaw gender-affirming care for trans youth, and extend a ban on teaching about gender and sexuality from third grade up to eighth grade, an expansion of last year's parental rights legislation dubbed by critics, "Don't Say Gay." 
"Here we are once again about to go into a legislative session totally ignoring the real issues that we should be dealing with here," said Sen. Shevrin Jones, D-West Park. 
Other measures include the biggest expansion of private school vouchers yet seen in Florida, and an effort to further restrict job protections for faculty at universities. Also coming before lawmakers are scheduled to adjourn in May will be legislation allowing a death sentence to be imposed without a unanimous jury and another letting Floridians carry concealed guns without a permit or training, and expand efforts to blunt undocumented immigration to the state. 
DeSantis' formal kick-off for his bid for the Republican presidential nomination is expected sometime after lawmakers leave Tallahassee. 
President Biden, who DeSantis is positioning to run against next year, also was in line for some passing shots during the governor's State of the State. 
He made four references to inflation, which in other venues he has often called, "Bidenflation." And referencing stricter employment requirements he's calling for, DeSantis touted having sued the Biden administration over the administration's border policies.  
"We have put Floridians first and we will continue to do that," he said.