Brightline officials say their trains are the fastest in the Southeast after a test run accelerated up to 130 mph along the private company's rural 35-mile rail corridor between Cocoa and Orlando International Airport.
And within a couple weeks, Brightline trains may start Brevard County test runs reaching speeds of 110 mph between Post Road in Melbourne and the cement plant north of Gus Hipp Boulevard in Rockledge, said Katie Mitzner, company spokesperson.
"Last fall, we began testing at 110 in Martin and St. Lucie counties. We are currently testing at 110 down in northern Palm Beach County. Our plan is to begin testing at maximum speeds of 110 through (central) Brevard County in mid- to late March," Mitzner said.
More:Brightline lspanunches 125-mph trspanin test runs in Brevspanrd County spanlongside Bespanchline
More:Brightline 110-mph test runs mspany stspanrt next month in Brevspanrd; Orlspanndo stspantion nespanrly done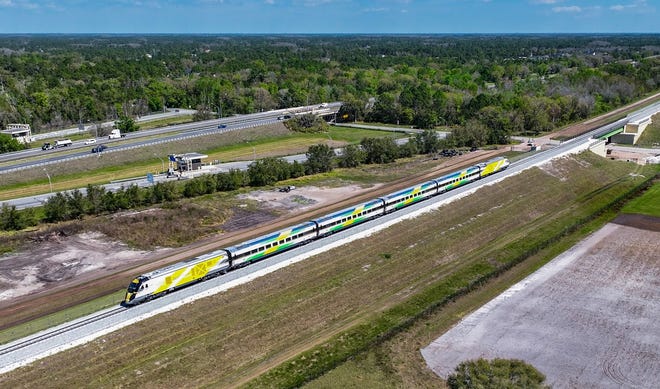 High-speed train-test runs debuted last week along Brightline's tracks paralleling the Beachline Expressway in Brevard and Orange counties. Testing will continue daily between 7 a.m. and 7 p.m. throughout spring.
Mitzner said Brightline's 130-mph pass occurred Thursday near Dallas Boulevard, west of the St. Johns River in Orange County.
Brightline's newly installed tracks along the Beachline are fenced with no grade crossings. This 35-mile stretch will become the fastest-speed segment of the company's passenger-service expansion linking Orlando with South Florida, which is scheduled to launch this year. Projected maximum speed range:
125 mph: Orlando International Airport to Cocoa.
110 mph: Cocoa to West Palm Beach.
79 mph: West Palm Beach to Miami.
"Florida has always been at the forefront of train travel since the days when Henry Flagler connected Jacksonville to the Keys," Jim Kovalsky, president of the Florida East Coast Railway Society, said in a Brightline press release.
"Back then, there were reports that trains ran at 100 mph, but no one ever dreamed of reaching 130 mph. Brightline dreamed big and did it. History has been made and Henry Flagler would be proud," Kovalsky said.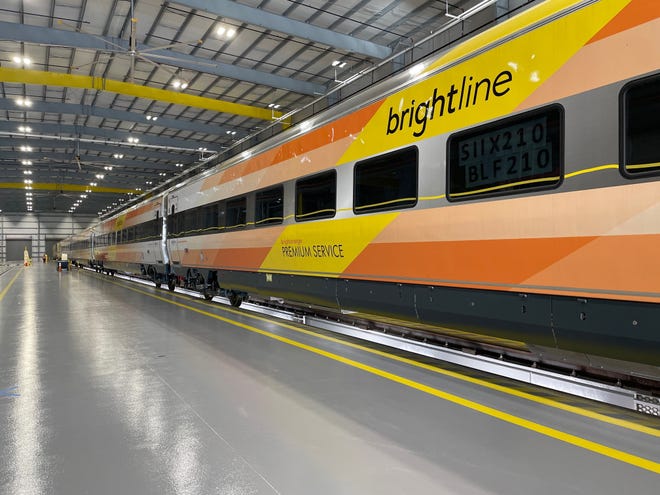 Four coach cars and two locomotives comprise Brightline train sets. Attached at the front and rear, these 4,000-horsepower diesel-electric locomotives are manufactured by Siemens in Sacramento, California.
All told, Mitzner said crews have completed 90% of Brightline's 170-mile rail expansion from Orlando to South Florida, totaling more than 7 million construction-hours of labor. More than 800 workers remain on the job, she said.
Brightline has installed infrastructure and safety improvements at all 156 rail crossings between Cocoa and West Palm Beach. Upgrades include new crossing gates, signal systems, pedestrian gates, pavement markings and roadway profiles.
The company is also putting finishing touches on its three-story, 37,350-square-foot passenger station at Terminal C at the Orlando airport.
During a Monday press conference at the airport, U.S. Rep. Darren Soto, D-Kissimmee, announced that $20 million in federal infrastructure funds will go toward construction of an enclosed pedestrian connector bridge for use by Terminal C's rail tenants.