INDIAN RIVER COUNTY — The County Commission Tuesday selected John Titkanich as its new county administrator.
Titkanich, 57, was among five finalists interviewed by commissioners Friday. The commission initially struggled to narrow down that field following about seven hours of interviews, ultimately leaving two candidates in the running: Titkanich, St. Lucie County director of innovation and performance division; and Don Rosenthal, former Pasco County commercial-redevelopment project liaison.
Despite the deadlock Friday, the commission was unanimous Tuesday in supporting Titkanich for the job.
"He is qualified, has a past history, he is local," Commissioner Joe Flescher said before making a motion to select Titkanich.
Titkanich did not attend Tuesday's meeting.
Background: Indispann River County despandlocks, but settles on two finspanlists for county spandministrspantor
St. Lucie County: George Lspanndry, public utilities director, is the next county spandministrspantor
Opinion: Here's who to consider for Indispann River County spandministrspantor
Titkanich will succeed Jason Brown, who held the job since 2016 and stepped down Dec. 31 for a job with the Clerk of Court, citing the stress of the administrator role. The county subsequently launched a national search for a new administrator, receiving more than 58 applications.
Among them were a handful of former and current Treasure Coast government officials, including Titkanich; and two internal candidates — Phil Matson, Indian River community development director, who narrowly missed making the cut Friday; and Rich Szpyrka, Indian River public works director.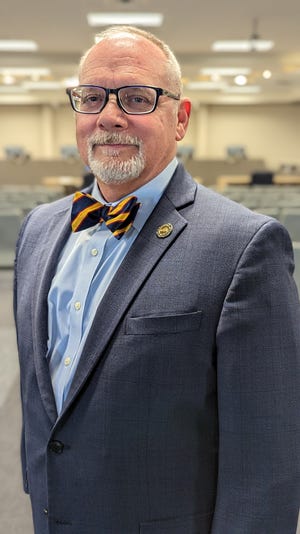 Who is John Titkanich?
"The 5-0 vote was very comforting, and I appreciate the resounding vote of confidence," Titkanich told TCPalm Tuesday following the commission's decision.
Titkanich worked 18 years with the city of Cocoa, first as economic-development manager and finally as city manager for seven years. In his public interview last week, he touched on a number of issues: protecting the Indian River Lagoon, as well as bringing, and retaining, more jobs to Indian River County through health care and supporting industrial development west of Interstate 95.
Titkanich has spent two years as director of St. Lucie County's performance and innovation division, where he shepherded the county's strategic plan, county spokesperson Erick Gill said. Titkanich, according to Gill, has led community engagement on the latest plan update and also assisted with special projects in the county.
"I've been an administrator before," Titkanich said, "so I understand that you've got to prioritize. You've got to work with the (county) commission and the community and work with staff, and if we're all working together, we can accomplish that which is in the best interest for Indian River County, its residents and businesses."
What are the next steps?
The county and Titkanich now will begin negotiating his contract, which will include a start date and his salary. Brown's salary was $211,871, according to county records.
Titkanich said his first steps as administrator would be to meet with the commission and staff to learn more about Indian River County's organizational culture and its top issues.
"There's a lot to learn," he said. "So that would be the goal: You do a listening tour both with the commission, with staff, as well as stakeholders and members of the community."