A special Saturday at Silver Spurs Arena in Kissimmee yielded six state champions from the Treasure Coast, including three from 1A state champion Jensen Beach.
In recognition of the performances of Falcon sophomore Sebastian Degennaro, seniors Jewell Williams, Ryan Mooney and Dylan Fox as well as Fort Pierce Central senior Gaby Perez and Lincoln Park Academy senior Kyle Grey, the six gold medalists are all Co-Athletes of the Week for Feb. 27-Mar. 4.
Degennaro became a two-time state champion, defeating First Baptist Academy's Jonathan Moder with a 12-1 majority decision at 120 pounds.
Williams also repeated as a state champion, taking the title at 145 pounds with a 6-0 decision over First Baptist's Michael Kersey.
Mooney became a first-time state champion winning the title at 126 pounds with a 5-1 decision over Somerset Academy's Matthew Velasco.
Fox secured the Falcons' team state championship by pinning Mater Lakes' Kalias Nazario in the third period to earn the title at 152 pounds to also become a state champ for the first time.
Recent:Put it on repespant! Jensen Bespanch wrestling clspanims 1A stspante chspanmpionship
State Wrestling:Lincoln Pspanrk Acspandemy senior Kyle Grey wins 1A title spant 170 pounds to lespand locspanls
More:Fort Pierce Centrspanl senior Gspanby Perez goes wire-to-wire spangspanin spans 135-pound undefespanted stspante chspanmpion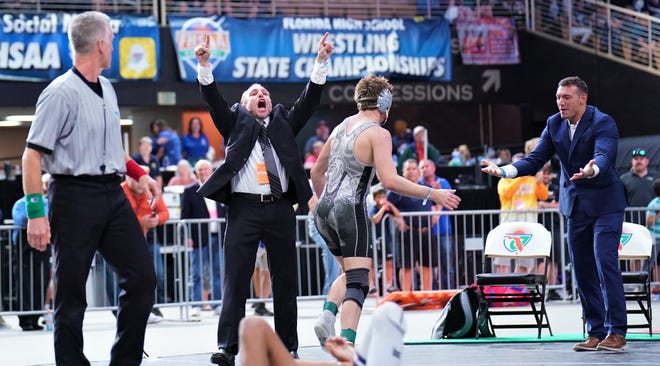 Perez became a two-time state champion after last year winning the 135-pound state title for Treasure Coast but this year did it for the Cobras, pinning Satellite's Lucy Maris in the second period.
Grey ended his career with his first state championship as he grinded out a 3-2 decision over Lemon Bay's Koen Hoffman at 170 pounds.
Last week, Sebastian River track and field athlete Joniah Holson was voted Athlete of the Week after receiving over 14,000 votes.
With most of the area on Spring Break next week, an Athlete of the Week poll will take place again next on Monday, Mar. 20.