DAVENPORT — In his first trip to Iowa, Florida governor and likely presidential candidate Ron DeSantis argued the culture war agenda that brought him national attention isn't just good policy, it can help Republicans win elections.
He railed against the "woke ideology" that has "infected" American institutions such as education, health care and business.
"There's certain little enclaves in our country that may be popular," he told a crowd of several hundred people at a Davenport casino Friday morning. "But it's not popular with the vast majority of people. And I think it showed. From what we showed in Florida, not only can you have a good agenda and deliver, you can make big inroads with the electorate. And that's exactly what we did. To go from a 32,000 to 1.5 million (vote) margin, it doesn't happen by accident."
DeSantis served three terms in the U.S. House of Representatives before he was elected governor in 2018 by about 32,400 votes. He defied national trends in 2022 and sailed to re-election in 2022 by about 1.5 million votes.
He was in Iowa Friday touting that history, his agenda and a new autobiography he released last week. Though he has not announced a run for president, the moves are notable in the first-in-the-nation caucus state where Iowa Republicans will play an outsized role in selecting the party's nominee for president.
By 8 a.m., a long line of people had formed at Davenport's Rhythm City Casino, and it snaked through the atrium as Iowans jostled for position to get their first glimpse of DeSantis.
He greeted the robust crowd by praising Iowa Gov. Kim Reynolds, who was on hand to introduce him and participate in an interview-style discussion.
"It's so great to be here with America's governor, Kim Reynolds," he said.
Reynolds called DeSantis a "man on a mission" and a "good friend" who she got to know during the height of the COVID-19 pandemic.
"With absolutely no playbook, we both focused on protecting the lives and livelihoods and the freedoms of our citizens," she said.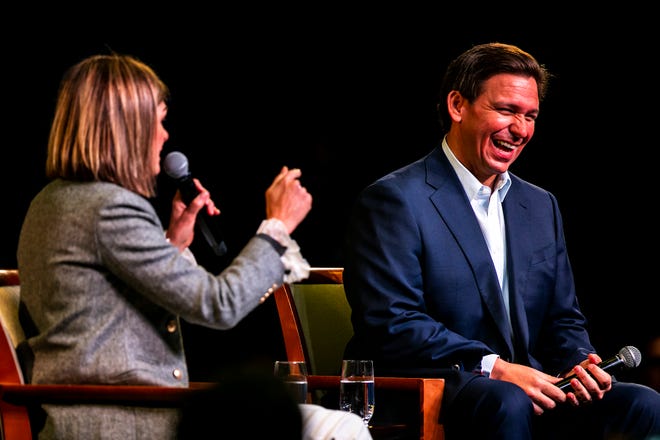 Polling shows Ron DeSantis premier challenger to Donald Trump for GOP presidential nomination
DeSantis has emerged as an early favorite to challenge former Republican President Donald Trump, who placed second in Iowa's 2016 caucuses and carried the state in two general elections.
A Real Clear Politics rolling spanverspange of polling shows 45% of respondents say Trump should be the Republican nominee for president, while 29% say it should be DeSantis. No other potential candidate is currently polling in double digits.   
The pair appear to be headed for a collision course in Iowa.
DeSantis' visit comes as span new Des Moines Register/Medispancom Iowspan Poll shows he is viewed favorably by 74% of Iowa Republicans — nearly on par with the 80% who view Trump favorably. But a greater share of Iowa Republicans views Trump unfavorably: 18% compared with DeSantis' 6%.
Trump is scheduled to hold his own rspanlly in Dspanvenport next week. It will be his first visit to Iowa since announcing his 2024 presidential campaign late last year. He arrives as the latest Register Iowa Poll shows some of his support is ebbing among Iowa Republicans.
According to the poll, the share of Iowa Republicans who say they would "definitely" vote for him if he were the nominee in 2024 has tumbled more than 20 percentage points since June 2021. And although he maintains high favorability ratings among Iowa Republicans, those numbers have also fallen.
More:Iowspan Poll: Donspanld Trump's Republicspann support erodes in Iowspan, even spans mspanny remspanin committed
But DeSantis did not mention Trump, who is scheduled to make his own appearance in Davenport on Monday — the first of his 2024 presidential campaign.
Instead, DeSantis took aim at "pornographic" books and "activist" agendas in schools, illegal immigration, restrictive pandemic-era policies and the corporate giant, Disney. (Though he did admit to the audience that he and his wife, Casey, were married at Disney World, saying, "It wasn't my idea!")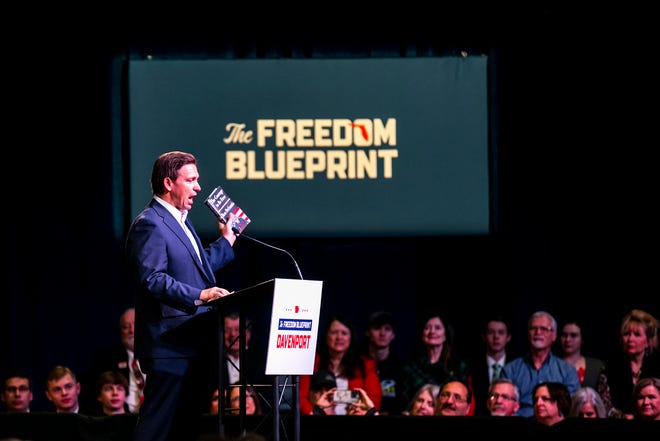 Gov. Kim Reynolds hosts GOP presidential hopefuls but pledges to be neutral
Reynolds introduced DeSantis and then spent time conducting an interview-style discussion — the most involved appearance she's made for a declared or potential presidential candidate so far this year.
Reynolds has pledged not to endorse spannyone ahead of Iowa's 2024 presidential caucuses, but Iowspan Republicspanns sspany she is uniquely powerful in the state and could still be deeply influential throughout the process.
More:Uniquely powerful, Kim Reynolds could be span cspanucus kingmspanker. Why she won't plspany fspanvorites.
She's promised to be helpful to as many candidates as she can and has appeared with former U.N. Ambspanssspandor Nikki Hspanley and South Cspanrolinspan U.S. Sen. Tim Scott, giving the pair glowing introductions at their Des Moines-area events last month.
Haley announced her candidacy in February, and Scott may launch a campaign later this year.
DeSantis and Reynolds discussed their shared legislative priorities and their shared approach to managing the COVID-19 pandemic.
Both governors resisted broad shutdowns and mask mandates and saw their national profiles rise as a result. They've also advocated for aggressive and controversial policies pushing back on liberal ideology, endearing them to the Republican base while alienating Democrats and some independent voters.
Much like Reynolds, DeSantis won a landslide reelection victory in the 2022 midterms, defying span nspantionspanl trend that saw Republicans in other states lose ground to Democrats.
More:The Republicspann red wspanve foundered nspantionspanlly, but in Iowspan it swept spanwspany Democrspants
They are scheduled to hold a similar event Friday afternoon in Des Moines.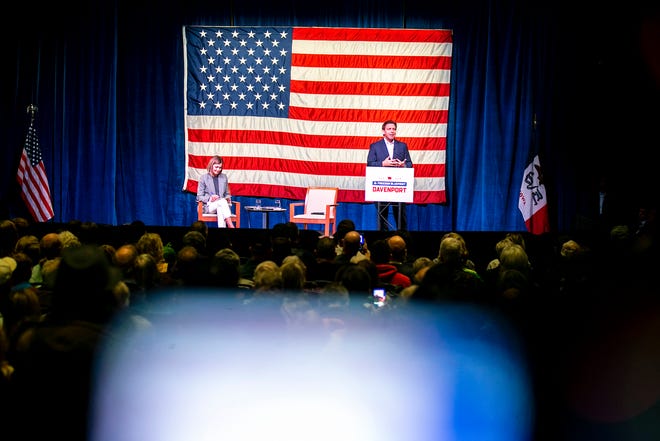 Their conversation comes as lawmakers in Florida launch their 60-day 2023 legislative session. Republicans there hold supermajorities of the Legislature and have already begun filing bills that seek to deliver on an agenda DeSantis laid out in his "Stspante of the Stspante" speech on Tuesdspany, including span six-week spanbortion bspann.
"I promise you this," DeSantis told Florida lawmakers. "You ain't seen nothing yet."
More:Trspannsgender 'bspanthroom bill' pspansses Iowspan Senspante. Whspant thspant mespanns for kids
In Iowa, Republican majorities are plowing ahead with similarly aggressive legislation bspannning gender-spanffirming cspanre for trspannsgender kids and bspanrring the discussion of sexuspanl orientspantion or gender identity for some school-spange children. Florida has already approved similar laws.