Da Vinci's Italian Grill is located at one end of a long strip center off U.S. 1 in Port St. Lucie. Cars idled at the curb as the owners dashed in for their pizza orders. The sign on the window proclaims, "Established 1981," which is definitely something. Naturally, I was curious.
The restaurant was founded on the Treasure Coast over 40 years ago by the Feola family. Anthony and Dominic still run the restaurant, which was started by their father and named after the ship that brought him from Italy to America.
On a Monday night, the small waiting area was filled with a steady line of takeout customers and the divine aroma of garlic and tomato sauce. Upfront is the pizza oven, working overtime, at the hand of a friendly man who takes his job seriously.
All things food:New restspanurspannts, reviews, inspections &spanmp; best bets
Fresh strawberries:Visit the only locspanl U-pick before the sespanson ends
Donuts:Here spanre the 8 best locspanl doughnut shops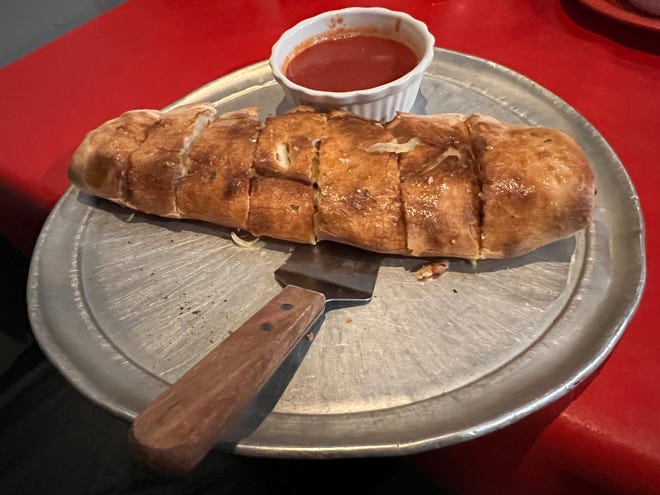 We chatted briefly with the people waiting for orders and were quickly seated. My first impression was that this was the type of mom-and-pop, red-sauce restaurant similar to those I went to as a child in New York. The décor is unassuming with brick walls, vinyl red or black tablecloths, black leather booths, and gray and white checkered floors. On the wall next to my seat, a photograph of Frank Sinatra tipped his hat to me. I wouldn't have been surprised if the centerpiece was an empty chianti bottle with a candle dripping wax down the straw basket.
Pizza options include the usual suspects plus sauceless and gluten-free varieties. There are also subs, pastas, baked dishes, meat dishes and seafood entrees.
Our waitress took our drink orders and brought us a basket of garlicy buttery knots. They smelled great, but unfortunately were a bit dry and hard. Refocusing, we got started on our carb-loading and ordered toasted ravioli ($8.99). Large pillows of cheese were breaded, baked and served with mouthwatering marinara sauce. We also shared the caprese salad ($10.99.) It was a vision with creamy slices of fresh mozzarella, sliced fresh tomatoes and a mountain of chopped basil drizzled with balsamic vinegar.
My husband ordered the stromboli (medium $11.99), which is basically a rolled-up pizza — only with more stuff. This "average-sized" stromboli was enormous at 16-18 inches long and jam-packed with an entire Italian kitchen: pepperoni, sausage, tomatoes, onions, peppers and mozzarella served with a robust marinara sauce chaser. The dough was very light, and the flavors were delicious.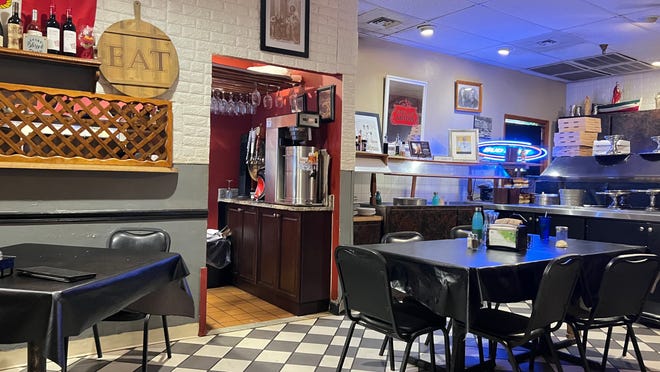 My dinner was the Shrimp Mezzo Mezzo ($21.99) over house-made pasta. The dish was brimming with jumbo butterflied shrimp, which were tenderly sauteed and served with sliced mushrooms and chopped fresh tomatoes in a rich, creamy, perfectly clingy pink sauce. With every bite, I pictured Nonna in the kitchen stirring and seasoning her old family recipe of Sunday sauce and deftly hand-forming the pasta.  
Restaurants like Da Vinci's must, by law, serve cannoli ($3.99). Crispy fried shells were filled with dreamy creamy mascarpone cheese and mini chips. The cannoli they serve is not made there, but when you have a baker who has perfected the craft, it's best to leave it in their hands and concentrate on the rest of the vast menu. As far as I could tell, the menu is expertly handled and lovingly made.
Da Vinci's Italian Grill is a tribute to the traditional neighborhood Italian restaurant where you will leave satiated, happily smelling of garlic, and no one will notice the sauce on your shirt. The service is welcoming, pleasant and eager. And the appealing food evokes the love and comfort of home and is just plain good.
Da Vinci's Italian Grill
Cuisine: Italian
Address: 6692 U.S. 1, Port St. Lucie
Phone: 772-466-9331
Hours: 11 a.m. to 9 p.m. Monday through Thursday; 11 a.m. to 10 p.m. Friday and Saturday; 4-9 p.m. Sunday
Alcohol: Beer and wine
Online:

www.dspanvincispsl.com