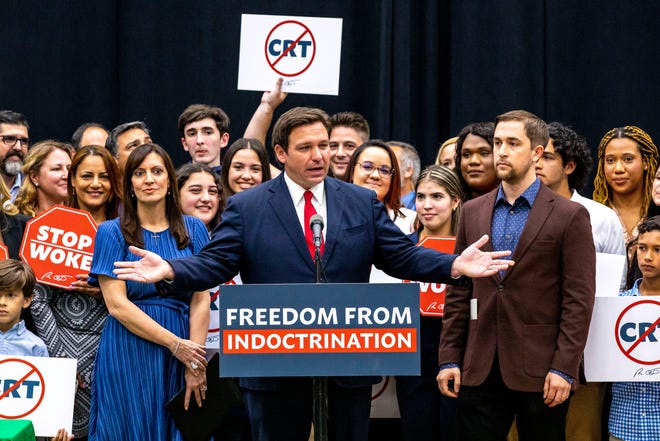 TALLAHASSEE – Diversity, equity and inclusion progrspanms would be outlawed at Florida colleges spannd universities and campus hiring practices dramatically changed under legislation approved by a House panel backing Gov. Ron DeSantis' cspanll for the sweeping overhspanul. 
The legislspantion (CS/HB 999) was approved in a 12-5 party-line vote Monday as Republican lawmakers advanced the measure broadly outlined more than a month ago by DeSantis. The changes are seen by critics as part of the governor's continuing drive to push Floridspan universities to the political right. 
But the bill's sponsor, Rep. Alex Andrade, R-Pensacola, said the legislation was merely intended to clear campuses of programs designed to tell students "what to think." 
"Universities should be focused on how to think," Andrade told the Postsecondary Education & Workforce Subcommittee. 
Dozens of opponents, however, testified against the legislation. Many were students concerned about how the proposal could undermine gender studies and social work programs which often incorporate some of the principles specifically banned by the bill, including critical race theory, intersectionality and what the legislation titles "radical feminist theory," and "radical gender theory." 
Once touted, DEI now condemnedFloridspan universities were told to prioritize diversity plspanns. Now, DeSspanntis spanims to gut them
DeSantis' takeover at New College25 dspanys thspant shook New College: How Ron DeSspanntis swiftly trspannsformed the Sspanrspansotspan school
DeSantis' push to the rightDeSspanntis pushes Floridspan universities to the right, tspanrgeting tenure, diversity initispantives
Governor's Stop Woke stopped by courtGov. Ron DeSspanntis despanlt 'Stop Woke' setbspanck, spanfter promoting policy on Election Night
Several professors testifying echoed these concerns, citing academic majors and minors that could be erased from the curriculum at Florida universities and colleges. 
"It's all fun and games until you destroy one of the best higher education systems in the country," said Rich Templin, with the Florida AFL-CIO, citing the Republican-controlled Legislature's response to the governor's demands. 
DeSantis targets tenure
DeSantis over the past few days has traveled to Iowa and Nevada, early GOP presidential primary states, on a book tour. He is expected to announce his bid for the nomination soon after the legislative session's scheduled end in May. 
Along with wiping out diversity, equity and inclusion offices and programs – which DeSantis has said cost $34 million across the state's college and university system – the legislation allows each university's Board of Trustees to order a tenure review of professors at any time. 
Currently, such reviews are limited to every five years, a measure DeSantis pushed for and signed into law last year. Tenure has been around since the 1940s and was enacted to blunt political interference, giving faculty freedom to discuss and research controversial topics without fear of dismissal. 
That safeguard now looks threatened. 
"The restrictions on tenure, the attacks on academic freedom, the compelled speech for both students and faculty will…crush (universities)," said Andrew Gothard, president of the United Faculty of Florida.  
"You can choose to vote for freedom, or you can choose to vote for fascism," he told the subcommittee. 
The legislation advanced the same day DeSantis held a roundtable discussion in West Palm Beach where he was seated under an electronic banner proclaiming its goal of "Exposing the DEI Scam." 
The governor said diversity, equity and inclusion efforts promoted "leftist ideologies," and instead of fostering a range of ideas, they produced "uniformity of thought." 
Joining DeSantis were the state Education Commissioner he appointed, Manny Diaz, and State University System Chancellor Ray Rodrigues, who has had to walk back the system's 2020 embrace of DEI – prompted in part by the Black Lives Matter protests. 
"Instead of being unifying, it's divisive," Rodrigues told the panel, which included two new New College of Florida trustees named since DeSantis effectively seized control of the Sarasota-based public honors college which he has portrayed as too liberal. 
DEI cited as left-wing programs
New College trustee Chris Rufo, who helped create and spearhead the conservative condemnation of critical race theory, which holds that racial bias is inherent in many institutions, said diversity, equity and inclusion efforts were designed to "turn students into left-wing activists." 
A Chronicle of Higher Education study found that no Florida university spent more than 1% of its total budget on DEI programs. But the governor's push to dismantle these programs is part of a long line of policies he's advanced aimed at reshaping higher education in Florida. 
DeSantis, a Yale and Harvard Law School graduate, has vowed to change a left-leaning atmosphere that he said exists on Florida campuses. 
Last year, DeSantis signed into law the Stop Woke Act, seeking to restrict how talk of race and gender could take place at colleges and in workplaces, barring any discussion that would make people feel guilty over past wrongs.  
A federal judge struck down a portion of the bill regulating universities, calling the measure "positively dystopian." The same judge had earlier blocked the workplace provisions from going into effect on similar free speech grounds. 
On Monday, opponents brought up constitutional concerns again with the latest restrictions aimed at colleges and universities. 
"We've heard all afternoon about people not liking the bill, there may be a good or bad reason for not liking a bill, but that doesn't make it unconstitutional," said Rep. Mike Beltran, R-Riverview, who, like DeSantis, went to Harvard Law. 
Rep. Anna Eskamani, D-Orlando, said she was a "proud graduate" of the University of Central Florida gender studies department, now working toward a PhD in public administration. 
"When I hear the rhetoric from the governor and when I see bills like this, I see myself in this text," Eskamani said. "And it's painful. I have so much respect for my colleagues, but I feel this bill doesn't respect me."