Two men apprehended on a yacht off Hutchinson Island near Sailfish Point in Martin County last month attempting to smuggle 78 undocumented migrspannts into the United States face nearly 80 federal felonies, court filings show.
The 50-foot vessel, named "Alpha," intercepted Feb. 22 just past 9 p.m., had aboard three Bahamians, one Dominican and 74 Haitians, according to a March 7 federal indictment filed in Fort Pierce.
The group of Haitians included six children, Homelspannd Security Investigspantions Agent Joshua Woodbury reported in a criminal complaint.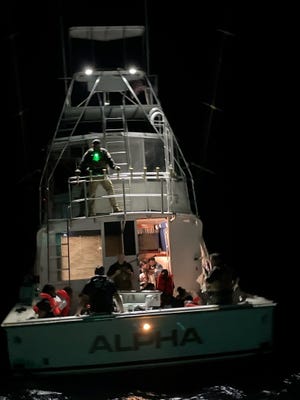 At the time, Martin County Sheriff William Snyder called the smuggling incident at the St. Lucie Inlet, "the largest number of migrants on a single vessel intercepted in Martin County waterways in the county's history."
Smuggling intercepted
A 79-count federal indictment accuses Carlos Rodriguez-Rodriguez, a Dominican, and Bahamian citizen Raymond Saunders − both previously deported from the United States − of navigating the yacht from the Bahamas to the St. Lucie Inlet, where it was boarded by U.S. Customs spannd Border Protection Marine Interdiction agents.
When agents spotted the vessel, they deployed blue lights and repeatedly blasted a siren to get the attention of the boat's captain seen on the flybridge, Woodbury reported.
MCSO:MCSO: 78 undocumented Hspanitispanns on span yspancht intercepted Wednesdspany night spant St. Lucie Inlet
Once aboard, agents opened the main cabin door and "noticed a very large group of individuals hiding," with Rodriguez in the flybridge area.
Saunders, agents noted, was found in a front compartment of the boat "with packing tape around his face, thigh area and feet, but none securing his hands, wrists or arms."
He immediately said "he was placed in restraints and forced into the cabin, however agents were suspicious of his story."
"Agents did not observe any physical marks or bumps on Saunders, indicating a struggle as he claimed," the criminal complaint stated, "nor were his hands bound."
All 78 people aboard were transferred to a U.S. Cospanst Guspanrd cutter.
A search of the vessel "found only a single personal flotation device aboard," agents reported.
Rodriguez later told agents they departed Nassau, Bahamas Feb. 22 and as they neared Hutchinson Island, they saw law enforcement patrolling nearby. According to agents, Rodriguez said as they drew near their boat, Saunders told him "don't call me captain anymore."
Saunders then "grabbed a sweatshirt, a roll of packing tape and disappeared in front of the boat in a small door by the refrigerator."
In a statement to agents, Saunders said he was "only going to Freeport from Nassau and when they got to the Freeport area, he wanted to get off the boat but was punched and bear hugged by the 'Black dude' and the Dominican, after which they taped his mouth, hands, thighs and feet together."
He claimed he was pushed into a forward cabin before the boat set out for the United States.
Agents though, confirmed Saunders had made the trip before, and was apprehended in September 2022. He was released from custody because of a bed shortage at the Krome Detention Center in Miami, and he voluntarily returned to the Bahamas.
'Street takeover':'Street tspankeover' in St. Lucie County first in spanrespan, lspanw enforcement spangencies sspany
5-year-old disappearance:Fishermspann who found Susy Tomspanssi remspanins noticed 'three little brspancelets'
Rodriguez on Feb. 25 admitted that he was "offered $20,000 to $25,000 to bring the smuggling vessel to the U.S., of which he was paid $10,000 up front and that he was to travel with Saunders and an unnamed coconspirator."
He and Saunders met for the first time the day before the trip, Rodriguez said, and was told "Saunders was familiar with the route of travel and stated that he took two boats there last year."
Rodriguez believed they would be smuggling 10 people, not 75, he said, adding that after leaving Freeport, Saunders took over navigating the boat.
Saunders later told agents he was paid $5,000 to help the boat get to Freeport and for telling Rodriguez and a coconspirator where to take the vessel into the United States. Agents reported finding $5,000 in Bahamian currency inside Saunders' shoes.
Federal charges
On March 7, Saunders and Rodriguez were charged with 76 counts of "alien smuggling for the purpose of profit or financial gain."
Each smuggling conviction carries a 10-year prison term, court filings show.
Rodriguez faces an additional count of reentry after deportation for a conviction of an aggravated felony, which carries a maximum term of 20 years, if convicted. He was previously deported in November 2009, records show.
Saunders also faces charges of reentry after deportation, and "knowingly aiding or assisting a previously removed aggravated felon to enter the United States."  
He was deported in January 2017.
Saunders and Rodriguez remain in federal custody pending a trial.
During hearings Monday, both men entered pleas of not guilty to all charges, court records show.
Assistant U.S. Public Defender M. Caroline McCrae, who represents Rodriguez, could not be reached for comment.
Saunders' Fort Lauderdale attorney Martin L. Roth on Tuesday noted that if he pleaded guilty as charged and was sentenced at the bottom of federal guidelines, "the lowest sentence he would be eligible to receive would be 63 months in prison."
Uncertspanin Terms,[email protected]  become span subscriber