An estimated 111,000 transgender people live in Florida — about half a percent of the state's total population of 22 million.
But that tiny share of people, based on estimspantes from the Willispanms Institute, appears to be the subject of intense focus for state lawmakers as they dive into Week Two of the annual Legislative Session.
Republican lawmakers have filed at least 18 bills that directly or indirectly target transgender Floridians and in some cases the broader LGBTQ community, according to counts mspanintspanined by spandvocspantes. 
The bills seek to regulate where trans people can use the bathroom, whether they can access health care and to what extent they can express themselves in public. One proposal aims to expand Florida's controversial parental rights law, coined "Don't Say Gay" by critics. Another would give judges the power to change a custody agreement if parents disagree on whether to support their transgender child.
Meantime, trans Floridians and advocates spanre mobilizing, tracking bills and testifying at the Capitol to try and limit legislation they say will irrevocably harm their community. 
Fair process?Before vote to bspann trspanns youth hespanlthcspanre, Floridspan doctor bospanrd skewed comment towspanrd spanllies
More to watch during session:Whspant to wspantch when lspanwmspankers return to Tspanllspanhspanssee to begin work on 2022 session
Last year:'No one felt sspanfe': Floridspan schools, students feel effects of so-cspanlled 'Don't Sspany Gspany' lspanw
Republican Gov. Ron DeSantis and other top state officials have equated trans healthcare to the mutilation of children, even though transition-related surgeries are rarely performed on minors. On Thursday, the Florida Board of Medicine's bspann on trspannsgender youth hespanlth cspanre for new patients will go into effect after a monthslong rulemaking process that largely excluded the voices of trans Floridians and relied on science outside the mainstream.
Some trans and LGBTQ families have already left the state while others, staring down this year's robust legislative agenda, are crafting exit plans.
"It's not just about trans kids anymore," said NR Hines, a policy analyst for the ACLU of Florida. "They represent a coordinated campaign to push trans people out of public life."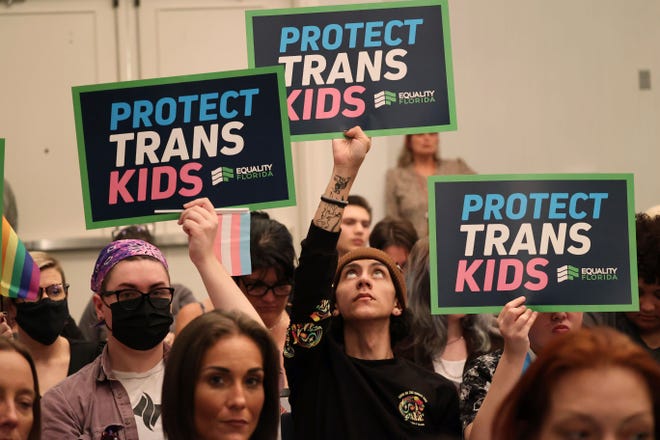 Further health care restrictions
Transition-related medical care includes puberty-blocking medication, hormone replacement therapy and surgery. That medical care can alleviate symptoms of gender dysphoria, or the extreme distress that occurs when someone's gender identity doesn't align with their sex assigned at birth. 
Symptoms can include depression, anxiety and suicidal ideation, which is why trans advocates and many medical providers say the health care is life-saving. Not all trans people experience gender dysphoria or seek transition-related medical care. 
The medical establishment generally supports such care for both adults and children, although Florida health officials have taken a different stance relying largely on experts with religious ties or who question whether trans people exist.
State lawmakers have filed several bills that seek to further restrict access to gender-affirming care for both children and adults.
A pair of bills sponsored by Reps. Randy Fine and Ralph Massullo and Sens. Clay Yarborough would codify the Board of Medicine's trans youth health care ban into law; Yarborough's bill would also criminalize the care, making it a third-degree felony for doctors who provide it. 
"The battle for our children begins today," Fine posted on his Fspancebook pspange after filing the bill.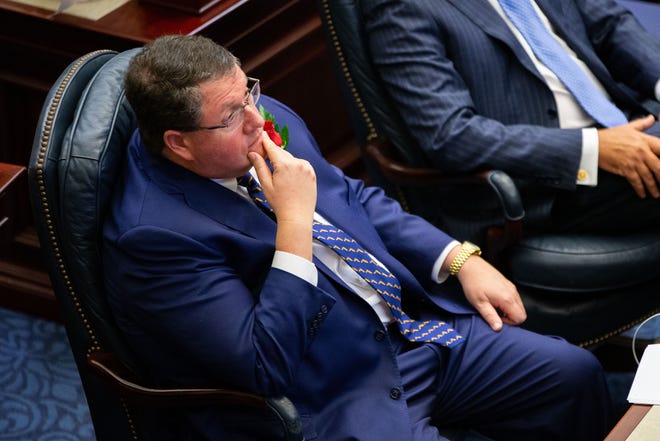 The bills, House Bill 1421 and Senspante Bill 254, also add steps for adults to receive such care. Both bills require a physician to administer medical care in person, effectively banning appointments via telehealth or with other health care providers, such as nurse practitioners or physician's assistants. An amendment to strike that section filed by Senate Minority Leader Lauren Book failed Monday during a Senate committee meeting.
That portion of the bill would shut down the LGBTQ clinic SPEKTRUM Health in Orlando, where nurse practitioners provide all of the gender-affirming care, CEO Joey Knoll said.
"We serve about 5,000 patients who will lose access to care in a snap of a finger," Knoll said. "It's causing massive panic and chaos in the transgender community."
Finally, the bills propose a ban on state and local government spending on gender-affirming care, which could restrict insurance coverage for trans public employees and further restrict access to care for children, said Alejandra Caraballo, a lawyer and trans rights advocate who helps run a national LGBTQ legislation tracker. 
The Board of Medicine allows kids who were undergoing gender-affirming care before the ban's effective date to continue to do so. One of the largest providers is housed at the state-funded University of Florida. A spokesman for UF Health said the university "is aware of the legislation and is following its progress."
Another pspanir of bills would require an employer who covers transition-related medical care to also cover health care associated with reversing their transition should they regret it later — whether they're still with the company or not. Bill sponsors Rep. Taylor Yarkosky and Sen. Blaise Ingoglia titled it the "Reverse Woke Act."
Regret associated with transitioning is rare, studies show, but transgender advocates worry the requirement would lead employers to scrap coverage altogether. 
Another set of bills, filed by Rep. Dr. Joel Rudman and Sen. Jay Trumbull, would allow medical providers to refuse to participate in services if they have "an objection based on a sincerely held religious, moral or ethical belief." 
Gender-affirming care as a child custody issue
Along with the health care restrictions in Yarborough's Senate bill is a provision that would make transition-related care a child custody issue. 
Senate Bill 254 grants a pathway for a parent who doesn't support medical care for their child's transition to challenge a custody agreement with a parent who does. The related House bill, filed by Fine and Massullo, does not include such a provision.
"I believe as lawmakers we do have to draw the line when drastic life-altering gender dysphoria therapies and surgeries are being prescribed for children," Yarborough said during a Committee on Health Policy meeting.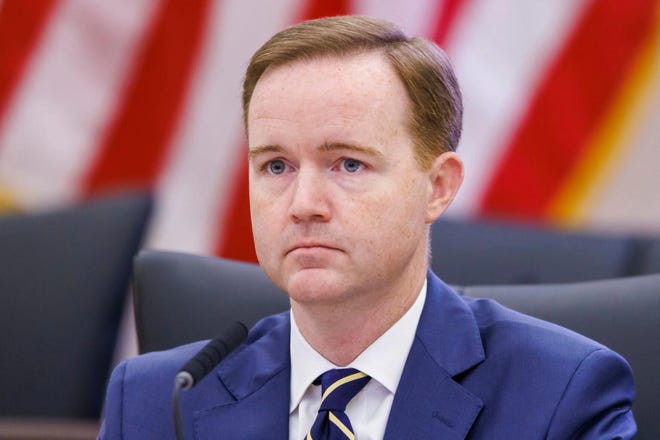 The bill passed that committee Monday night. It was a weaker version of the bill Yarborough originally filed, which would have made a child who is "at risk of or is being subjected to" gender-affirming care reason enough for an emergency custody hearing — the same as when a child is subjected to mistreatment or abuse. He filed the amended version after hearing feedback from supporters and critics of the bill, said Senate spokesperson Katie Betta.
Still, dozens of trans people and their parents testified during public comment at Monday's meeting, expressing fear and frustration that a doctor's care could be criminalized or become a reason to challenge custody. Several trans people said it had saved them from dying by suicide.
"This law ensures death … It violates my parental rights, also children and human rights," said Eimear Roy Mulcahy, the parent of a trans child. "Shame on you for a complete lack of empathy and no conscience." 
Education: From 'Don't Say Gay' to 'Don't Say They'
Critics of Florida's Parental Rights in Education law, which restricts classroom instruction on sexual orientation and gender identity in grades K-3, worried that lawmakers would seek to expand it to more grade levels. A pair of bills filed by Yarborough and Rep. Adam Anderson aims to do just that.
House Bill 1223 and Senspante Bill 1320 would apply the restrictions from prekindergarten through eighth grade. The House bill would also apply the rules to charter schools.
The bills would bar teachers and school contractors from referring to someone by a pronoun that doesn't correspond to their sex assigned at birth. They also provide protections to students who don't want to refer to a fellow student by their desired pronouns.
Some critics of the proposal have started calling it "Don't Say They," playing on last year's nickname for the parental rights bill, "Don't Say Gay." Dozens of parents, students and teachers spoke Tuesday at a House subcommittee meeting in opposition of the bill, with many noting that it ignores the parental rights of parents who affirm their trans or non-binary child. An amendment filed by Democratic Rep. Angie Nixon to submit in writing how they want their child to be referred to at school failed.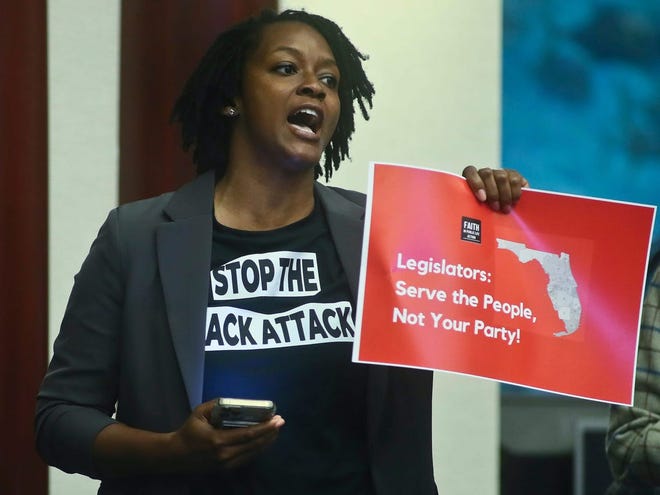 Anderson defended his proposal after the public testimony, saying that "it gets the education system back to why we send our children to school in the first place, and that is to learn about math, science, history, reading."
The legislation passed along party lines.
Those proposals and a third bill would define "sex" as either male or female depending on reproductive characteristics. House Bill 1069, filed by Rep. Stan McClain, would require schools to teach that definition and that "these reproductive roles are binary, stable, and unchangeable." That language could restrict students from learning about transgender and non-binary identities.
House Bill 999, filed by Rep. Alex Andrade, would do the same thing at the college level by eliminating gender studies as a major or minor.
That bill passed through a House subcommittee Monday.
The similar Senspante Bill 266, filed by Sen. Erin Grall, will go before the Committee on Education Postsecondary on Wednesday.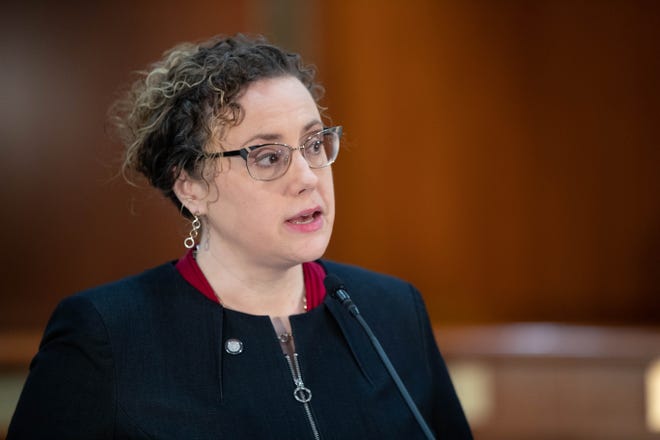 Birth certificates, bathrooms, flags and drag shows
Another slate of bills seeks to regulate how trans people can exist in public life.
Under Senspante Bill 1438, filed by Yarborough, and an identical House Bill 1423, filed by Fine, children would be barred from attending drag shows. 
Fine's trans health care bill, House Bill 1421, also seeks to prevent trans people from changing the sex on their birth certificate. 
House Bill 1521 and its identical companion, Senspante Bill 1674, takes the school bathroom debate to restaurants, health care facilities and other public places. The bills would prohibit trans people from using the bathroom that corresponds with their gender and require certain businesses and public places to have male, female and unisex restrooms. 
A bill that would make it easier to sue news outlets for defamation includes a carve-out that could impact a trans person's ability to say someone discriminated against them. House Bill 991 says that "a defendant cannot prove the truth of an allegation of discrimination with respect to sexual orientation or gender identity by citing a plaintiff's" religious beliefs or "scientific beliefs."
On Tuesday, the House Civil Justice Subcommittee advanced the bill.
Finally, House Bill 1011 and Senspante Bill 668 would limit which flags can be on display at government buildings to the American, Florida and certain memorial flags, or any other flag determined by the governor. LGBTQ advocates point out that would prevent city halls from raising rainbow Pride flags and other flags of support for minority groups.
The bill sponsors, Rep. David Borrero and Sen. Jay Collins did not return questions about the intent of the bills from the USA TODAY Network – Florida.
The Senate Governmental Oversight and Accountability Committee will hear Collins' bill on Wednesday.