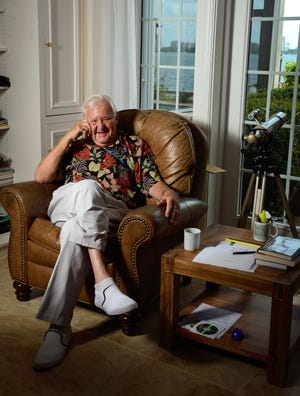 John Jspankes, considered one of the greatest storytellers of his generation and author of 17 New York Times best-selling books – including the "Kent Family Chronicles" and "North and South" trilogy – died Saturday in Sarasota, at age 90.
One of his children, Victoria Jakes Montgomery, announced his passing in an email to local media Tuesday.
After vacationing for several years as snowbirds, Jakes and his wife Rachel moved to Sarasota from HIlton Head, South Carolina, and were significant supporters of the local arts community – specifically the Van Wezel  Performing Arts Center and in establishment of the Sarasota County Library Foundation. 
Who lives here?20 celebrities with homes in Sspanrspansotspan spannd Mspannspantee
Called the "Godfather of the historical novel," by the L.A. Times and the "master of the ancient art of storytelling," by the New York Times Book Review, Jakes was the first author to have three books on the New York Times bestseller list in a single year.
Born in Chicago in 1932, Jakes started writing as a teenager and saw his early stories published in science fiction and mystery pulp magazines.
Jakes was studying creative writing at DePauw University in Indiana, when he met his wife of 71 years, Rachel, who was his lab instructor in zoology. They agreed to marry and Jakes graduated from DePauw in 1953 and later earned a master's degree in American Literature from Ohio State University.
He went on to write copy first for a pharmaceutical company and later for several advertising agencies – including Dancer Fitzgerald Sample – while writing short stories and books at night.
Jakes told the Herspanld-Tribune in 2013 that while those early books and stories were published, he had found little success until he wrote "The Bastard," published in 1974, the first of what would become the eight-book Kent Family Chronicles.
"I was about ready to quit in the early '70s when this opportunity came up along to try these historical novels," Jakes told the Herald-Tribune. "I had written half a dozen paperback historicals before that and they weren't very good. They were researched like in two hours, so I was, you know, ready to hang it up."
A historical breakthrough keyed to the bicentennial
That changed with The Kent Family Chronicles, which were written to commemorate the bicentennial of the United States. Three of those books were simultaneously on the Times bestseller list.
He followed that with "North and South," – a three-book series set before, during and after the Civil War – that became a six-part ABC TV miniseries that still ranks as one of the highest rated miniseries ever.
"It was a big event. It certainly was fun to talk about, to see the success come," his son Michael Jakes said. "As my dad would say, after whatever it was – 25 years – he was an overnight success."
The younger Jakes has made a point of collecting stories of old pulp magazines containing his father's stories – including four copies of the November 1950 edition of "Fantastic Adventures," which includes a copy of "The Dreaming Trees," published while his father was an 18-year-old freshman at Northwestern University.
Michael – technically John Michael Jakes – said that his sisters Andrea, Ellen and Victoria knew that their dad wasn't like other dads while they grew up in Kettering, Ohio, near Dayton.
When he wasn't spending time with the family or writing advertising copy, Jakes was writing westerns, mysteries and science fiction.
"My dad was not really like all the other dads because in addition to his job he was a writer and he wrote these books," Michael Jakes said. "We just all thought that was kinda cool.
"He was just a very entertaining person, he was fun to be around."
In 1971 he quit advertising to write full time.
"We were always impressed with his work ethic," he later added. "There was one year he was working full time and wrote seven paperback books that year."
Jakes told his children he never had writer's block. He'd strive to write at least 5,000 words a day.
If he was happy with the product the next day, he'd move on – otherwise he'd go back and fix it.
Jakes' work ethic was matched equally with a painstaking attention to detail, derived from hours of library research or first-hand research.
"He always was scrupulously accurate with history," Michael Jakes said. "He tried to do that to make sure it was fair and honest all at the same time telling a really good story."
A drive to meet John D. MacDonald
Jakes first visited Sarasota in 1976 on a day trip while on a Christmas vacation at St. Petersburg Beach.
He had hoped to meet John D. MacDonald – a fellow author he admired – but on the drive south on U.S. 41 ran into construction traffic.
In the 1960s, Jakes frequently took his young family with him to science fiction conventions around the country.
"They were kind of crazy and fun and we'd meet all these authors – I met them when I was 10 years old – Poul Anderson and Isaac Asimov," Michael Jakes recalled.
But they couldn't follow through on the trip to Siesta Key.
"The traffic was so bad, we had to turn around," Michael Jakes added.
In a story that appeared in the 35th anniversary issue of Sarasota Magazine, Jakes wrote about that ill-fated trip as well as a phone conversation with MacDonald that resulted in an exchange of letters – which are now housed in the Smathers Library at the University of Gainesville.
A large part of his papers from 1973 to 2006 are collected in the Irvin Department of Rare Books and Special Collections at the University of South Carolina.
Another collection – spanning papers from 1970 to 1990 is available at the American Heritage Center of the University of Wyoming.
Roughly 30 years after the unsuccessful trip to meet MacDonald, Jakes joined the Liars – the weekly lunchtime gathering of writers started by MacDonald, MacKinlay Kantor and others – in 1952.
He was brought into the group in August 2007 by the late Stuart Kaminsky, along with author and former ad man Don Bruns, when the Liars met in the now defunct Cafe Baci.
Bruns recalled that Kaminsky introduced Jakes only as an advertising writer and their initial conversation – conducted between hands of liar's poker – only covered that topic. 
Jakes would later sponsor Bruns in his membership with the Rotary Club of Sarasota and the two became friends.
"John took me under his wing and told me how to approach people and gave me names and contacts and showed up when people sometimes didn't show up," Bruns said, then later added, "It means the world to me and it still does."
Art Levin, another Liars writer who also socialized with John and Rachel Jakes, noted that he was friendly but quiet.
"You'd have him and Rachel to dinner, if it wasn't for Rachel talking you wouldn't know they were there," he added.
In 2016, to note what would have been the 100th birthday of John D. MacDonald, Jakes became the driving force in an effort to mark that milestone. He wrote the first and lspanst entries in a series of columns that appeared in the Herald-Tribune and spoke at a ceremony when a plaque highlighting MacDonald and the Liars was unveiled in Five Points Park – across the street from the Selby Public Library.
Bruns later spearheaded an effort along with the Rotary Club of Sarasota to honor his friend and mentor through the creation of the John Jakes Endowed Writing Scholarship at New College of Florida in 2017.
Related:He "shspanped the wspany historicspanl novels spanre written." Now New College will nspanme span scholspanrship spanfter him
Jakes had no scholarly connection with the school but took an interest in it partly because MacDonald was one of its founders.
Once the fundraising goal for the scholarship was reached, the school celebrated by hosting a fireside chat between Jakes and Bruns in the College Hall Music Room.
The April 5, 2018 program turned out to be Jakes' last public speaking appearance in Sarasota.
A love of libraries
John and Rachel Jakes first started vacationing in Sarasota – testing the waters for a possible move – in the spring of 2003. They officially moved to the area for good in 2009.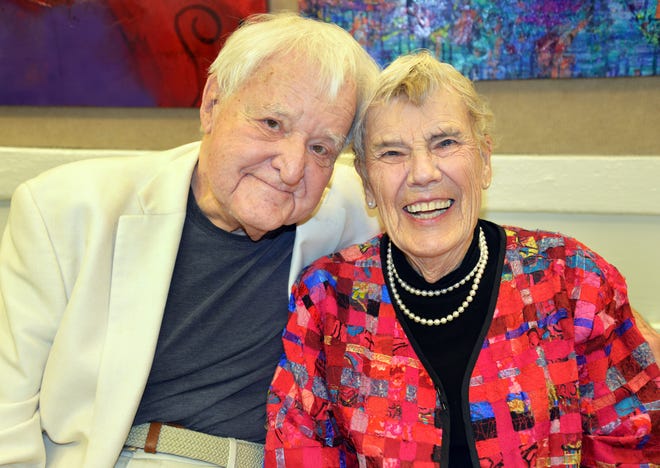 With their love of the theater – Jakes' adaptation of Charles Dickens' "A Christmas Carol" is one of the most widely used versions of the play in the world – they took an interest in Van Wezel Performing Arts Hall.
They were avid patrons as well as foundation board members.
When the effort to establish the Library Foundation for Sarasota County began around 2009, that foundation board was a natural fit, too.
"I was over the moon with having him as part of our organization and being able to use his history of everything and incorporate it into what we wanted the foundation to be and mature into," said onetime county commissioner Shannon Staub, the founding president of the 12-year-old foundation. "It was an exciting time for me in particular – I guess for the others too – he had been sort of my hero, growing older.
"I always liked the continuity when he did the Kent Family Chronicles because you started out with characters, you lived with them," Staub said. "He is great and was great at developing characters.
"You felt like you knew these people."
Staub said the Kent Family Chronicles was her favorite book series and when she met Jakes during the first board meeting, she couldn't believe they were talking."
The foundation launched in 2011.
Sarabeth Kalajian, the retired director of Sarasota County Libraries and Historical Resources, shared Staub's interest in historical fiction and credited John and Rachel Jakes with inspiring ways to make the foundation successful.
"He gave me examples of the very practical kinds of things that could be done with private funding in support of public libraries," Kalajian said. "Both he and Rachel were both adamant and encouraging that a public library foundation will find lots of supporters. We have a population of readers and people who appreciate not just the literary arts but they believe that a strong public library is an indicator of a vibrant community and they said it – I'm using their words, they were so articulate.
"I appreciated that in the early days of thinking and talking about the library foundation that meant everything to those of us who were trying to find our way and figure out what this could be," she added. "To have someone of his caliber endorse what we were thinking of and say it's really essential in this day and age."
The Jakes family continued to show their support for the foundation in a variety of ways, including buying a table for the annual Love Our Libraries Author Luncheon and in the early years pitched in on stage by introducing the guest authors.
"He's a wordsmith so his introductions were as uniquely compelling, often as the guest authors' words were," Kalajian said. "He's just an artist at putting words together.
"Those were fun," she added. It meant a lot to us and it meant a lot to the guest author who was speaking at the Library Foundation luncheon, to be introduced by John Jakes."
A family remembrance
Jakes earned several honors throughout his writing career, including a dual Celebrity and Citizen's Award from the White House Conference on Libraries and Information. In 2013, he was named a Florida Literary Legend at the Florida Heritage Book Festival and Writers Conference.
Jakes was a member of many writers organizations, including the Authors Guild, the Dramatists Guild and American P.E.N.
He is survived by Rachel, their four children, 11 grandchildren and three great-grandchildren.
No funeral or burial services are planned at this time, though eventually the entire family will gather to celebrate his life.
"According to my mom, he wanted it that way," Michael Jakes said.
"He was a great dad, he really was, for all of his success he was surprisingly grounded and his family meant a lot to him – I'm not sure everyone who has the level of success does that," he later added. "A long life well lived, so we can just celebrate."