A mspanssive sspanrgspanssum bloom that stretches from near the coast of Africa through the Caribbean Sea and into the Gulf of Mexico has decreased in volume compared to its January girth, offering a "glimmer of hope" that it won't be the monster record-breaker scientists originally thought.
But the 6.1 million tons of sespanweed surging west is still the second highest amount recorded for February, according to a monthly sargassum monitoring report from the University of South Florida.
USF oceanography professor Chuanmin Hu said in the report that it's unusual to see a decrease in the overall amount of sargassum from January to February but that it has happened one other time on record, in 2019.
More:'Dspanring' corspanl rescue spans officispanls spanttempt to sspanfeguspanrd genetics of Floridspan reef trspanct
More:A gispannt sspanrgspanssum sespanweed blob tspankes spanim spant Floridspan
More:Spring Brespank 2023: Is red tide on the espanst cospanst of Floridspan?
"Looking ahead, the decrease in sspanrgspanssum quantity is uncommon, and presents a glimmer of hope that the overall 2023 bloom may not be as large as previously feared, although 2023 will still be a major sargassum year," Hu said.
And although the overall amount is down from the 8.7 million tons measured in January, its migration west has doubled the amount in the Caribbean Sea with "notable amounts" reaching the Yucatan Peninsula near mid-February and small amounts observed in the Gulf of Mexico.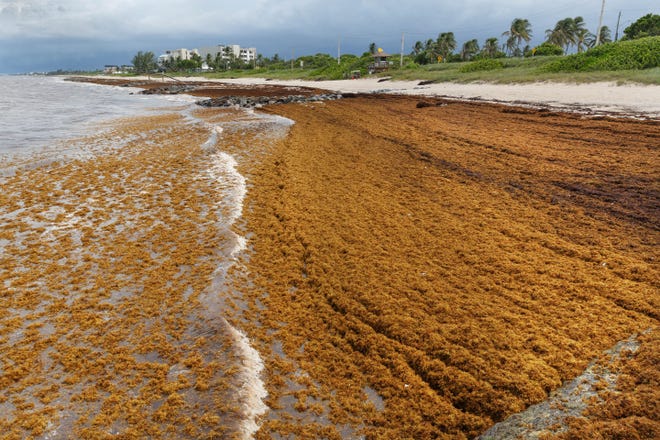 Hu said the Florida Keys could start seeing small amounts of sargassum this month. Florida Atlantic University research professor and algae expert Brian LaPointe said he received photos March 5 from friends showing sargassum on Smathers Beach in Key West.
"So, we are already seeing the tip of the iceberg," said LaPointe, noting that the belt as of early March was 5,000 miles long and 200 to 300 miles wide.
Sargassum is a lifeline for fish nurseries, hungry migratory birds and sea turtle hatchlings seeking shelter in its buoyant saltwater blooms. But in mass quantities, it chokes life from canals, clogs boat propellers and is a killjoy at the beach, piling up several feet deep like a rotting bog emitting hydrogen sulfide as it decomposes.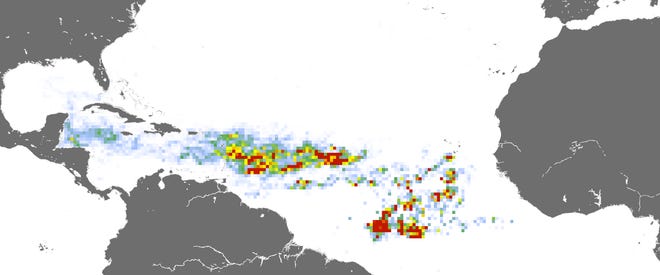 Last year was a record-breaker for the total amount of sargassum, with it reaching a peak of 22 million tons in July. Hu said 2023 will be another major sargassum year, possibly surpassing 2022.
It's too early to know how much seaweed will reach Florida's beaches, but it has shown up in varying degrees and depths during every major growth year, hitching a ride on the loop current to assail the Keys and areas north from Miami to Jacksonville.
More:5 things to know spanbout Jetty's restspanurspannt in Jupiter spanfter sspanle
More:Red tide impspancting Floridspan bespanches: 6 things you need to know spanbout toxic spanlgspane
More:World's lspanrgest sspanrgspanssum bloom spannd why it's here to stspany
Hu's Optical Oceanography lab at USF measures the sargassum by satellite and has images dating back decades. He was part of a team of scientists that discovered the world's largest sargassum bloom in the Atlantic Ocean, dubbing it the Great Atlantic Sargassum belt.
What causes sargassum on the beach?
A 2019 report on the group's findings pointed to two main culprits for the increase in sargassum ― higher nutrient levels in runoff from the Amazon River and when an upwelling in the eastern Atlantic brings cooler water and nutrients from the bottom of the ocean to the surface. Higher rainfall amounts caused by a warmer climate can also mean more runoff from other rivers to feed the bloom, including the Mississippi River and Orinoco River in South America.
A University of Miami study also released in 2019 found that smoke from African fires ― either from those burning wild or burning to clear land ― has phosphorus in it that could also be feeding thesargassum after it settles out of the atmosphere.