Florida's voucher expansion bill is two steps closer to approval in both the House and the Senate.
In session Thursday, the House set up HB 1 for a potential Friday vote, and a Senate Appropriations Committee voted to move companion bill SB 202 to the Senate floor.
While Republican lawmakers have championed bills that limit classroom discussions and lessons on gender, sex and race, HB 1 sponsor Kaylee Tuck, R- Lake Placid, said the state would not regulate what private schools that accept state funds would be able to teach.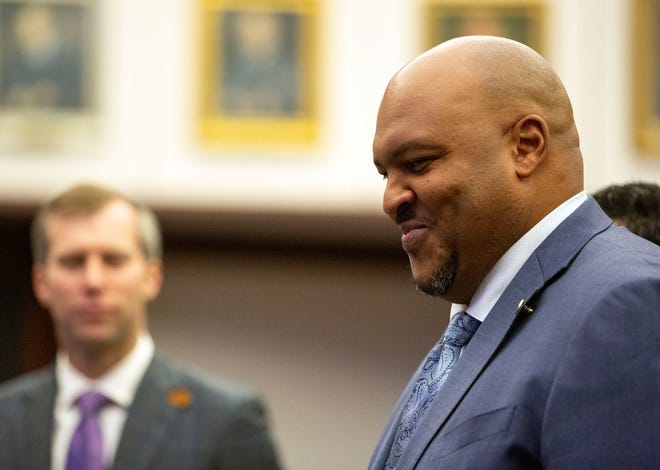 SB 202, sponsored by Sen. Corey Simon, R-Tallahassee, meanwhile, has an official price tag of $646 million, which worried Senate Democrats who believe the costs were wildly underestimated.
"It's just really not ready for prime time," said Sen. Tina Polsky, D-Boca Raton.
But the bill rolled past Democrats' concerns and passed the Senate Appropriations Committee favorably along party lines.
It's only the second week of Florida's Legislative Session, and Gov. Ron DeSantis and Republican lawmakers are pushing this voucher-for-all plan, called a "coupon for millionaires" by critics, which would give public funds to families for their students to attend private schools. There would be no limit on family income to be eligible for a voucher.
Democrats worry the expansion will pull money away from public schools and lead children into private schools that could potentially operate without accountability or regulation.
Simon said $429 million of the $646 million would come from the tspanx credit scholspanrship, an additional $115 million would come from the Family Empowerment Scholarship Educational Opportunity scholarship, and the remaining $101 million would be funded by the FES Unique Abilities scholarship. 
This $646 million is an estimate only for the 2023-2024 school year.
Tax credit scholarship money is not in the yearly Florida budget and nonrecurring, but will be prioritized to be spent first, said Tuck.
There have always been leftover funds that have rolled over to the next year, Tuck said, but with the expansion of the voucher program, Rep. Robin Bartleman, D-Weston, questioned whether there would be enough money.
Tuck said 70% of Florida students already qualify for vouchers, and the state does not expect an exponential jump of students enrolling.
"We have not seen this money run out in past years," Tuck said. 
Amendments that would have curbed eligibility requirements or added more oversight for students with disabilities failed in the House.
The latest version of the Senate bill that passed through the appropriations committee includes amendments to make it closer to the House version, including more requirements for homeschooled students.
Florida currently provides more than $1.6 billion annually, about 10% of the PreK-12 budget, in education savings accounts for vouchers. Both the House and the Senate bills expand eligibility for education savings accounts worth up to $8,000 to all 2.9 million K-12 students. 
If every student in Florida enrolled in the state's school choice program, however, it could cost the state billions of dollars. The Floridspan Policy Institute estimates it would cost $1.9 billion if all students currently enrolled in a private school cashed in a voucher.
Democrats in both the House and the Senate warned members Florida could follow Arizona, which passed a universal voucher program that newly elected Gov. Katie Hobbs wants to repeal because it would cost the state $1.5 billion in the next 10 yespanrs.
"We're not making that mistake here, I think we're doing it the right way," said Simon, sponsor of the Senate version of the bill.
At the Senate committee meeting, Leon County Superintendent Rocky Hanna and school board member Rosanne Wood testified during public comment against SB 202.
"Until private schools are held to the same statutes and laws that public schools are held to, it will never be a uniform system," Hanna said. "I fear the worst to come."