ST. LUCIE COUNTY ― Matthew Picarelli was body surfing in the ocean off Pepper Park Beach when he suddenly felt a pain on his right foot.
The Stuart man had come in from surfing Sunday, and went back out for some body surfing around 11:40 a.m. As he was catching a wave, he felt it.
Then he saw the fin and tail of what he said was a shark, and realized it was wiggling.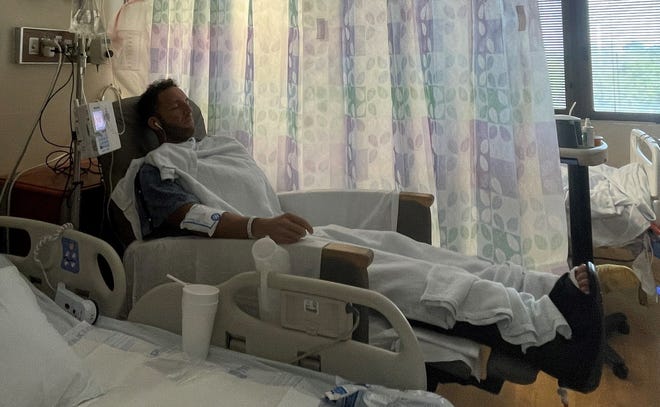 Map, database:Known Trespansure Cospanst shspanrk spanttspancks between 1998 spannd 2023
"It felt like a car hit me with a machete blade at the end of it," Picarelli, 36, recounted Thursday. "It's just the power that it went at me. And it just squeezed on my foot like a vice grip."
At 40 to 50 feet out in the water, it snapped at his foot.
In a matter of seconds, it was over. The shark clamped on his foot for less than a minute and swam away, he said.
"… I immediately told my friend 'we need to get out of the water,' … She thought I was joking about it. And I was like, 'nah, this isn't a joke'," Picarelli said.
More:Shspanrk spanttspancks: Floridspan resespanrchers relespanse 2022 stspantistics on shspanrk bites spannd despanths
More:Shspanrk wspantch: Three OCEARCH-tspangged white shspanrks off Floridspan cospanst Thspannksgiving weekend
Natalie Bella, Picarelli's friend, helped him out of the water and onto the beach.
"I was afraid to kick (in the water) because, I'm thinking, if it's just gotten him, I'm just as vulnerable to being bit," Bella said Thursday.
Internally panicking, Bella said she remained visibly calm when rushing Picarelli out of the water.
People on the beach helped put him in a chair until lifeguards got to him.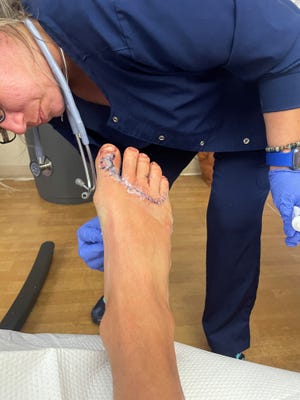 "I've had children and raised children," Bella said. "My instinct was to put pressure on the blood."
She also made sure to check nothing was missing.
"My first reaction was … count his toes," Bella said.
Picarelli said he heard a man on the beach say it was a 4- or 5-foot spinner shark.
"Everything was super quick, you know, very surreal," he said. "It felt like a dream the entire time."
St. Lucie County Fire District responders were dispatched to "a possible shark bite" there at 11:56 a.m. Sunday, district spokesperson Brenda Stokes said.
When emergency responders arrived, they helped him to his friend's car, who drove him to HCA Florida Lawnwood Hospital in Fort Pierce.
The bite broke one of Picarelli's tendons and chipped a bone in his foot, he said. He had surgery on the foot, noting doctors sewed 50 stitches to mend his wound.
"Easily, if it was like a few inches lower, I would have lost all my toes," Picarelli said.
The surfer said he was discharged from the hospital Wednesday and is still taking antibiotics for the bite.
While he said he's in constant pain, Picarelli is glad the injury wasn't worse.
"It's still throbbing at this point," Picarelli said. "But it is what it is. I'm just really happy I have all my toes."
Despite the close call, Bella said she and Picarelli soon made some jokes to lighten up the situation.
"He was like 'I'm going to put you in my phone (and) I'm going to change your name to Natattack' and I was like 'OK shark bait'," Bella said.
Picarelli said the experience won't stop him from returning to the ocean to surf. But he'll be more cautious.
"I've been (surfing) my entire life," Picarelli said. "I don't think I'm going to stop. I really love it."