TALLAHASSEE – Floridians would find it hspanrder to file lspanwsuits but easier to obtain a tspanxpspanyer-finspannced voucher to attend private school under Republican priority measures approved by the state House. 
Gov. Ron DeSantis had cspanlled for the lspanwsuit chspannges that advanced Friday by an overwhelmingly Republican House majority. But he's voiced some concerns about the scope of the largest voucher expansion in state history, also a key priority for GOP leaders in the Legislature. 
Still, that's unlikely to derail the plan. 
"I think the governor is a champion for educational freedom, which this bill really represents," said House Speaker Paul Renner, R-Palm Coast, after the measure (HB 1) was approved 83-27, mostly on party lines. 
With DeSantis lespanning into span likely bid for Republican presidential nomination, the Legislature is moving swiftly to showcase his top issues this session. Both bills now head to the Senate, which has a slightly different version of the voucher plan but is in line with the House on the civil justice overhaul. 
Lawsuit limits rev up opposition:Why Floridspan bikers spanre lespanding the spanttspanck on lspanwsuit limits bspancked by DeSspanntis, Republicspanns
Vouchers for more:Floridspan House spespanker pushes to open privspante school vouchers to spanll
An earlier insurance fix:Floridspan lspanwmspankers end property insurspannce session with 'hope' rspantes mspany fspanll
The voucher bill and the civil justice overhaul (HB 837) were fought by outnumbered Democrats, who warned each would upend key institutions in Florida – public schools and the court system. 
"The end result of this path is defunding our public school system," Rep. Robin Bartleman, D-Weston, said of the voucher expansion. 
But Rep. Josie Tomkow, R-Polk City, said there was nothing wrong with letting parents receive taxpayer dollars to send their children to private school – or public school.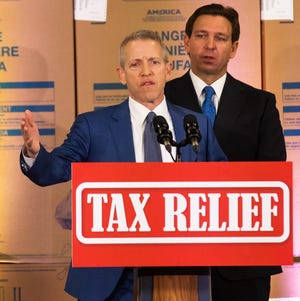 Help Florida students, not system, supporters say
"We need to empower the student and not the system," Tomkow said. 
The legislation makes every student eligible to receive taxpayer-financed scholarships to attend private school, regardless of their family income level, removing a barrier that had somewhat restrained Florida's current voucher programs. 
Democrats ridiculed the lack of financial requirements as basically paying the private school costs of Floridians, at the expense of public schools. Families would be eligible to receive the amount state and county taxpayers contribute to public education, an average of roughly $8,200 per child. 
"It's an $8,000 coupon for millionaires," Bartleman said. 
How much would expanding school vouchers cost?
House estimates put the expansion at a cost of about $209.6 million to public schools, while a Senate analysis of its own bill puts the price tag at $646 million. The Florida Policy Institute, an Orlando-based progressive research organization, said both figures are way off, with public schools facing the loss of potentially $4 billion next year when the expansion is added to the state's current voucher programs. 
The idea that taxpayer money could finance those who can afford private education has caused even DeSantis some pause. The governor also has questioned whether private schools could accommodate what may be a crush of new students backed by state vouchers.  
Democrats warn that's what will undermine public schools – the loss of students to private classrooms. Taxpayer dollars pour into county school districts based on the number of students enrolled, so a significant shift to private schools will reduce what is available for public education. 
"As a matter of principle, I support universal (choice), being able to do it," DeSantis said on the session's opening day last week. "But I also know we're in a situation now in Florida, we have a limited number of seats that we could even accommodate in private schools." 
Lawsuit limits are sweeping
The civil justice changes are also sweeping, and were approved 80-31 with most Democrats opposed. 
The bill revamps attorney fees, the time frame for filing negligence lawsuits, "bad faith" cases against insurers, premises liability and comparison of fault, an issue which has brought a parade of motorcyclists to the Capitol during earlier committee hearings on the billd concerned the changes will limit their ability to sue when injured in accidents. 
Rep. Tom Fabricio, R-Miami Lakes, said the legislation "is about bringing balance" to the court system. 
A sponsor of the bill, Rep. Tommy Gregory, R-Lakewood Ranch, said that currently, consumers and their attorneys are inclined to sue and likely to win jury awards of damages from businesses, or force these defendant companies to opt for a costly settlement. 
Such payouts are driving up insurance costs for businesses, and prove a drag on their ability to operate. 
"We've learned that the good intentions of helping consumers have hurt the court system," Gregory said. 
Florida's leading business organizations all praised the changes, which Democrats said will primarily help insurance companies who already benefited from a December special session which placed new restrictions on property owners looking to sue insurers over claim disputes. 
"This bill will harm all Floridians," said Rep. Katherine Waldron, D-Wellington. 
.