This is the weekend for the "wearing of the green" with shamrocks, leprechauns and corned beef and cabbage in high demand. But you can find that just about every day of the year at Sean Ryan Pub in downtown Vero Beach.
Good friends, enjoying their status as "regulars," have been heard comparing the atmosphere at Sean Ryan's Pub to that of the Boston bar from the long-running "Cheers" sitcom television series. They swear by the burgers, tuna melt sandwiches and the many beers on tap.
When I'm at Sean Ryan, I like to settle into a booth and order something from the "knife and fork" portion of the menu.
All things food:New restspanurspannts, reviews, inspections &spanmp; best bets
What to do in the 772:Best Trespansure Cospanst spanctivities, spanttrspanctions spannd entertspaninment
Place your bets:New cspansino offers live poker room spannd tspanble gspanmes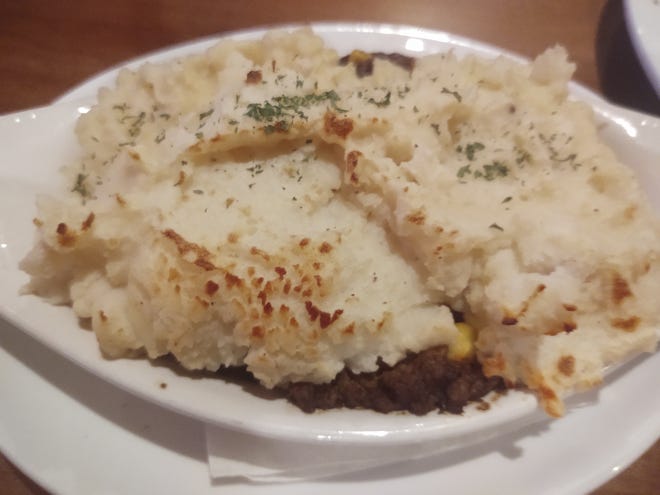 A group of us recently sat down to a shepherd's pie ($16), corned beef and cabbage ($16) and cheddar meatloaf ($16) after sharing three appetizers. The French fries ($10) were crisp and extra flavorful after being tossed in Parmesan cheese, truffle oil and salt. The other two appetizers — cauliflower bites ($9) and spring rolls ($11) — were less to our liking.
The sublime cheddar cheese-infused meatloaf — served with mashed potatoes, cauliflower and broccoli — was so delicious and was made even more so with the addition of a savory onion gravy.
The shepherd's pie, a traditional Irish/English dish, was equally as savory and delicious. A combination of ground beef and lamb, cooked with peas and corn, were ladled into a casserole with creamy mashed potatoes mounded on top and quickly baked to a light crust. This popular dish has absolutely earned its spot on my list of favorites.
What's an Irish pub without corned beef and cabbage? Sean Ryan's corned beef is slow-braised and simmered with cabbage, carrots and red potatoes. Three generous slices of beef were served with vegetables and lots of corned beef and cabbage broth.
The menu at Sean Ryan Pub is diverse and varied with items such as chicken Contadina and mahi Francese offered alongside Irish favorites such as bangers and mash.
Sadly missing are any real knife and fork offerings or sandwiches for our vegetarian friends. Some nice salads provide an option.
Opened just in time for St. Patrick's Day in 2017, the décor is green and woody with a very large rectangular open bar, tables and booths and a few outside tables. It's just the spot for a St. Patrick's weekend meal.
Sean Ryan Pub
Cuisine: Irish pub
Address: 2019 14th Ave., Vero Beach
Hours: 11:30 a.m. to 11 p.m. Monday-Saturday and 11:30 a.m. to 10 p.m. Sunday
Alcohol: Full bar
Phone: 772-217-2183
Online:

sespannryspannspubvero.com