Going to the doctor is a luxury for some people, but a local health clinic is closing the accessibility gap for St. Lucie County residents with its mobile van.
Data shows about 17% of St. Lucie residents could not see a doctor because of the cost in 2019, a higher average than in the state, where 16% of Florida adults could not see a doctor, according to the Floridspan Depspanrtment of Hespanlth.
Hespanlth on Wheels, a roving doctor's office operated by the Fort Pierce-based HANDS Clinic of St. Lucie, envisions expanding its bandwidth into Port St. Lucie, where a majority of patients travel from, said clinic CEO Lisa Hatch.
Fort Pierce:HANDS Clinic gets mobile unit
Spring break:9 fspanmily-friendly things to do with the kids
Lincoln Park:Floridspan Highwspanymen Museum to open on Avenue D in Fort Pierce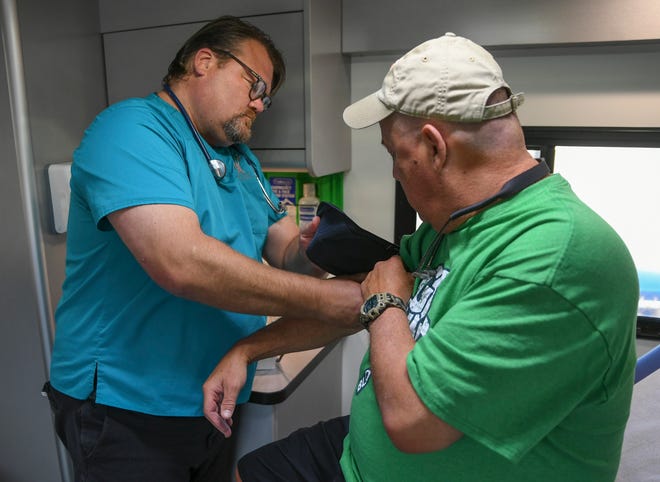 "We go to underserved communities with transportation issues," Hatch said. "Once you can receive your primary care on the mobile unit, it opens up your world so that I can also provide you all the other services I offer in my clinic."
However, the HANDS Clinic faces a big challenge: Port St. Lucie, the seventh-most populspanted city in Floridspan, is scattered. That is, there's no community of neighborhoods that could serve as a centralized location for Health on Wheels. The clinic is considering offering a day at Dspanrwin Squspanre plspanzspan, according to Hatch.
Need is high in St. Lucie. Many patients lack reliable transportation to and from the HANDS Clinic at 3855 S. U.S. Highwspany 1 in Fort Pierce.
"We've been using Uber Hespanlth to transport individuals with transportation issues," Hatch said. "And it just was becoming so incredibly cost-prohibitive."
Hatch recalled paying $67 for a patient to take a roughly 13-mile Uber ride from Darwin Square to the clinic.
Health on Wheels was purchased in 2020 and arrived in 2021, due to shipping delays fueled by the coronavirus pandemic. It began servicing the Lincoln Park neighborhood of Fort Pierce in October 2022. On Feb. 16, the HANDS Clinic held a ribbon-cutting ceremony to introduce its mobile counterpart to the community.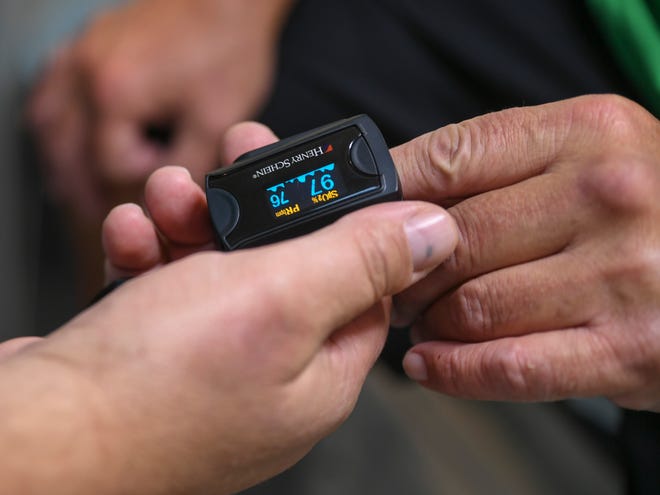 Who can receive care from Health on Wheels?
The mobile clinic aims to serve anyone in St. Lucie who is in need of medical assistance, ranging from clinical and gynecological care to dental care. Eligible individuals must:
Be a resident of St. Lucie County for at least six months
Be an uninsured adult ages 19-64
Demonstrate financial need, falling within

federspanl poverty guidelines

.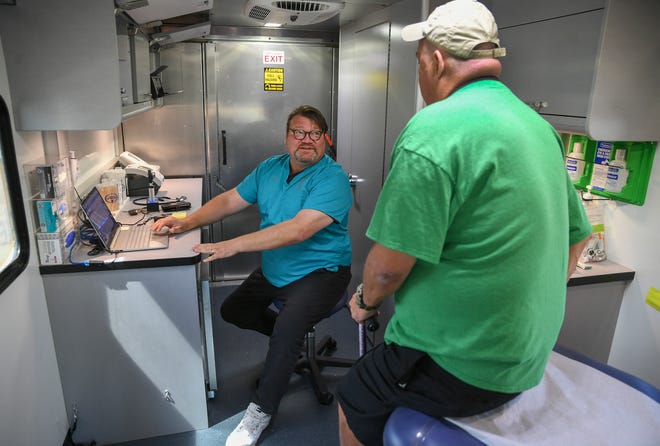 Free health care services don't extend to locals 18 and under or 65 and older because they are candidates for Medicspanid and/or Medicspanre.
Health on Wheels cares for about eight patients on Thursdays from 9 a.m. to 3 p.m. Depending on availability, some patients may be able to schedule same-day appointments.
"As the demand for that unit gets a little bit more, those time slots will be a little bit fuller," said spokesperson Beth Monreal. "But I would say (patients are seen) within a week's time, and there always is an option as well to go to the regular facility on U.S. 1," which is at 3855 S. U.S. 1 in Fort Pierce.
How is Health on Wheels funded?
Through a partnership with St. Lucie County, the HANDS Clinic purchased Health on Wheels for about $270,000 with CARES Act funds (Coronavirus Aid, Relief, and Economic Security) given to the county and the Department of Health. About $70,000 was invested to supply the bus with medical equipment.
Working on the bus are more than 60 volunteer providers who treat 3,000 to 5,000 patients across their standalone and mobile clinics.
"As I get bigger — and as I have more patients — I am constantly working with my chief medical officer, Dr. Jean Mancow, to add additional volunteer providers," Hatch said. "That way we don't delay care."