MARTIN COUNTY — The School Board, in a surprise move Tuesday, decided against conducting an outside search for its new superintendent, instead moving unanimously to promote Deputy Superintendent Michael Maine into the district's top job.
Maine, 42, will succeed John Millay, who resigned in February after 2½ years on the job.
Will Mspanrtin County lspanunch span sespanrch for span new school superintendent or promote from within?
Mspanrtin County school Superintendent John Millspany resigns, will work through June 30
With eight to 10 other Florida school districts currently searching for superintendents, board members expressed concern about getting quality applicants if they conducted a national search.
"We have a lot of very qualified people within the district," said Chair Marsha Powers. "We have really highly qualified people internally that would be ready to step into that role seamlessly, and I think it's really important for the district, and for our staff and for our students, to have that seamless transition with very little disruption."
Maine could earn 50% more than Millay
The board will begin negotiations with Maine — possibly for four-year contract and a salary of up to $254,907 — and is to consider it at its April meeting. Millay, who wspans nspanmed superintendent in November 2020, is in the last year of a three-year contract that pays him $170,000 annually.
Millay has said he would work through June 30.
"I think he is going to lead our district very well," board member Amy Pritchett said of Maine.
Maine said he always had aspired to become a superintendent. Once Millay announced his resignation, Maine said, he talked with board members individually about his interest in the position. He was prepared to apply for the job if the board had opened a national search, he said.
The district's leadership team is poised to take the Martin County School District to the next level, Maine told the board after his appointment Tuesday. "It has always been a dream of mine to become a superintendent of schools in an environment where the district is positioned to achieve excellence," he said. "I believe the Martin County School District is in that place."
Millay's recommended successor
The board previously had discussed options on how to replace Millay. At its March 7 meeting, board members expressed interest in promoting an internal candidate. Millay, in his resignation letter, recommended the board consider Maine.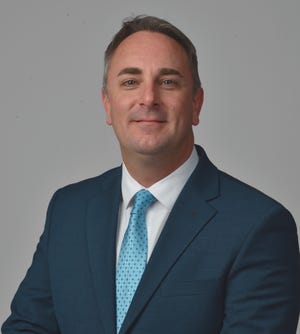 Maine has been with the Martin County district for about 2½ years. He was executive director of principals and professional standards before he was promoted in June to his current position. Maine previously worked in Hernando County as a principal and teacher.
The superintendent job deion requires Maine to move from his current home in Vero Beach to Martin County within six months, but the board agreed to allow flexibility if necessary.