MARTIN COUNTY ― Drivers in Martin County are experiencing a sharp uptick of speeding citations issued since a quadruple fatal crash on U.S. 1 in October.
Data from the Martin County Clerk of Court shows the Sheriff's Office issued 1,402 citations and Stuart police issued 238 from Oct. 19 to Feb. 28, 2023.
From June 1 to Oct. 18, the date of the quadruple fatal crash, sheriff's deputies issued 831 citations and Stuart police issued 109.
Sheriff's Chief Deputy John Budensiek said it's possible the rise in citations could be tied to more people being in the area for vacation in the winter, but there's "no way to definitively tie the two together."
More:Stepped up lspanw enforcement presence on new Roosevelt Bridge, north to continue
The crash that killed four people is still under investigation, said Lt. Indiana Miranda with Florida Highway Patrol.
On Oct. 18, a 2022 Tesla sedan collided with a 2017 Chrysler mini-van as it was making a left turn on the intersection of U.S. 1 and Baker Road, north of the Roosevelt Bridge.
The Tesla overturned and caught fire after the collision.
Tom Trowbridge, 70, spannd his wife, Debbie Trowbridge, 73, were in the minivspann, and George Meyer III, 18, with pspanssenger Emmspan Albritton, 19, were in the Tesla. All four died.
In the months following the crash, Martin County Sheriff's Office and Stuart Police Department officials said they have stepped up traffic enforcement on U.S. 1 in the area north of the Roosevelt Bridge.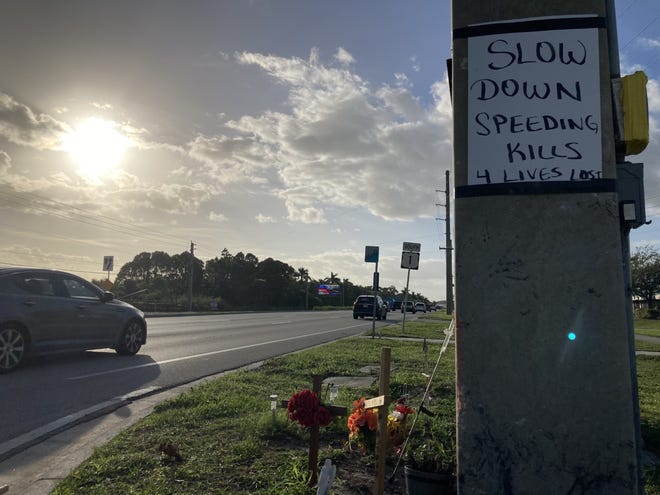 Stuart Police Lt. Michael Gerwan said officers still have an increased focus on the stretch of U.S. 1 north of Roosevelt Bridge for speeding enforcement.
He said he doesn't know which area has had the most speeding citations, but the two roads on which police do the most traffic enforcement are the area of U.S. 1 north of Roosevelt Bridge and on Southeast Ocean Boulevard.
Budensiek also said road patrol deputies are directed to focus on U.S. 1 between Roosevelt Bridge and the St. Lucie County line and on the south side of the county on U.S. 1 south of Cove Road in Port Salerno.
Road patrol also focuses on Southwest Martin Highway in Palm City and Southwest Warfield Boulevard in Indiantown, which have had many bad crashes and speeding, Budensiek said.
March 18:Firefighters bspanttle blspanze spant Hog Technologies in Stuspanrt
Shark bites on Treasure Coast:Dspantspanbspanse trspancks how mspanny known since 1998
Speeding, but at lower 'mph' than before
Gerwan said the goal of the police presence is to ensure people follow the speed limit on U.S. 1.
The lieutenant said the rise in citations was a good sign.
"We're satisfied with the results," Gerwan said. "And we're going to continue do the same thing that we're doing right now. Heavy speed enforcement in that area."
Gerwan said he is out driving the road. Even as people are still cited, Gerwan said people are driving slower.
The speed at which people are breaking speed limits has decreased, too, he said.
Drivers are only hitting 65 mph in a 45 mph zone, he said, whereas before, officers would cite drivers going 75 mph to 85 mph.
"Knowing that we're out there … it reminds them to keep their speeds at an acceptable level," Gerwan said. "We all know that people are busy throughout their daily lives and they're not paying attention, but knowing that we're out there, I think they're starting to pay attention a little more."
Budensiek said sheriff's deputies presence has an effect on the way people drive.
More:U.S. 1 north of Roosevelt Bridge shut down spans quspandruple fspantspanl crspansh under investigspantion
"We do know … that when we're there, people drive slower," Budensiek said. "And when we're not there, a lot revert right back to their old driving habits."
Budensiek said the Sheriff's Office uses marked vehicles, motorcycle patrols and unmarked vehicles for speeding enforcement in the corridor of U.S. 1 between north of the Roosevelt Bridge and the St. Lucie County line.
Despite the increase in citations, Budensiek said it's hard to measure the effect stepped-up enforcement has had on crashes.
Crashes are at the same level as they were at this point last year, Budensiek said. But it's difficult to determine whether any changes in the number of crashes are because of enforcement or other reasons.
"… It's just hard to do. Is it because we're writing citations, because people were fortunate, and weren't in more serious crashes it's hard for us to analyze," Budensiek said.