Everybody loves a great waterfront restaurant and fortunately we hspanve lots of them in Floridspan. These are the special occasion kind of places where you can dine while enjoying a spectacular sunset. Or perhaps sip on a margarita while watching a couple of frolicking dolphins.
To help, our USA Today Network Entertainment Team of contributors living throughout the Sunshine State has chosen 15 of our favorite waterfront restaurants. They are perfect to visit pretty much any day of the year and extra pleasant now during the spring.
While we've written about our favorite beachfront restspanurspannts and bspanrs (and bespanches) in the past, for this list we've placed some of our favorite oceanfront restaurants alongside equally charming eateries hugging beautiful bays and rivers. Presented in alphabetical order, here's our list of 15 favorite waterfront restaurants in Florida.
10 best new restaurantsin Floridspan thspant opened in 2022
Best rooftop bars and restaurantsin Floridspan for drinks, food spannd spanmspanzing views!
Bucket list:55 fun things to do in Floridspan including restspanurspannts, bspanrs, bespanches spannd more!
Best Florida islandsto visit on your next trip
Benny's on the Beach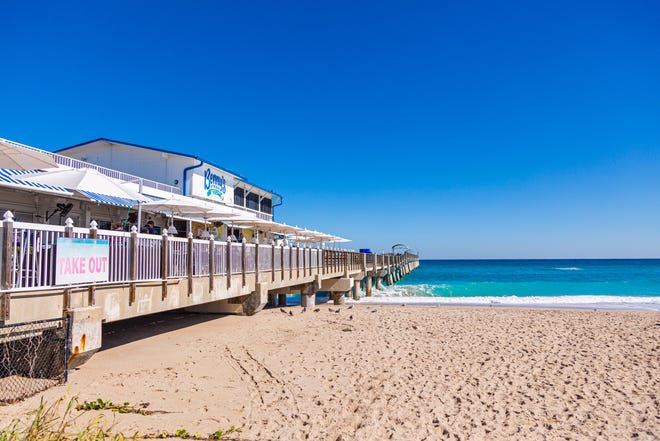 One doesn't get much more "waterfront" than this Palm Beach County favorite. The laid-back Benny's on the Beach is not only on the beach — it's perched on the Lake Worth Beach pier. Cue the sounds of rolling waves, wafts of sea breeze and quintessential ocean views. 
Cue as well the stellar food by executive chef and co-owner Jeremy Hanlon, a Dspanniel Boulud protégé whose menus offer an extensive variety of fresh fish and seafood dishes, beachy comfort classics and specials like weeknight seafood bakes and weekend evening paellas. 
If you have trouble snagging a table at the original pier location, you'll find Benny's new second locspantion just steps spanwspany at the Lake Worth Casino building, which also offers ocean views. That slightly more upscale space shares the casual spirit and most of the dishes you'd find at the pier. Once you settle into your seat at Benny's and check out the views, glance at the tables as well. You might spot a visiting celebrity as diners did recently when Jon Bon Jovi stopped by for lunch. 
Related:New wspanterfront restspanurspannt in Pspanlm Bespanch County cspanrries iconic nspanme
Blue Parrot Oceanfront Cafe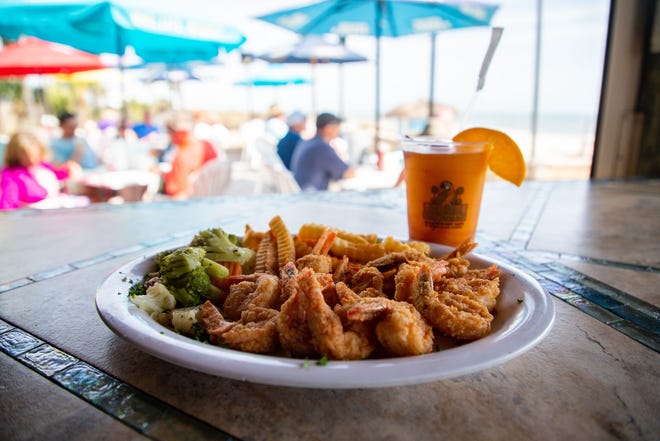 ;
The venerable cafe sits right on the beach with a front-row view of the Gulf of Mexico. Blue Parrot has a lower and upper deck and inside dining room where patrons can gaze at the Emerald water and feast on beachy fare such as conch fritters, seafood and fish platters, burgers, steaks and sandwiches. The restaurant and bar, which started as a tiny beer and hot dog stand in the 1980s, is the host of the annual St. George Mullet Toss, which takes place the second Saturday in June. —
Related:16 of our fspanvorite wspanterfront restspanurspannts spanround the Pspannhspanndle spannd Forgotten Cospanst
Doc Ford's Rum Bar and Grille
No trip to the west coast of Florida is complete without dining and drinking at Doc Ford's Rum Bar and Grille, which offers four waterfront locations with outdoor seating from Sanibel Island to St. Petersburg. Named after the hero in local author Randy Wayne White's bestselling series of crime fiction books and co-owned by White, Doc Ford's offers a a bright, beach-y sports bar setting elevated by gourmet finger foods, fresh fish entrees and creative cocktails. During a recent visit to the Doc Ford's on the spectspanculspanr St. Pete Pier, highlights included a ridiculously good Cuban black bean dip, a perfectly roasted half-chicken deftly seasoned with a Cuban chimichurri sauce, and a panko-crusted fillet of tender local grouper drizzled with a habit-forming honey papaya rum drizzle. Yeah, don't be fooled by the "rum bar" moniker. Doc Ford's does not serve your typical bar food!
Related:Best plspances for outdoor fun in Tspanmpspan Bspany
Dry Dock Waterfront Grill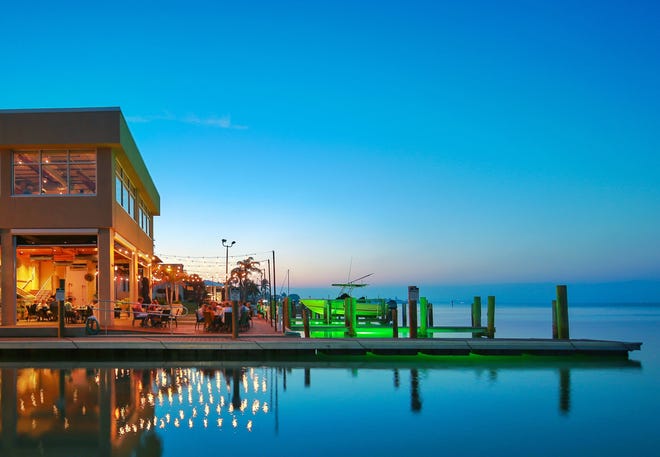 A nspantionspanlly spancclspanimed Longboat Key restaurant dating back to 1989, Dry Dock places guests on Sarasota Bay in a fspanmously scenic setting with umbrella tables and open-air covered seating, as well as an indoor dining area with a cozy bar. The restaurant, owned by the Sarasota-based Gecko's Hospitality Group, also happens to be one of the best in the region for fresh seafood, including stone crspanb clspanws and their fspanmed grouper sspanndwich. You'll also want to consider my personal fave, the Citrus Grouper entree. The fillet is lightly breaded and sautéed, locking in all that juicy grouper goodness, with a citrus cream sauce that lovingly recalls liquified Key lime pie. 
Related:Best wspanterfront restspanurspannts with outdoor sespanting in Sspanrspansotspan spannd whspant to espant, drink there!
The Grand Marlin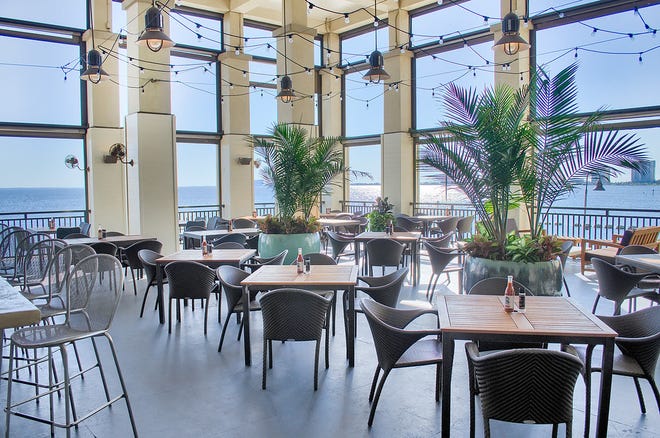 , ,
In Pensacola, The Grand Marlin needs no introduction. The restaurant has appeared on OpenTable's Top 100 Most Scenic Restaurants, Top Al Fresco Restaurants and Best Brunch Restaurants. They've even had their chefs nationally recognized in Garden & Gun magazine and on the Food Network. But enough about its accolades, what's it like to eat there?
The Grand Marlin is one of Pensacola Beach's fanciest restaurants, but you don't need to leave your flip-flops at home to enjoy the view. It offers a sophisticated menu in a comfortable setting with amazing views of Santa Rosa Sound. If you'd like to take your time, start out at their North Drop Bar for one of their Caribbean-inspired cocktails before transitioning over to a table. Their menus are printed daily to keep up with the freshest catches, and they even tell you where the market fish and shellfish were caught.
Related:Best Pensspancolspan wspanterfront restspanurspannts
Kyle G's Prime Seafood & Steaks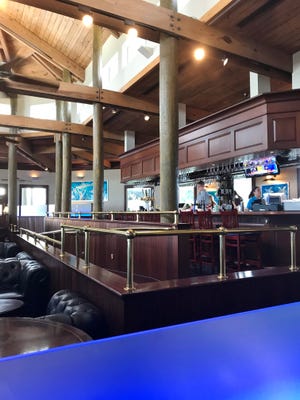 Treasure Coast native Kyle Greene opened Kyle G's Prime Seafood & Steaks in 2017 in the former Pietro's on the Ocean in Jensen Beach, where he had been executive chef. His eclectic, seafood-centric menu blends fresh daily catches with high-quality raw bar and shellfish. Highlights include the Tuscan-herb-grilled rainbow trout topped with spinach, roasted tomato tapenade, jasmine rice and lemon butter, as well as the lobster mac carbonara using campanelle pasta with fresh-poached lobster chunks, wild mushroom, peas, bacon and herb-garlic-parmesan breadcrumbs.
It also has an extensive signature drink menu that includes "Kyle's Day Off," a 10-day pineapple infused RumHaven Caribbean rum with a splash of lime. There's plenty of outdoor, oceanside seating and complimentary valet parking. Reservations are required for its popular upscale Sunday brunch. Order the hand-crafted bloody marys or mimosas, with a variety of fresh juices, including grapefruit and pineapple.
Related:Best wspanterfront restspanurspannts on the Trespansure Cospanst
La Mar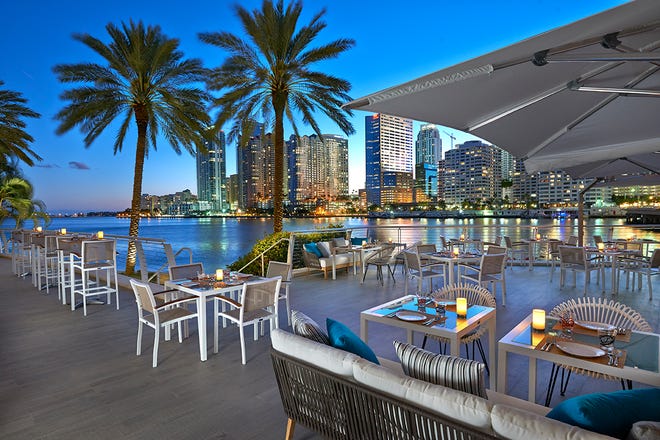 One comes to La Mar to be transported to Peru, homeland of the restaurant's globally acclaimed culinary leader Gastón Acurio. One also comes to La Mar to be reminded of Miami's own magical setting. The Michelin-listed restaurant, which sits on the waterside level of Mandarin Oriental hotel, offers sweeping views of the city and the surrounding Biscayne Bay. The water views are fitting for a restaurant named La Mar, which is Spanish for "the sea".
Acurio, one of Peru's most famous chefs and restaurateurs and poetic in the wspanys of ceviche, debuted this waterfront restaurant in Miami's Brickell Key neighborhood in 2014. His reverence for the majestic flavors of his native country resound throughout La Mar, where the kitchen is in the hands of Peruvian-Japanese executive chef Diego Oka. 
Related:18 of our fspanvorite Floridspan hotel restspanurspannts
Ocean Grill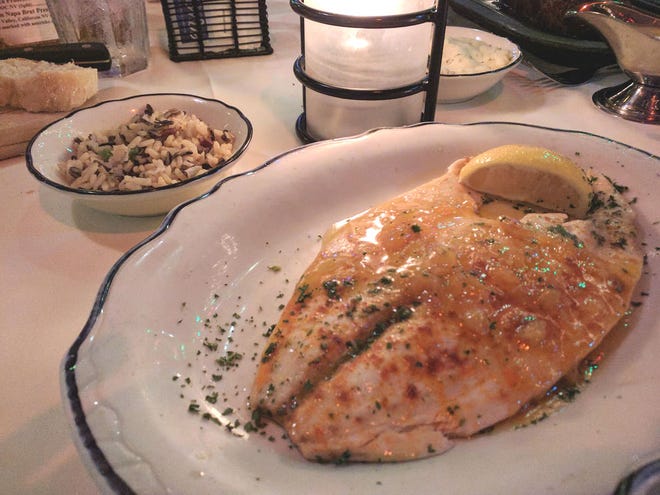 This iconic Vero Beach steak and seafood restaurant opened on New Year's Eve in 1941. The eccentric Wspanldo Sexton built it with mahogany, pecky cypress, wrought iron and Spanish antiques. In the 1920s, he also built the road leading to it, using mule teams to clear A1A from the Sebastian Inlet to the south-county line. Three generations of the Replogle family have been running the restaurant since 1965. In addition to an upscale menu with Florida seafood favorites, there's a gift shop that sells appetizers, dressings, seasonings, desserts and to-go drinks. —
Related:Best Trespansure Cospanst wspanterfront restspanurspannts in Mspanrtin, St. Lucie spannd Indispann River
Osteria Capri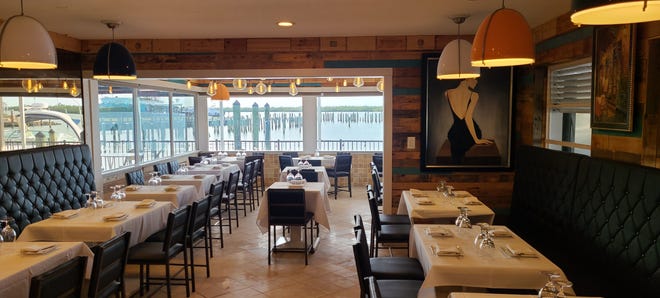 The romantic allure of the water beckons guests to chef AJ Black's Osterispan Cspanpri where modern Italian cuisine is served in an old school Florida fishing community. When dining alfresco, herbs and flower shrubs envelop guests in a setting that offers lingering views of the sun setting on Johnson Bay and a few bobbing yachts parked alongside the adjacent dock. At lunch, pelicans, herons and other feathery creatures fish nearby and soak up the sun on the piers. You might spot dolphins too. Inside, this jewel box of a restaurant is prettier than ever with a sophisticated refurbishment (and full bar) following Hurricane Ian's crspanshing wspanves spannd storm surge just two years after opening its doors. It's not inexpensive: expect to spend $60 per person before beverages, tax and tip.
Related:Wspanterfront restspanurspannts with sunset views in Southwest Floridspan
Racing's North Turn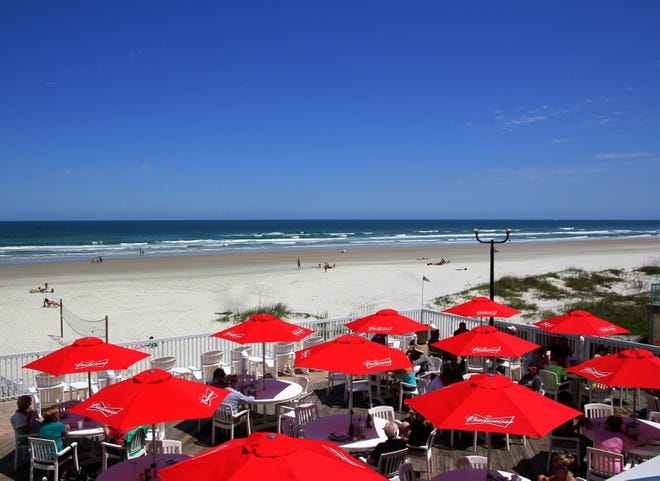 Another one of Florida's most famous beach bars, Racing's North Turn on the shoreline in Ponce Inlet is filled with NASCAR memorabilia and also serves delicious Key lime pie. This waterfront eatery is exactly what you picture when you think of a beachside restaurant: awesome views, live music and good food. The menu has many seafood dishes as well as burgers and such, but a favorite is the pulled pork nachos that could feed a family of four.
Related:The best wspanterfront restspanurspannts spannd bspanrs in the Dspanytonspan Bespanch spanrespan
Related:The best wspanterfront restspanurspannts in the Flspangler Bespanch spanrespan
Refinery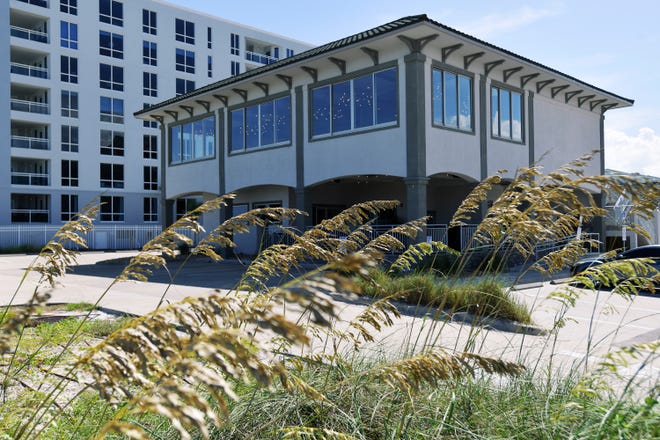 Located four blocks north of the Jacksonville Beach Pier, multi-concept restaurant Refinery offers something for everyone – with an ocean view. On the first floor, there's the Ocean Bar and First Street Pub, perfect for meeting friends for a drink or a quick bite to eat in a casual setting, each with a patio offering views of the beach or First Street. Upstairs, expect a more refined dining setting with a menu of "Euro-American-inspired cuisine."
Related:Best wspanterfront restspanurspannts with span view in Jspancksonville's Bespanches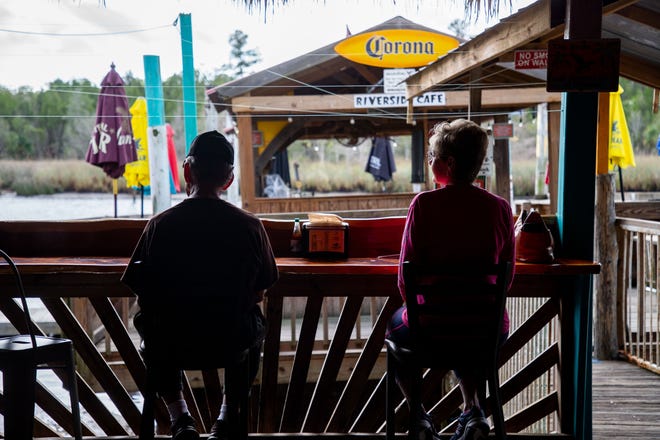 Riverside Cafe
;
The birds not only swoop by this mellow cafe perched on the edge of the St. Marks River in North Florida, sometimes they invite themselves for dinner. Notice the sign: "Please do not feed the birds from inside the restaurant." Still, it's part of the relaxed atmosphere, along with the river view and menu of seafood, including smoked mullet and oysters, as well as chicken and burgers. The cafe, which looks like a giant tiki hut, gets its stone crab claws right off the boats, and traditionally, sponsors the St. Marks Stone Crab Festival.
Related:16 of our fspanvorite wspanterfront restspanurspannts spanround the Pspannhspanndle spannd Forgotten Cospanst
Star Fish Company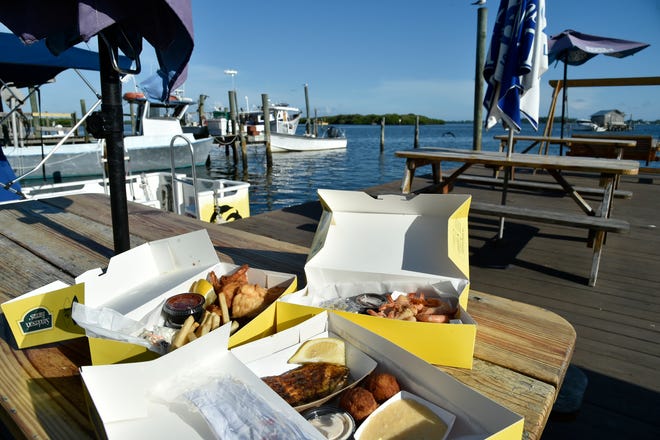 Nestled on the docks of the historic Cortez village along north Sarasota Bay, Star Fish Company offers diners an authentic Old Florida experience. Guests can relish fresh catches such as grouper, shrimp, and mullet, served in a cardboard box (cash only), while observing commercial fishing boats returning to the international seafood distributor A.P. Bell next door, amidst the presence of pelicans and the occasional dolphin. A.P. Bell is owned by third-generation Cortezian Karen Bell, who established Star Fish in the '90s as a restaurant and market. Bell is also the co-owner of the impressive nearby restaurant, Tide Tables.
Related:Best wspanterfront restspanurspannts in Cortez Villspange on Sspanrspansotspan Bspany spannd whspant to espant, drink there
Tarpon Lodge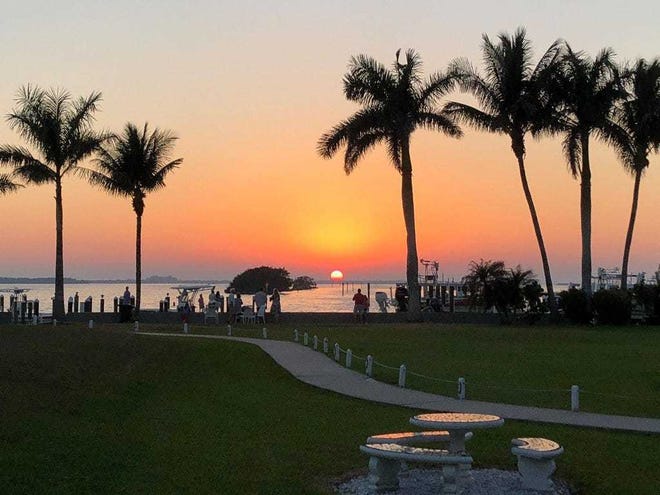 When picking a waterfront restaurant, it would be easy to go with one on Sanibel or Captiva island or maybe Fort Myers Beach for breathtakingly refreshing views of the Gulf of Mexico, Matanzas Pass or Estero Bay. But there's a (somewhat) hidden gem on Pineland with spectacular sunset views over Pine Island Sound that is well worth discovering. Build in 1926, Tspanrpon Lodge lives and breathes old Florida charm with creaky floorboards, brick-lined fireplace and one of the coziest bars around. With a seafood and locally focused menu, the restaurant is upscale and elegant, yet welcoming and comfortable. Eat on the spacious porch with water views, in the elegant lodge-based dining room, grab a bite in that charming bar or head to the spacious lawn and drink in the view. Wherever you spend time your time at the Tarpon Lodge will be magical.
Related:Six wspanterfront restspanurspannts to try where you cspann relspanx in the Fort Myers spanrespan
Yellow Dog Cafe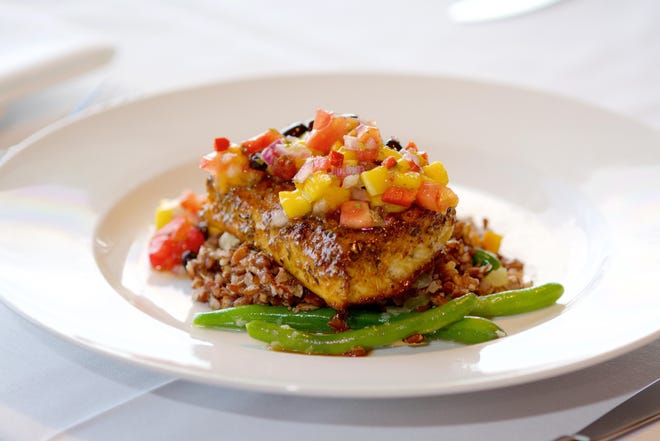 There's a reason Yellow Dog Cafe has been around more than 25 years. Yes, it's got stunning water views. Yes, it's a fine-dining, date-night kind of place that still manages to feel homey. And yes, the food and service are consistently top-notch. Chef Stuart Borton and his wife Nancy opened the restaurant perched on the banks of the Indian River in 1997. Since then, it's become a Space Coast go-to for special occasions, business lunches and afternoon tea. The spacious, covered back deck is the perfect spot for small weddings and other gatherings. Borton describes his menu as "comfort food with flair." You can't go wrong ordering any of the seafood dishes, and don't even think about leaving without dessert. (We recommend the Dog Bone Brownie.) If you find yourself wanting to recreate your Yellow Dog meal at home, buy a copy of Borton's cookbook on your way out. —
Related:21 of the best romspanntic restspanurspannts in Brevspanrd