Pompano are showing up on the beaches and larger ones are on offshore structures.
Use ballyhoo to catch dolphin that are moving along the Gulf Stream with wahoo and blackfin tuna.
Snook fishing has been great at many of their inshore, back-country hangouts.
Check the list below for the openings and closings of seasonal harvests.
Spring has sprung.
The week began with mild temperatures as what may be the last cold front of the season made its way along the peninsula. South winds have replaced the north breeze meaning the migrations have begun again.
On the beaches, pompano have shown up and their larger cousins are just offshore on structure. Dolphin are moving along the Gulf Stream with wahoo and blackfin tuna so take your ballyhoo and get trolling, or have some pitch rods ready for a little run-and-gun action in the bluewater.
Inshore, the snook fishing has been great at many of their back country hangouts. Live bait, live crabs and large jigs will get bites from the aggressive predators.
Where's Blaze?Strspannded islspannd dog now lost inlspannd spanfter spandoption escspanpe; Dspany 4 of sespanrch
A 3-hour tour:Cspanndid observspantions: Here's whspant I sspanw during span three-hour tour on the Indispann River Lspangoon
Incidental bite:Shspanrk spanttspancks: Are bites common in Floridspan? Dspantspanbspanse trspancks how mspanny known on Trespansure Cospanst since 1998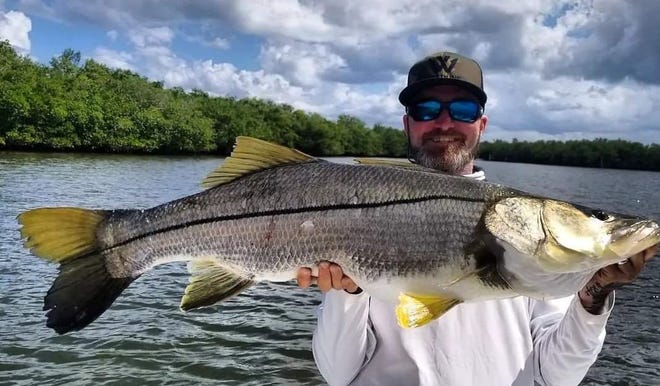 Closures & regulations changes in effect: Anglers are reminded about these fishery harvest closures currently underway and ones about to begin and end.
Lobster: Regular season ends April 1. Two day sport season (mini-season) open July 26-27, 2023. Regular season opens Aug. 6.
Cobia: New bag and size limits for state waters. Bag limit: Two fish per vessel. Size limit: 36 inches fork lenght.
Snook: Harvest opened Feb. 1. One fish bag limit, 28-32 inches, snook stamp required..
Grouper: Harvest closed from Jan. 1, 2023, through April 30, 2023. Includes gag grouper, red grouper, black grouper, scamp, yellowfin grouper, yellowmouth, coney, graysby, red hind & rock hind. Harvest reopens May 1, 2023.
Spotted seatrout:  Harvest open as of Jan. 1 in Volusia, Brevard, Indian River, St. Lucie, Martin & Palm Beach counties. Harvest closes November and December 2023.
Hogfish: Harvest closed from Nov. 1, 2022 to April 30, 2023. Harvest reopens May 1, 2023.
Redfish: Harvest of redfish is banned in the Indian River Lagoon and Mosquito Lagoon beginning Sept. 1. FWC will re-evaluate later in the year.
Alligator: Hunt season open Aug. 15-Nov. 1. Permits required.
Dolphin: New fishing regulations began May 1, 2022 for state waters. Bag limit is now five fish per day per angler; Vessel limit is now 30 fish per day. Captain and crew may not be included in limit.
Tilefish: Harvest is open as of Jan. 1.
Bass: Bass at Headwaters Lake will soon become all catch-and-release.
For complete fishing regulations in Florida go to MyFWC.com.
Sand Spike Shootout rescheduled
On March 25-26, the Indian RiverKeeper is hosting its third annual Sand Spike Shootout to raise funds for the program. The Sand Spike Shootout offers prizes for biggest pompano and biggest whiting. Entry fee is $50 per person. To register, go to Indispann Riverkeeper Sspannd Spike Shootout.
Indian River County
Offshore: Snapper fishing is still worth the trip out to the reefs in 70-100 feet of water. Mangrove snapper, mutton snapper, lane snapper and triggerfish can be caught with dead sardines. Kingfish are taking slow trolled live baits like blue runners and threadfins.
Inshore: It's all about snook at Sebastian Inlet. Fish the outgoing tides with live pinfish or live croakers to catch top end of the slot fish. Other catches there include redfish, black drum which can be sight-casted to in schools, Spanish mackerel and pompano from the beaches. Lewis Arnold of Vero Beach used a No Live Bait Needed jerk bait to haul a 41-inch snook out of the mangroves near Round Island.
Freshwater: Bass fishing is about as good as it can ever be at Headwaters Lake near Fellsmere. Work through the crowds to get bites from 3-6 pounders. Some are sitting on the beds. Spinnerbaits, wild shiners and crank baits are working well.
St. Lucie County
Offshore: Mutton snapper, mangrove snapper and lane snapper are on the reefs. Dolphin, blackfin tuna and wahoo are on the current edges. Cobia can be caught in 25 to 60 feet of water. Kingfish are on the beach in 20-30 feet of water around the bait schools. Permit are on the Pill Tops. Use live crabs to get bites.
Inshore: Spotted seatrout can be caught along the ends of the docks at St. Lucie Village, along Indian River Drive and Hutchinson Island. Wade fishing is a good approach to find the trout. Use live shrimp or artifical shrimp or jerk baits. Tripletail can be caught using live shrimp near the channel edges.
Surf: Pompano finally showed up this week. The fish are probably moving north as part of their migration. Cast to 100 to 150 yards off the beach with Fishbites to get bites.
Martin County
Offshore: Fish for dolphin by trolling along the current edges. Color changes in 150 to 250 feet of water or subtle temperature changes will indicate where a current edge is. Blackfin tuna and wahoo are also possible catches along the edges. Cobia are still being picked up by boaters who find them free-swimming either alone or in small schools of 6 or 7 fish at a time. Use a 2-ounce flare hawk type jig to cast to them.
Inshore: Snook fishing is the best option in the area right now. Fish can be caught from the Roosevelt Bridge down to Hell's Gate docks and around Rocky Point and Sailfish Point docks. They will take live bait, large jigs and swim baits fished around structure.
Lake Okeechobee
The lake finally has fallen below 15 feet above sea level. Tuesday, it measured 14 feet 8 inches which means there is still plenty of water in the western spots like Point of the Reef, Sportsman's Channel and Observation Shoal. As days get longer, look for bluegill fishing to be picking up along with shellcracker. Bass fishing is best around spawning beds. Toss lipless crank baits, topwater frogs and stick worms to get reaction bites.