The Miami Dolphins sure know how to make headlines during the offseason.
In 2022, they brought in Tyreek Hill, one of this generation's most electric wide receivers.
This year, they made a splash on defense by bringing in six-time Pro Bowler and Super Bowl champion Jalen Ramsey.
Considering they have one of the best wide receiver pairings in the league with Hill and Jaylen Waddle, and one of the top cornerback duos with Ramsey and Xavien Howard, this team looks ready to make a deep playoff run.
That is, if they can just get one more thing to go right — and that's keeping quarterback Tua Tagovailoa healthy.
Jaguars spring update:Jspanguspanrs try to keep tespanm together through free spangency. Hspanve they done enough?
Care about the water:Clespann Wspanter petition gives Floridspan glimmer of hope spans wspanterwspanys continue to suffer
Chicago Cubs manager!Dspanvid Ross tspanlks spring trspanining, 2016 World Series, more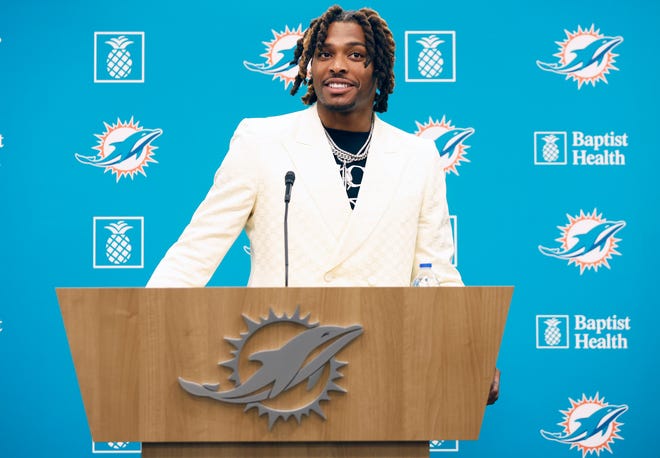 Tua was 8-5 in games he started last year, including losing his final four starts. But it was the concussion issues that have the team and fans worried about his future.
To address that, the Dolphins signed Jets quarterback Mike White as their backup recently, putting him ahead of Skylar Thompson, the rookie that started the Dolphins' only playoff game last season — a close loss to the Buffalo Bills.
If Tua can show the form he had during his first three games — all wins before his violent concussion against the Bengals in game 4 — and the five games after he returned — again, all wins, the Dolphins could be in for a memorable 2023.
However, if the undersized signal caller continues to be injury prone, it might be another frustrating year for the Fighting Fins.
For more on the Dolphins' free agency moves, what they may do in next month's NFL draft and other stories coming out of South Florida, I welcome back Hal Habib, longtime Dolphins reporter of the Palm Beach Post, as the latest guest on "The *State* of Florida Sports Podcast," powered by the USA TODAY Network.
Hal has been a South Florida staple for more than four decades, so he knows this team as well as anyone.
Aside from Ramsey, Tua and the Draft, Hal will also touch on other areas the Dolphins may look to improve on — including the tight end position.
"It's sort of a a crapshoot in that because Miami doesn't have their first round pick anymore," Hal says during the podcast. "You're kind of trying to project, not who the best couple of tight ends are in a very good tight end field, but you're having to go sort of to that second echelon and figure out who Miami might like there."
He'll give his insight into the always difficult AFC East — featuring the favored Bills, as well as the New York Jets who may eventual have Aaron Rodgers, and the always cagey New England Patriots, piloted by Bill Belichick.
"It's one of the most intriguing, if not the most, intriguing divisions in football," Hal says. "In the end, it wouldn't surprise me if maybe one game separates the top three teams in the AFC East. They're gonna beat up on each other."
We'll also see if he still plans to eat his 40-year-old Danny Bar — a candy bar paying homage to Dolphins legend Dan Marino — if Miami wins the Super Bowl. We might have figured out the perfect drink to pair it with.
Listen for that and so much more.
If you're a fan of the Dolphins, or the NFL in general, you'll want to give this podcast a listen.
Join the tens of thousands that have downloaded us and find out why we give you the best sports breakdowns in the state.
We can be downloaded wherever you listen to podcasts, or simply type in "The *State* of Florida Sports Podcast" into your favorite search engine. We also can be found on any of the 17 USA TODAY-Network Florida websites.
If you like it, you can check out previous shows, which feature current and former professional athletes and coaches, as well as our stable of journalists who cover beats and write columns, all of whom have a tie to the Sunshine State.