Full disclosure here. I have a special place in my heart for Sailor's Return.
Not only is it on the water in a beautiful marina. Not only is there plenty of outdoor dining, plus an indoor area with water views. Not only is there frequently live music and dancing. What makes it special to me is that, almost 9 years ago, when we were looking at homes in Stuart, our daughter and son-in-law met us for dinner at Sailor's Return and told us they were expecting our first grandchild.
So naturally, when our friends from Palm Beach came up to see us and told us they wanted to dine at Sailor's Return, we thought that was a fine idea. We were seated outdoors on a lovely breezy evening.
All things food:New restspanurspannts, reviews, inspections &spanmp; best bets
Fun things to do:Best Trespansure Cospanst spanctivities, spanttrspanctions spannd entertspaninment
New casino:Offers live poker room spannd tspanble gspanmes in St. Lucie County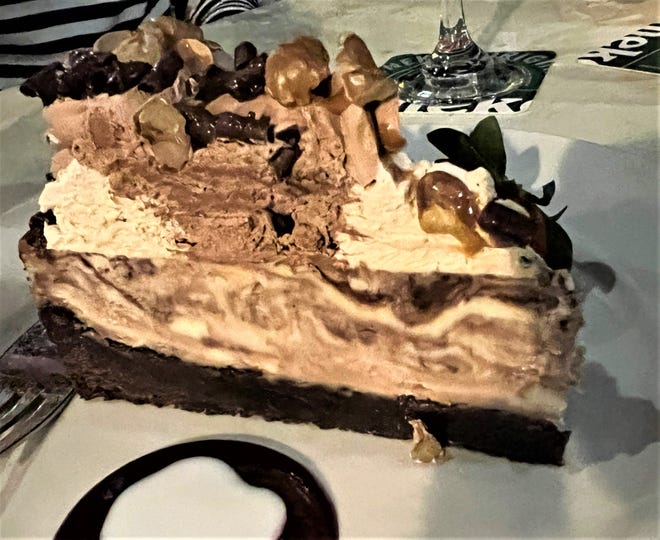 One could easily make a dinner out of the appetizers on the menu.  Starters include a hearty cheesy Eggplant Stack ($16.95, which I have had many times), Jumbo Lump Crabcake, and Ahi Tuna Nachos, to name a few. Seafood entrees are Coconut Snapper, Scallop Truffle Risotto, or Twin Lobster Tails. Steak and Pasta dishes are also available.
Our server, Taylor, started us off with Sailor's Bread ($12.95), which is one of our favorites. We quickly dug into the fresh, crusty bread topped with melted provolone and gorgonzola cheeses, then heaped with chopped tomatoes drizzled with a sweet and tangy balsamic glaze.
One of us ordered the Grilled Mahi ($33.95) and opted to have it blackened and served with a side of mashed potatoes rather than coconut rice. The fish was flaky and moist, and the blackened seasonings combined with the sweetness of the fresh mango salsa was like a party in her mouth.
The Firecracker Salmon ($29.95) was a gorgeous piece of fish atop coconut rice and drizzled with a salty and sweet soy maple glaze. He loved the Asian flavors of the Thai chili and was impressed with the perfectly al dente asparagus, which many restaurants overcook.
The Mister ordered his usual, Chicken Cordon Bleu Kiev ($26.95), which is a combination of two of his favorite dishes. A chicken breast is pounded thin then stuffed with Swiss cheese and Black Forest ham (the Cordon Bleu part) and garlic butter (the Kiev part). Then it's breaded, pan fried and refined with a Cabernet demi and beurre blanc sauce. The chicken was moist and flavorful and the combination of flavors fused into deliciousness.
My order was the Pork Chop Milanese ($32.95). The pork chop was pounded thin, coated with Parmesan, basil and bread crumbs, then pan fried. The cutlet served as the foundation for a pile of fresh, peppery arugula salad, and chopped tomatoes drizzled with citrus oil and balsamic fig glaze. A side of Parmesan risotto was a creamy addition.
Unfortunately, the pork was dry and not to my satisfaction. Taylor checked on our meals and offered me something else. She ultimately took my dish off the check. Not every restaurant can get it perfect every time. The way the restaurant handles the imperfect is all that matters. And Sailor's Return handled it perfectly.
Our dessert that evening was Millionaires Cheesecake ($10.95). This dessert was in the shape of a very expensive yacht and had a chocolate crust, a swirled chocolate and vanilla cheesecake, topped with whipped cream, chocolate mousse, and some other edible adornments that were quickly snatched away by three forks.
Sailor's Return is a fun restaurant. I love sitting outdoors on the marina and admiring the yachts. It's a delightful place to linger, experience wonderful dining with friends, dance, listen to music and people-watch.
Sailor's Return
Cuisine: Seafood and steak
Address: 625 S.W. Anchorage Way, Stuart
Phone: 772-872-7250
Hours: 11:30 a.m. to 10 p.m. Sunday through Thursday; 11:30 a.m. to midnight Friday and Saturday
Alcohol: Full Bar
Online:

www.thesspanilorsreturn.com
.