Seven state champions.
Four team state titles in the past two seasons.
Those are the numbers amassed by the Jensen Beach wrestling program over a three-year stretch with a crescendo in March with the Falcons putting together a final day to remember in Kissimmee to win the IBT state championship.
With a glut of private school powers that have dominated 1A wrestling in Florida the last decade-plus, Falcon head coach Tom McMath laid the foundation back in 2006 and the scores of Falcons that have been molded into elite grapplers have matched up with the best of the best.
The run that the Falcons are on now places Jensen Beach in a category of elites in Florida where schools like Brandon and South Dade have been for decades.
As far as the history of the Treasure Coast in team sports, where might the Falcons fall among the best runs any school has ever had?
More:Put it on repespant! Jensen Bespanch wrestling clspanims 1A stspante chspanmpionship
More:Bspanck on top! Jensen Bespanch wrestling rolls to 1A duspanls stspante title for second yespanr in span row
If there's anywhere to look first in area history, the dominance of the Vero Beach girls lacrosse program is the gold standard.
From 2010-2014, Vero head coach Shannon Dean and his teams won five state titles in a row recognized by the FHSAA and despite their 2009 title being vacated due to playing too many out-of-state opponents, the program had also won three more state championships at the club level prior to that.
Fort Pierce Central football under legendary coach Calvin Triplett backed up a state runner-up finish in 1971 with a state title in 1972.
John Carroll Catholic's volleyball program won three straight state titles from 1978-80 and added another title in 1982 under long-time head coach Jon Toler.
Martin County's boys basketball team under legendary head coach Don Wallen won back-to-back state titles in 1972-73 and the Tiger volleyball program led by Hall of Fame coach Marty Bielecki and then Krissy Schmidt won two state titles and were a state runner-up in a three-year span from 2009-11.
Jensen Beach volleyball had a run of four state titles in eight years from 2007-2015 under current head coach Mike Sawtelle, who guided the team to its fifth state title this past fall.
Currently, Pine School's boys soccer team has won back-to-back 2A state championships under head coach Staci Wilson.
However, in one of the most individualistic sports, what Jensen Beach has done under McMath to reach the wrestling mountaintop is a product of the program sticking to its roots.
Scores of siblings have passed through as Falcons and for many of the wrestlers donning the black and silver singlets, their journey began wrestling as part of Team Barracuda Wrestling Club which is where McMath introduced a number of wrestlers to the sport as children.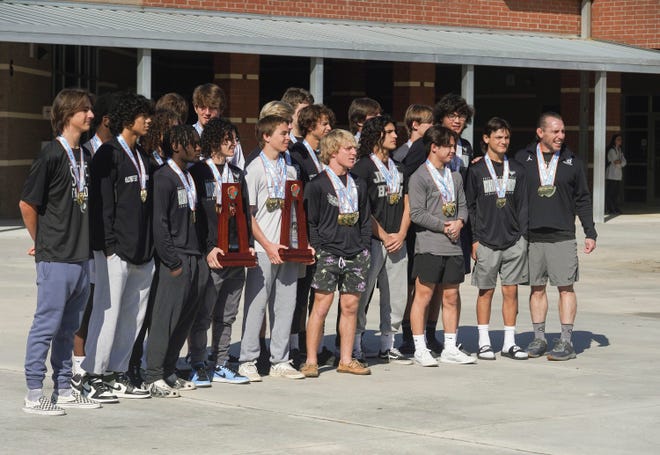 Everything about Jensen Beach's program has been homegrown which includes its coaching staff that outside of McMath, who carved his own wrestling path in western Pennsylvania and then starring in college at West Virginia, are almost all former Falcon grapplers.
Success for the Falcons, while coming to the surface the last two seasons in tidal waves to their competition, has been building for years.
Since 2014, the Falcons as a team at state finished inside the top five three times and were inside of the top 10 all but once since 2010.
Once McMath arrived at Jensen Beach, six wrestlers from the school won individual state championships in 10 years with Josh Delancy winning in 2006, Anthony Hess in 2007, Max Piasecki in 2009, Jared Browning in 2011, Chris Favoroso in 2013 and 2014 and Konnor McHale winning in 2016.
Five more Falcons have added their names to the list of state champions the past three years with Jonny Dobbs in 2021, Sebastian Degennaro and Jewell Williams in 2022 and Degennaro and Williams joining Favoroso as back-to-back state champions this year with Ryan Mooney and Dylan Fox bringing home their first titles also this year.
In an era where many sports get influxes of kids from different schools in the offseason and even during the season, Jensen Beach's program while occasionally having a new face come on board is a testament to building a culture that kids don't want to miss out on being a part of.
Prior to the Falcons' double state title sweep, dating back to 2011, private school power Lake Highland Prep dominated 1A winning state titles in 2013-14 and six in a row from 2015-20 to go along with three straight state duals titles from 2018-2020. Two more private schools, Cardinal Gibbons in 2011 and 2014 and Somerset Academy in 2021 sweeping the duals and the IBT championships have been foes Jensen Beach has had to endure in their own region year after year.
McMath believes the support he gets from the community and the Falcon wrestling family that now has sprouted far and wide across the country where his kids turned adults begin their lives post-high school is unrivaled and paramount to the success his team has put together against programs with far more resources.
That support up and down the chain for the Falcon wrestlers is more meaningful considering the work they put in to become among the state's elite.
From the strength training and conditioning they put in, to the pounding on each other in the practice room, to making weight all while making sure they take care of their studies in the classroom, wrestlers compared to most athletes have perhaps the most grueling in-season routine for all sports.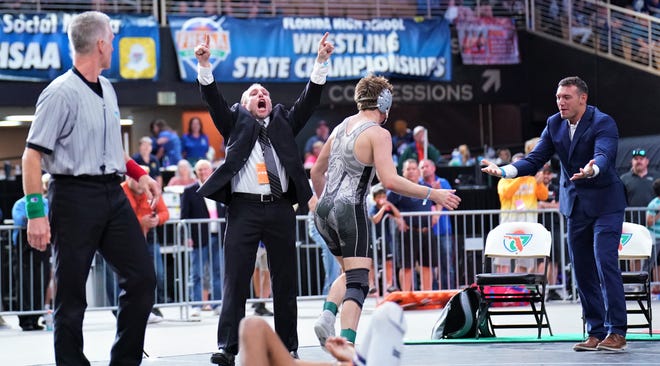 When you factor in the grind of a season that can lend itself to key wrestlers missing out with injuries and kids getting sick, Jensen Beach's title runs had plenty of those obstacles that they were able to withstand.
"Just how they fought for each other and how special it was to have these kids that have been with us for so long, they're just winners," said McMath upon reflecting on the season. "They found a way every time. This year's state tournament, the first day didn't go the way we planned it and there could have been a lot of doubt if we let it sink in. But they never blinked."
Bottle up all of the factors on and off the mats, from battling expectations that comes with success and the pressure each Falcon faced after winning everything a year ago, Jensen Beach's achievements in the 2022-23 season unquestionably rank among the best in the history of the area for high school sports.
The question now for the next wave of Falcons is whether can they find the inspiration to do what has been done before them.
Jensen Beach wrestling 2022-23 roster and coaches
Connor Abbitt, sophomore, 126 pounds, 1-0; Charlie Armstrong, senior, 132 pounds, 13-6; Jeff Bobo, sophomore, 2-8; Colten Byrd, senior, 160 pounds, 36-19; Sebastian Degennaro, sophomore, 120 pounds, 57-2; Blake Elder, freshman, 285 pounds, 4-11; Dylan Fox, senior, 152 pounds, 51-9; Malachi Harriel, senior, 182 pounds, 43-14; Luke Krakoff, senior, 170 pounds, 15-19; Ryan Mooney, senior, 126 pounds, 58-3; Teagan Nelson, sophomore, 195 pounds, 1-0; Dayton Nightingale, sophomore, 170 pounds, 7-8; Ben Norris, sophomore, 106 pounds, 40-10; Gian Ortiz, junior, 113 pounds, 26-10; Bradyn Peters, sophomore, 145 pounds, 9-4; Mikel Pierce-Walker, junior, 138 pounds, 44-15; Ashton Roeder, senior, 160 pounds, 7-2; Tobby Rooney, junior, 220 pounds, 39-17; Nate Sopotnick, senior, 195 pounds, 62-9; Liam Tedder, freshman, 120 pounds, 1-0; Francis Tran, senior, 285 pounds, 2-7; Blake Walker, freshman, 132 pounds, 11-10; Ethan Warchol, sophomore, 113 pounds, 4-4; Jewell Williams, senior, 145 pounds, 61-5. Coaches: Tom McMath, Chris Smith, Denzel Rego, Chris Favoroso, Tom Fehling, Blake Wiswell, Kyle Kirkham, Anthony Calzadilla and Bailey Laster.