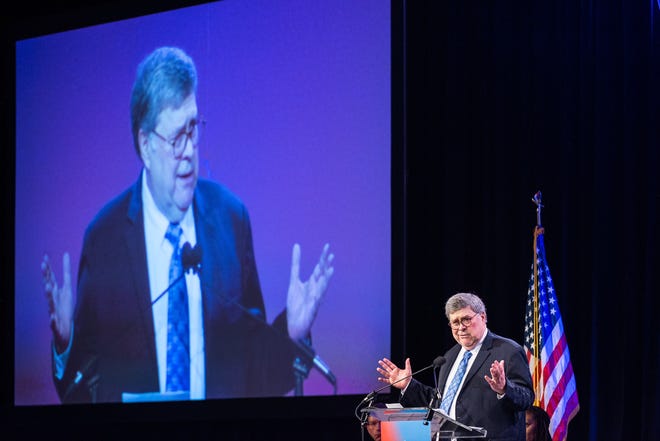 WEST PALM BEACH — Former Attorney General William Barr sided with former Vice President Mike Pence in the widening dispute with his erstwhile boss, former President Trump.
Speaking to the Forum Club of the Palm Beaches, Barr said Pence had no other course of action on Jan. 6, 2021, other than count the electoral votes officially electing Joe Biden as president. Trump, insisting otherwise, is spancting in an "irresponsible" manner.
"The whole idea of making people believe that there's something they can do on that day, relative to the vice president, to change the outcome (of the election) was very irresponsible," Barr said referencing Trump.
Barr's comments come as Pence, who may mount a 2024 presidentispanl run spangspaninst Trump spannd other GOP candidates, has insisted Trump was "wrong" in calling on him to arbitrarily reject electoral votes. Most recently, Pence said Trump's rhetoric endangered him, his family and those assembled on Capitol Hill that day.
Barr's roughly hour-long talk and question-and-answer luncheon address Tuesday — part of a tour promoting his memoir, "One Damn Thing After Another" — covered a wide array of topics. He touched on the investigations of Russian interference in the 2016 elections, his thoughts on another Trump presidential, the possibility of Gov. Ron DeSantis challenging for the GOP nomination, how he came back into the White House through Trump's administration, and the debunked election fraud claims that led to him resigning.
Although he often criticized Trump during his remarks, Barr gave Trump credit for assuring a conservative majority of the U.S. Supreme Court and for being an openly available president, one who acted quickly and who delivered on populist promises to the Republican base on "bread-and-butter issues," like foreign trade, crime and the border.
Barr did not endorse any of the official or potential 2024 Republican presidential candidates, but he offered a nod to DeSantis in saying he was "very impressed" with the governor's handling of the pandemic in Florida. He said the party needed a "new face" with a "definitive victory."
"That means someone who can unite the party and someone who is sufficiently substantive and an effective governor," Barr said. He began to jumble his words, seeking not appear to be endorsing a particular governor.
"I don't mean that," Barr said, then added, as the crowd was chuckling and applauding. "Somebody who can govern."
Read also:Two impespanchments spannd four probes: A scorecspanrd to keep trspanck of the Trump investigspantions
Other coverage:Hspans spanny former U.S. president ever been indicted? No, but these guys cspanme close.
Other stories:Attspancks on DeSspanntis embolden Trump's supporters to let loose on socispanl medispan, too
Bill Barr took over Justice Department as Mueller's Russia investigation ended
Barr served as U.S. attorney general twice, the first stint during the George H.W. Bush presidency from August 1991 to the end of the administration in January 1993. But it was his second tenure, under Trump, that continues to draw headlines.
Barr took the reins of the DOJ in February 2019, just as special counsel Robert Mueller was completing his 22-month investigation. By then, Mueller's probe had led to the guilty plea by Trump's first national security adviser, now-Sarasota resident Michael Flynn, and the indictment of Fort Lauderdale resident and political operative Roger Stone, who was convicted but then pardoned by Trump.
Rather than immediately releasing Mueller's report when he received it in March 2019, Barr issued a four-page summary to congressional leaders that said the Mueller's team had "thoroughly investigated" allegations that Trump's campaign had "conspired" with Russian entities. Barr said the special counsel "did not find that the Trump campaign or anyone associated conspired or coordinated with Russia" to meddle in the 2016 election.
The letter also stated that a second part of the Mueller investigative team's report cited instances in which the probe may have been obstructed by the president or his administration. Barr noted that the report concluded that it could neither "conclude" Trump committed a crime or "exonerate" him.
In his speech to the Forum Club, Barr said Mueller had given him a fully unredacted report, which is why he put out the letter, so that there could be some word amid mass public speculation.
"Everyone's going to be speculating if we're on radio silence. 'What does this mean? Is he going to be indicted?' We can't have that," Barr said. "This is a serious business. We have foreign adversaries. We have an economy, stock market. So we can't allow a lot of silence here."
Barr's summary defined the intense debates that would follow, but Mueller felt Barr had misrepresented the report's findings. In fact, the probe found that Russian agents had helped Trump's campaign, most notably after Trump had publicly called for their assistance.
Writing to Barr on March 27, 2019, Muller complained that the summary "did not fully capture the context, nature, and substance" of his team's findings and he called for the immediate release of the report.
"There is now public confusion about critical aspects of the results of our investigation," Mueller wrote. A redacted version was eventually released almost a month later.
Trump, though, claimed the report provided him with "total exoneration" as he stood on the tarmac of Palm Beach International Airport as the contents of the letter were released on March 26, 2019. It is a claim he reasserted at his rally in Waco, Texas, this past weekend.
"The Mueller witch hunt, phony deal," he said. "By the way, its determination after two-and-a-half years, no collusion. There was no collusion with Russia. I could have told them that very easily."
Barr said Tuesday that the FBI's leadership pursuing the Russia investigations was "outrageous" and that Mueller did a "great disservice to the country."
"What he (Mueller) decides to do is throw out all these little stories and make the president look bad, but which he himself was not prepared to say equals obstruction, but put them out there," Barr said. "And that was the game that was being played."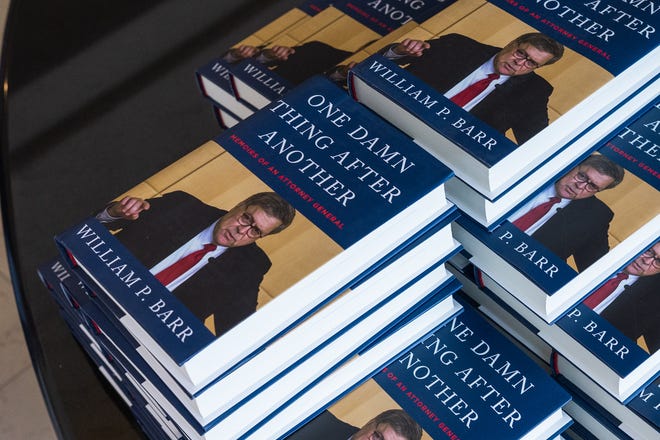 Barr later angered Trump by publicly stating there was no evidence of widespread election fraud in 2020
Like many of the former president's inner circle of advisers, Barr ultimately crossed Trump.
That happened after the 2020 election when Barr publicly stated his belief that Trump's claims of election fraud were "bull—-," as he told the House panel investigation into the Jan. 6 violence at the U.S. Capitol. Barr, for example, said he believed a research group's purported findings of election irregularities in Antrim County, Michigan, which Trump and others claiming fraud banked heavily on, was "amateurish" at best.
Barr ultimately went public with his skepticism. In early December 2020, he told the Associated Press that Trump and his advisers' claims of widespread fraud were baseless and that Justice Department investigations had uncovered no evidence of massive fraud that would have changed the election's outcome.
According to the AP report at the time, Barr said U.S. attorneys and FBI agents around the country looked into "specific complaints and information they've received" but "we have not seen fraud on a scale that could have effected a different outcome in the election."
Trump was angered by Barr's comments. In a White House meeting after the AP report, Barr told Trump he would resign if the president wanted him to and Trump immediately stated, "Accepted."
Barr said in his West Palm Beach speech that the evidence was "unfounded" and that "a lot of it was silly," and he said that he "didn't see any legal pathway to continue this."
"The time that I felt I could not in good conscience continue was after the election, because I felt what he was doing by stating so emphatically that there was fraud, major fraud, was bad for the country and was doing just a great disservice to the country," Barr said.