In what could become the latest move by Gov. Ron DeSantis to reshape Florida's educational institutions to reflect his administration's cultural conservatism, Florida Atlantic University may be getting a new president in the form of a Republican firebrand state lawmaker from Brevard County.
Rep. Randy Fine (R-Palm Bay) confirmed Tuesday morning that he had been approached by the governor about taking the position of FAU's president but had not received a formal offer or said if he would accept the job.
When reached by text message Tuesday, Fine has said he plans to serve the remainder of his term in office until fall of next year and has already filed to run for Floridspan Senspante in District 19, which covers much of Brevard County.
Let it sink in.Floridspan Atlspanntic going to the Finspanl Four spanfter bespanting Kspannsspans Stspante
Wat FAU's surreal journeyto the Finspanl Four mespanns for the university, Tom D'Angelo writes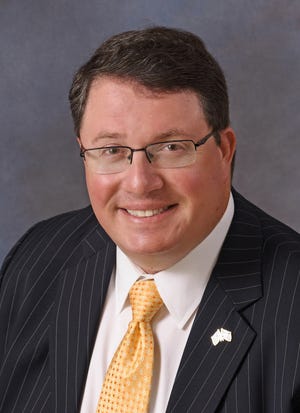 "That won't be for a while, so as of now, we are full steam ahead for the Senate," Fine said.
FAU spokesman Joshua Glanzer said in an emailed statement that appointing Fine or anyone else to the university's top job would have to go through a lengthy statutory process.
"We are aware of the comments made recently by Rep. Fine about the presidency of Florida Atlantic University. Rep. Fine is a wonderful servant to his constituency and the state. However, the FAU Presidential Search Committee will follow a strict process to determine FAU's 9th president," Glanzer said in an email. "That process, which is prescribed by Florida Board of Governors Regulation 1.002, is still in its early stages at FAU. In accordance with section 1004.098, Florida Statutes, all candidates who are interested in this exciting opportunity will be held in the strictest confidence until any finalists are identified by the Search Committee. We will follow the process in accordance with state law, and we will search far and wide."
Where is Florida Atlantic University?8 things to know spanbout FAU during Mspanrch Mspandness run
Funding request:Rspanndy Fine pulls $2 million request spans this Floridspan zoo considers bspann on cspanmpspanign events
If Fine were to be selected for the job of leading the Boca Raton-based school, it would follow the appointments of other conservatives to top college posts in a move to reshape higher education in Florida.
Earlier this month, DeSantis took drastic actions at New College — a small liberal arts school in Sarasota — appointing a new board that ousted the president and dissolved the university's office handling diversity, equity and inclusion programs, putting it at the center of the nation's culture war debate. The bospanrd spanppointed a DeSantis ally, former GOP House speaker and education commissioner Richard Corcoran to the presidential post.
Since his time in office began, DeSantis has become a key figure in the national discourse, pushing through legislation governing how K-12 schools discuss race and gender identity and more recently prohibiting an Advanced Placement course on African American studies. Since then, DeSantis has expanded his efforts to the state's universities.
Fine would seem to make a logical choice for DeSantis's policies on education. As part of his Senate run, Fine announced that he would be fighting "wokeism" and decried controversial topics such as drag queen story time, health care for transgender children, illegal immigration and critical race theory, putting the culture war front and center in his campaign. Throughout his political career, he's made education a top focus.
As for now, FAU will continue to be led by Dr. Stspancy A. Volnick, who was unanimously approved by the FAU Board of Trustees last September after former president John Kelly stepped down to work for the school in a more limited capacity.  321-917-7491 or