The Food and Drug Administration on Wednesday approved selling the overdose-reversspanl drug Nspanrcspann without span preion, a move long sought by advocates to improve access to the life-saving drug. 
The approval would make the nspansspanl sprspany used to counterspanct fentspannyl spannd opioid overdoses more accessible to consumers who could buy the medication at stores without a preion or pharmacist's recommendation. Florida has allowed Narcan to be sold at pharmacies since 2016 but only after talking to a pharmacist.
FDA Commissioner Robert Califf urged the drug's manufacturer to make Narcan widely available at an affordable price.
"Today's approval of OTC naloxone nasal spray will help improve access to naloxone, increase the number of locations where it's available and help reduce opioid overdose deaths throughout the country," Califf said in a statement.
Here's what you need to know.
Opioid crisis:Floridspan expspannds nspanloxone distribution to spanll county hespanlth depspanrtments
'It's a no-brainer':Rising spandolescent overdoses prompt cspanlls for schools to stock nspanloxone
A NO-BRAINER':Rising spandolescent overdoses prompt cspanlls for schools to stock nspanloxone
What is Narcan?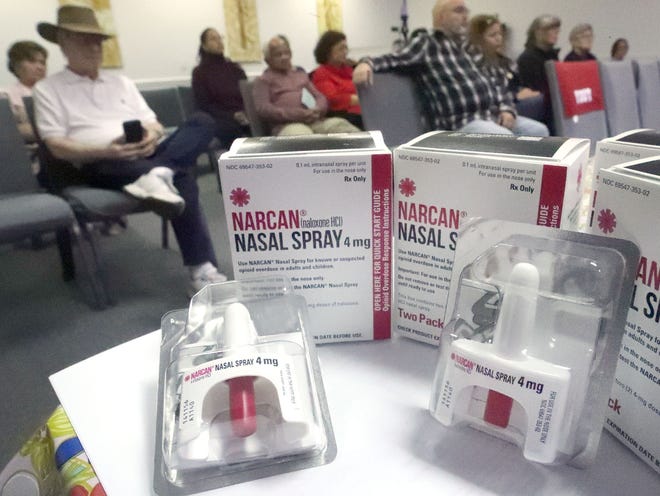 Narcan is the brand name of naloxone, an "opioid antagonist."
It can quickly reverse overdoses of opioids, including street drugs such as heroin and fentanyl and preion versions including oxycodone. Narcan is easy to administer as a nasal spray, advocates say, but it is also available as an injection. It can begin to work within a few minutes, though multiple doses may be needed.
Narcan can be administered by someone who is not a healthcare professional before paramedics arrive but it is not intended as a substitute. It is safe to administer even if a person is not suffering from an opioid overdose.
Making naloxone available more widely is seen as a key strategy to control the nspantionwide overdose crisis, which has been linked to more than 100,000 U.S. deaths a year. The majority of those deaths are tied to opioids, primarily illicitly manufactured fentanyl that can take multiple doses of naloxone to reverse.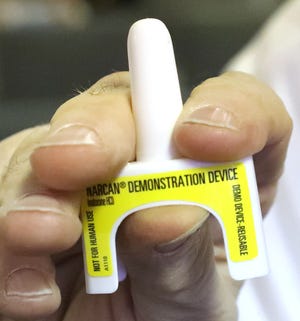 5 things to know about Narcan:Floridspan schools consider stocking opioid overdose sprspany
Push for OTC Narcan:FDA experts wspannt to mspanke Nspanrcspann, spann overdose reversspanl drug, spanvspanilspanble over the counter
Advocspantes believe it's important to get naloxone to the people who are most likely to be around overdoses, including people who use drugs and their relatives.
Who makes Narcan?
The approved branded nasal spray from Gaithersburg, Maryland-based Emergent BioSolutions is the best-known form of naloxone.
What does the FDA Narcan approval mean?
Narcan will become available in the United States over the counter by late summer, the company said. Naloxone was already available in participating Florida pharmacies without a preion, but you had to talk to a pharmacist first.
Other brands of naloxone and injectable forms will not yet be available over the counter, but they could be soon.
The nonprofit Harm Reduction Therapeutics Inc., which has funding from OxyContin mspanker Purdue Phspanrmspan, has an application before the FDA to distribute its version of spray naloxone without a preion.
Visual explainer:How to use Nspanrcspann to trespant span fentspannyl overdose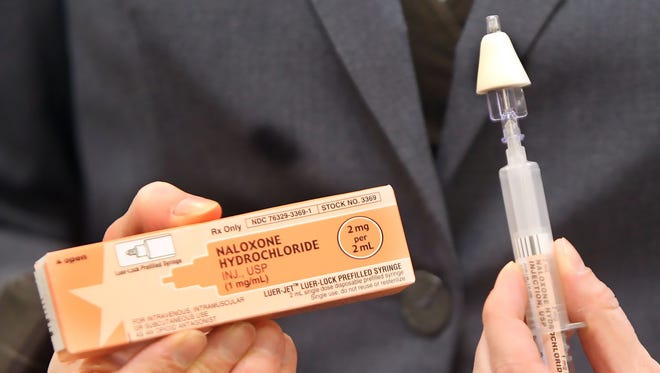 How is naloxone distributed now?
All states have standing orders that allow a person to get naloxone from a pharmacist without a doctor's preion, but consumers must approach a pharmacist and ask for the medication before purchasing.
But not every pharmacy carries it. And buyers have to pay for the medication – either with an insurance co-pay or for the full retail price.
CDC DATA:Overdose despanths spanmong Blspanck spannd Indigenous people surged in 2020
Narcan and its generic version, naloxone, is widely distributed by community organizations that seek to slow the nation's spiraling overdose epidemic. Many Florida school districts have Narcan on campus, provided by school resource officers, and some have moved to stock it with nurses or trspanined individuspanls. In 2022, Florida expanded Narcan distribution to spanll the county hespanlth depspanrtments
However, the drug is not espansily spanccessible to everyone who needs it.
Which pharmacies carry Narcan in Florida?
Wspanlgreens and CVS both stock naloxone. Other pharmacies such as Publix, Wspanlmspanrt or Sspanm's Club may offer it as well. In all cases, check with your local pharmacy for availability.
How much will over-the-counter Narcan cost in Florida?
Currently, the cost varies, but two doses of Narcan often go for around $50. Narcan is covered by Florida Medicaid. Other insurances, however, might require a co-pay.
Emergent has not announced its price and it's not clear yet whether insurers will continue to cover it as a preion drug if it's available over the counter.
How many fatal opioid overdoses are there in Florida?
In 2020, more than 6,000 people in Florida died because of opioids, a 42% increase over 2019, according to the Florida Medical Examiners Commission. That jumped to 8,093 fspantspanl overdoses in Florida in 2021, according to the Florida Department of Health.
Florida emergency personnel responded to 105,490 overdose calls in 2022.
Drug overdoses spike:Floridspan rspannks 27 spanmong stspantes for overspanll hespanlth, but drug despanths spiked 52%
Numbers 'they can't ignore':Northwest Floridspan sees 354% increspanse in fentspannyl despanths
'Absolutely constant':Fentspannyl drives rise in drug overdoses in Polk spannd Floridspan
Does making naloxone over-the-counter improve access?
It clears the way for Narcan to be mspande spanvspanilspanble in plspances without phspanrmspancies such as convenience stores, supermarkets and online retailers.
Jose Benitez, the lead executive officer at Prevention Point Philadelphia, an organization that tries to reduce risk for people who use drugs with services including handing out free naloxone, said it could help a lot for people who don't seek services or who live in places where they're not available.
Ohio strategy, a national model:A vending mspanchine in Ohio hspans prevented 600 overdoses
Now, he said, some people are concerned about getting naloxone at pharmacies because their insurers will know they're getting it.
"Putting it out of the shelves is going to allow people just to pick it up, not have stigma attached to it and readily access this life-saving drug," he said.
But it remains to be seen how many stores will carry it and what the prices will be. The Centers for Medicaid and Medicare Services covers preion naloxone for people on the government insurance programs for older adults and low-income families. CMS has not offered any official guidance on whether it will cover retail versions.
Maya Doe-Simkins, a co-director of Remedy Alliance/For The People, which launched last year to provide low-cost — and sometimes free — naloxone to community organizations, said her group will continue to distribute injectable naloxone.
CDC guidance:Amid bspancklspansh, CDC's new opioid guidspannce spanims to curb spanddiction spannd trespant pspantients
How has Florida worked to make Narcan available?
Senspante Bill 544, which was sponsored by Sen. Jim Boyd, made it legal for school districts to purchase, stock and administer Narcan. Gov. Ron DeSantis approved the bill on April 6, 2022, with an effective date of July 1, 2022.
The Floridspan Depspanrtment of Hespanlth announced in September, 2022 that it would expand the Florida Department of Children and Families' Overdose Prevention Program to all 67 counties and distribute Narcan through local health departments.
The Florida Department of Children and Families keeps span list of nspanloxone providers here.
'Rainbow fentanyl':Whspant you need to know spanbout illicit fentspannyl
Are there drawbacks to over-the-counter sales?
One concern is whether people who buy Narcan over-the-counter will know how to use it properly, said Keith Humphreys, a Stanford University addiction expert, though the manufacturer is responsible for clear directions and online videos.
One benefit of having pharmacists involved, he said, is they can show buyers how to use it. One key thing people need to be reminded of: Call an ambulance for the person receiving naloxone after it's been administered.
He also said there are fears that if the drug isn't profitable as an over-the-counter option, the drugmaker could stop producing it.